The New 'Jumanji' Movie Isn't What You Think It Is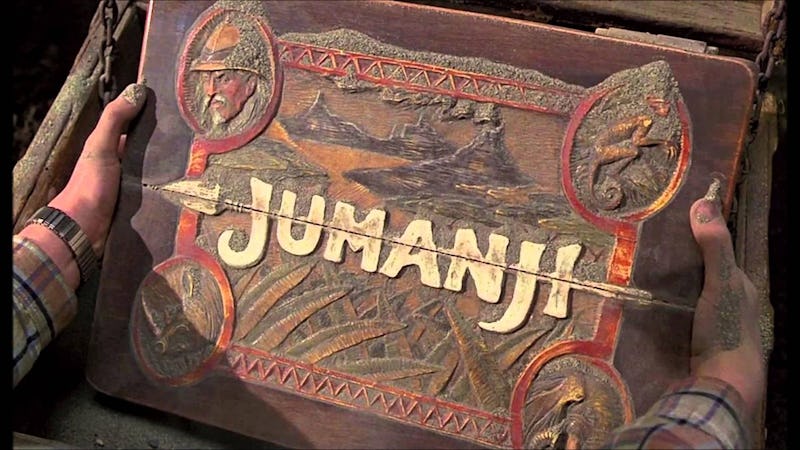 Though some fans were not happy when a Jumanji reboot starring Dwayne Johnson was announced only one short year after the original 1995 film's beloved star, Robin Williams, had tragically passed away, this should change things: In an Instagram post, Johnson explained that the the new Jumanji film isn't a reboot, but instead, a sequel.
This information was tucked into an Instagram post celebrating the end of filming for the upcoming Johnson-starring sequel Fast 8. The post featured a picture of himself about to board a plane, and included a lengthy caption thanking his Fast & Furious co-stars, and the announcement that in two weeks, he'll begin filming Jumanji with co-stars Jack Black and Kevin Hart. After stating how excited he was to "introduce a whole new generation to the amazing world of #JUMANJI," Johnson went on to clarify in the caption that, "for the record we are NOT making a reboot, but rather a continuation of the awesome Jumanji story." ("Man this is gonna be FUN," he promised.)
It's a bit surprising that it has taken Hollywood over two decades to make a sequel to Jumanji, considering how successful and beloved the original was — and still is today. The action-adventure film was the seventh-highest-grossing movie of 1995, coming in behind behind the most '90s list of movies imaginable: Toy Story, Batman Forever, Apollo 13, Pocahontas, Ace Ventura 2, and GoldenEye (who else is feeling nostalgic right now?).
But now that a sequel will finally be hitting the big screen in a little under a year, it's worth revisiting the original to figure out how exactly a sequel could be crafted from the storyline. It's probably been a while since you've popped in your old VHS, so let me brush off the cobwebs for you: At the end of the movie, our heroes — Alan Parrish (Williams), Sarah Whittle (Bonnie Hunt), and little Judy and Peter Shepherd (Kirsten Dunst, Bradley Pierce) — have managed to defeat mischievous monkeys, stampeding rhinos, poisonous spiders, and a big game hunter named Van Pelt to end the board game and banish the encroaching jungle from modern day New Hampshire.
The game finished, time rewound back to when Alan and Sarah were children, although the pair retain their memories. They throw the board game in the river, and Alan is able to repair his relationship with his father and save the reputation of factory worker Carl Bentley. When Alan and Sarah grow up, they re-meet young Judy and Peter and prevent their parents from going on the ski trip that would have resulted in their tragic deaths. In the film's final scene, two young girls are walking along a beach in France when they hear the distant beating of drums… and stumble across the game, half-buried in sand.
Dun-dun-DUUUNNN!
So how exactly will a sequel work? Hopefully it opens with a prologue featuring those two poor little French girls being terrorized by the game in a homage to the original film's ending. From there, it's anybody's guess. The fact that Johnson, Black, and Hart will be headlining the film suggests that the new Jumanji will more take place in the same world as the first rather than be a direct continuation of the plot — of course, that doesn't mean some of the films' original stars can't make cameos in the 2017 version.
Of the original cast, Dunst, David Alan Grier (Carl), and Bebe Neuwirth (as Judy and Peter's befuddled aunt Nora) remain the most active in Hollywood today — with Dunst in particular being hot off an Emmy nomination for her critically-acclaimed performance as Peggy Blumquist in Fargo Season 2. Hunt mostly works in animated films these days, lending her vocal talents to the likes of Cars, Toy Story 3, Monsters University, and Zootopia. Likewise, Pierce — the boy once known as the voice of Beauty And The Beast's Chip — is now a 33-year-old man employed mostly as a video game voice actor. But presumably both Hunt and Pierce could be lured back to the franchise to reprise their iconic roles.
Alas, the plot of the sequel and the surprise cameos it contains (if any) are likely to remain a secret for several more months. With filming about to commence in a couple of weeks, it's possible fans'll get an announcement teaser sometime this fall/winter to drum up excitement for the long-awaited sequel; apart from that, fans probably won't see a trailer with any actual footage from the new Jumanji until sometime in 2017. It's gonna be a long wait, but look on the bright side: it gives you plenty of time to rewatch the original Jumanji and relive your cherished memories of that bygone era called the '90s.
Images: TriStar Pictures; Giphy