Proof That Spencer Is Mary's Daughter On 'PLL'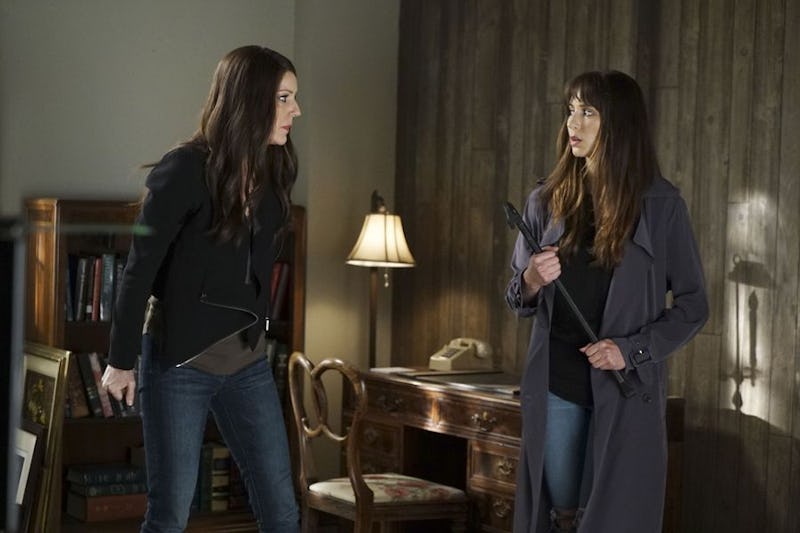 In a season full of twists and turns on Pretty Little Liars, the latest revelation is that Mary Drake has a second child who, like Charlotte, was born at Radley. We've been given very little information about the child, except that he or she would be the same age as the Liars. And, in a recent interview with Entertainment Weekly, I. Marlene King confirmed that fans will be left to theorize for months because the identity of Mary's child won't be revealed until Season 7B. Not to jump the gun or anything, but I'm convinced that Spencer is Mary Drake's child on Pretty Little Liars because the clues are adding up in a major way.
I know what a lot of people are going to say — it's too obvious and Spencer must be a red herring. That's definitely possible, but let's not forget that similar devices have been used on Pretty Little Liars before. Many of us crossed Charlotte (who we then knew as CeCe Drake) off our list of A suspects after we saw her sport that black hoodie. And remember when, in a twist that shocked no one, Sara Harvey ended up being part of the A team?
One thing's for sure — plenty of shocking events will occur before the identity of Mary's child is revealed. But, for now, I'm sticking with my Spencer theory and here's why:
1. Family References Abound
During Spencer and Mary's first face-to-face encounter, they spent an inordinate amount of time discussing families. We all know the Hastings and the DiLaurentis families are intertwined, but Mary specifically stated that she and Spencer's parents have a lot in common — and that the Hastings are excellent at keeping secrets. Shortly thereafter, she told Hanna that every family has secrets and those secrets can be people. Mary also told Spencer that her ex-lovers don't speak to her, which could have been a jab at Peter.
If Spencer is Peter and Mary's child, it could explain why the Hastings have always been so cold to their youngest child. They're not exactly the warmest people in the world and Peter may have resented raising her in the first place, while Veronica was bitter about taking in a child who was the direct result of her husband's infidelity.
When Spencer entered A's lair in the Dollhouse, a masked Charlotte appeared behind her. She later told her friends that the presence felt familiar, like a cousin she hadn't seen in years. And, in a recent episode, Spencer gave all her friends necklaces to symbolize that they're a "dysfunctional family." But, maybe the bigger meaning is that Ali is actually related to Spencer by blood.
2. One Word — Radley
As the Liars have reminded us countless times, everything leads back to Radley. Spencer is the only Liar who has spent time there during the show, but there are heavy implications that she may have been born there as well. For instance, Season 6's "creepy dancer" dream sequence can be viewed in a whole new light now that we know Spencer may be Mary's child. It seems likely that Maddie Ziegler's character is a young version of Mary Drake — and the setting appeared to be Radley's "delivery room." Plus, let's not forget that Peter Hastings was absolutely hellbent on shutting down Radley in Season 4 — and we all know how far the Hastings family will go to protect their secrets.
3. Mary & Spencer Mirror Each Other In Certain Shots
The fact that Mary and Spencer bear a physical resemblance isn't proof that they're related — but certain shots throughout Season 7 may have been clues. For example, when Mary was at Veronica Hasting's campaign headquarters, she stood right next to Veronica's poster. It seemed like a subtle way to imply that Mary is Spencer's biological mom — not Veronica.
4. Jessica DiLaurentis Really Disliked Spencer
Mrs. D. (may she rest in peace) wasn't exactly the show's kindest character — I mean, she did bury her own daughter alive. She was shown investigating Spencer's character specifically in Season 4, even though she knew that Ali was alive. Jessica obviously had a terrible relationship with Mary Drake, so that disdain could have extended to Mary's child. And, she may have been searching for information about whether or not Spencer was aware of her parentage. Like the Hastings clan, the DiLaurentis family is incredibly secretive — and Jessica would have been deeply concerned if any information about her twin sister was revealed.
We can never be sure of anything on Pretty Little Liars, but it seems as though clues about Mary and Spencer's relationship have been adding up since Season 5 — long before we even knew Mary existed. Either way, we're in for an intense reveal when Season 7B hits our small screens.
Images: Eric McCandless/Freeform; prettylittleliars/Tumblr (2); Giphy (2)