Brett May Leave 'BiP' Without A Relationship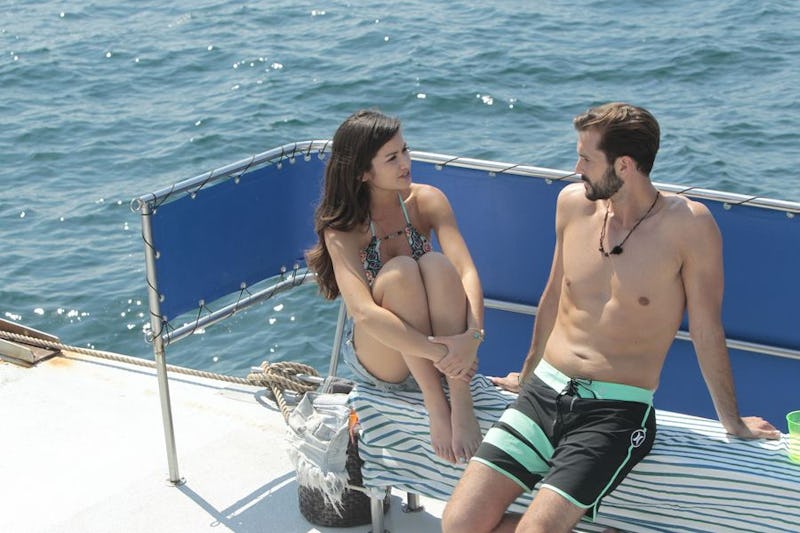 Bachelor in Paradise may be a revolving door of previous Bachelor and Bachelorette contestants hoping to find love (and drink one or more of Jorge's famous margaritas), but that just adds to the drama for those of us watching from home. Week 4 has already welcomed a couple new men to Paradise from Andi Dorfman's season of The Bachelorette, including Brett Melnick who went on a (slightly disastrous) date with Caila Quinn. So, for those wondering how this season will play out, is Brett single after Bachelor in Paradise ?
My gut is telling me that this hairdresser doesn't make the cut for the "multiple engagements" that will leave Paradise, as teased by series producer Mike Fleiss. But, let's recap what happened in Brett's first episode on Bachelor in Paradise: He joins the resort in Puerto Vallarta along with his signature lamp — which, let's be honest, makes a lot less sense in Paradise where he doesn't really have anyone to give it to. Still, Brett does have a date card plus he's an attractive man, so he catches the attention of a few of the ladies, including Izzy (we'll get back to that in a bit). However, he reveals he's most interested in Caila and Sarah, though Sarah had just been eliminated. Eventually, after plenty of waffling on her part, Caila agrees to go on the date with him.
Now, anyone watching this episode of Bachelor in Paradise can probably tell Caila isn't as into the date as Brett, and she confirms as much when she pulls Jared aside immediately after her return to talk about her feelings for him. So, that leaves Brett without anyone — until Izzy pulls him aside to get to know him a little better. Later, Izzy, who had previously been part of one of the strongest couples in Paradise, tells Vinny that she was beginning to doubt her feelings for him because of Brett. Yikes.
But, where does all this leave Brett after Paradise? Well, it depends on how the next rose ceremony goes; as of now, it looks like his only options for roses are Caila (who will probably give hers to Jared) and Izzy. Unfortunately, Brett's social media doesn't give us much insight. His Twitter hasn't been updated since 2014, and his Instagram seems to indicate he's been focusing on family and friends — in between watching new episodes of Bachelor in Paradise, of course.
Since Brett's social media wasn't too revealing, I dug into Izzy and Caila's, but that didn't offer any more detail. Izzy is more focused on Vinny, which makes sense given their longer relationship; meanwhile Caila has kept mostly mum about her date with Brett, though a recent tweet implied she may have said yes because she was being too nice.
I think it's safe to say that Caila and Brett don't work out, and I have my doubts about Brett and Izzy. Unless Brett makes a connection with someone new, which could be difficult as more men join Paradise, he may be heading home during the next rose ceremony. So, I'd say Brett leaves Paradise single. But, since he mentioned Sarah was someone he had wanted to see on the show, I'm holding out hope that maybe these two contestants can find love away from Bachelor in Paradise.
Images: Rick Rowell/ABC