Vinny & Izzy Might Not Be Over For Good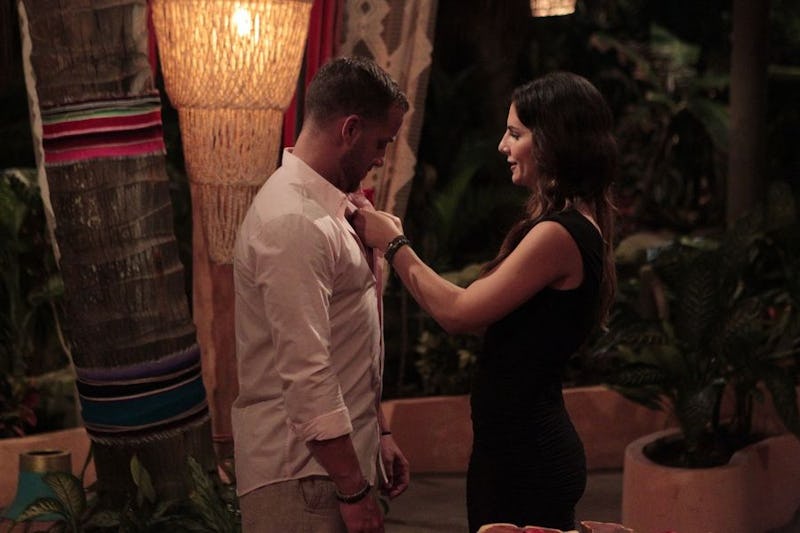 Tuesday night's episode of Bachelor in Paradise brought the first truly heartbreaking breakup of the season: Vinny and Izzy. I totally thought they were going to go the distance, but as soon as Brett Melnick arrived, Izzy's gaze drifted elsewhere, and she and Vinny were through. The biggest bummer of the whole thing, though? Vinny was so upset about it that he decided to go home instead of trying to find love again. But, now that filming is over, is there a chance that Vinny and Izzy will get back together after Bachelor in Paradise? Never say never, y'all.
On the latest edition of After Paradise, Vinny joined the show to talk about their split. He definitely seems like he still has feelings for Izzy, despite how brutal their breakup was, and even said that he felt like Izzy had betrayed herself by missing out on something that could have been incredible... and I can't disagree with him on that. But when Izzy came out a little while later, she explained that she'd felt insecure about their relationship the entire time, so their breakup wasn't exactly as sudden as it appeared on TV. Breaking up with him was being honest with herself, in her words. Doesn't sound good, right? Just wait.
Izzy issued Vinny an apology for hurting him, and admitted that she 100 percent regretted letting Vinny go. Um, that sounds like someone who'd be open to getting back together to me. Unfortunately, Vinny also voiced concerns that if another Brett came along she'd up and leave again. But, if they give it another shot, I wouldn't be surprised if their relationship actually lasted this time.
If not? Vinny's a catch. He'll find someone awesome who will treat him well!
Image: Rick Rowell/ABC