Victor Could Get A Third Chance At 'Big Brother'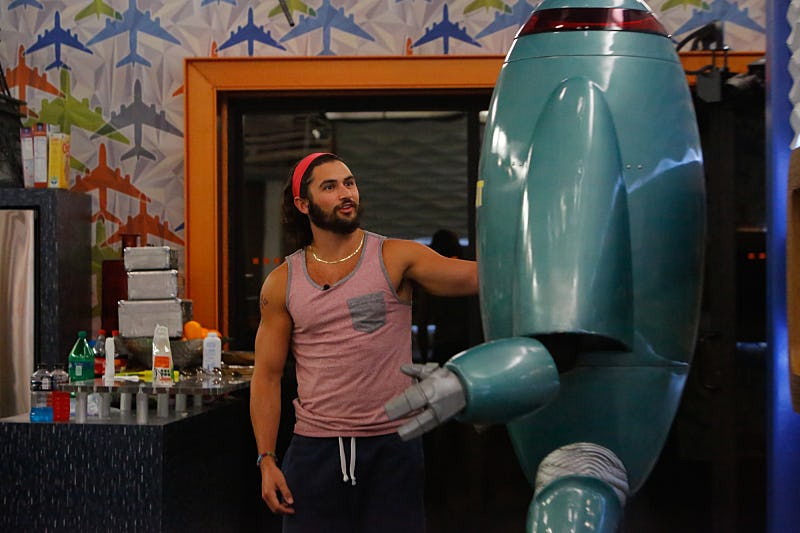 Part of what makes Big Brother so amazing is how narratives form over the course of the season. The beloved can become hated, the hated the beloved, and someone who seemed inconsequential in the first few weeks can end up running the house. Victor's narrative in BB18 has been especially odd and featured many twists. Now, after rising to a place of power and managing to ensure Paulie's eviction, it looks like Victor is next out the door — but that doesn't mean he's out for good. There's a good chance that Victor could return to Big Brother 18 if he's evicted thanks to the upcoming Jury Buyback competition and re-enter the game.
Victor has already gotten very lucky by being on the first season of Big Brother to feature the new Battleback twist, which allowed the first five evictees to compete for a chance to get back into the house. Victor earned his way back into the house and kept a low profile until recently, when he started making big moves that threatened the powerful showmances. However, Victor's competition prowess may prove to save him yet again if he competes in the jury buyback this season – and for the first time in Big Brother history, one houseguest could get a third chance to save their game.
Since BB15, every season of Big Brother has featured a competition — usually a physical challenge — that allows the first few members of the jury the chance to re-enter the game with the benefit of some time away from the house and hindsight to help them try and make it farther in the game. So far, this recurring twist has proven to have a 66 percent chance of being hugely beneficial to the houseguests. In BB15 and BB18, houseguests Judd and the rockstar dentist Johnny Mac, respectively, managed to win their way back into the house from jury and make it all the way to fourth place. Johnny Mac pulled the rare feat of re-entering the house immediately after his eviction, sending him back into a house where he knew he was not wanted — and yet he still managed to get to fourth place.
The twist proved to be less beneficial for Nicole, who won her way back into the game during BB16, and was nominated for eviction two weeks in a row before being sent back to the jury house in seventh place. While the twist can make a huge difference to someone's game or send them right back out the door, simply the chance to keep playing means a lot to any BB evictee.
While Julie Chen confirmed that a jury buyback will take place this season, BB18 is switching it up ever so slightly. In the past, the jury buyback has occurred when there are eight houseguests remaining and feature four houseguests competing for re-entry. This season, Big Brother waited an additional week so that five houseguests have the chance to compete. This means that Da'Vonne, Zakiyah, Bridgette, Paulie, and either Corey or Victor will be competing to gain entry back into the house. Bridgette, Paulie, and Victor are all known for their competition prowess, while Zakiyah and Da'Vonne want to get back in the house and cause havoc.
Chances are, this upcoming buyback will be especially intense and could have a devastating effect on the unofficial Nicorey/Jatalie alliance that is currently running the house.
Images: Bill Inoshita/CBS; Giphy