This Chris Klein Film Is A 180 From His '90s Roles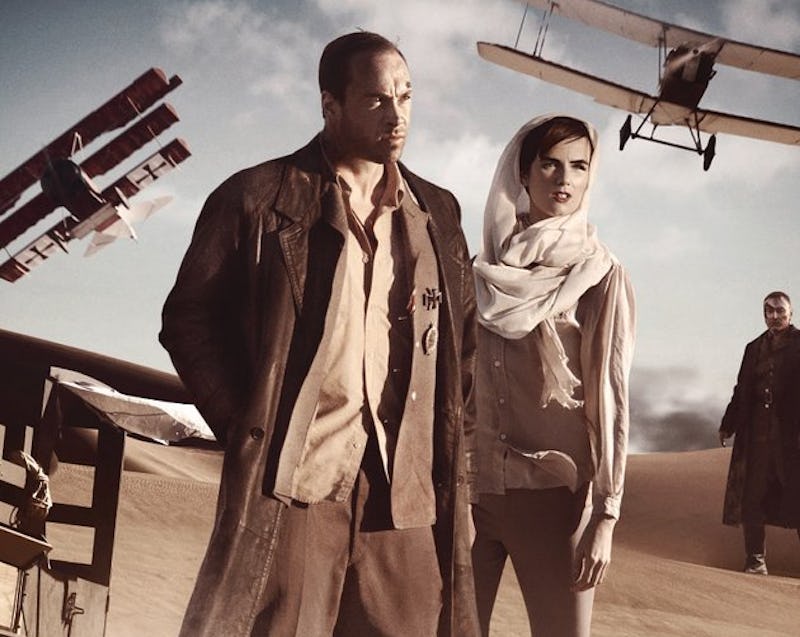 Like a lot of his peers in the film industry, Chris Klein grew up idolizing the daring archaeologist Indiana Jones. In the upcoming independent war film Game Of Aces , the actor will come as close as he ever has to playing him. It's a big departure for Klein, who came up through the late '90s teen movie boom, partying with the rest of Great Falls High in the American Pie series; serving as a teacher's gullible pawn in the satire Election; and romancing a small-town sweetheart in Here On Earth. Lately, the actor has been getting laughs in some of TV's most fearless comedies, like Idiotsitter and Wilfred. If the role of cocky World War I fighter pilot Jackson Cove feels like a big shift for Klein, well, that's the idea. "That's the side of me that fans haven't seen just yet, because I'm just getting to the age where I get to play those characters," he tells Bustle. "I'm really excited about it, because it was those characters who really inspired me as a youngster and as a young actor."
As an actor who took part in some of the '90s most defining films, Klein recognizes the resounding impact of that period in pop culture, where so many different types of films were made for and about young adults. "It was a very, very special opportunity to participate in the golden age of young Hollywood, because that's what it really was," he says of his breakout roles, including softhearted jock Oz in the teen sex comedy "behemoth" American Pie. "And to have had an opportunity to walk through the gates at that time, I'm very fortunate, because it's allowed me to have a career."
Playing this "everyman" hero in Game Of Aces is the next step in varying Klein's resume and building on past success. "Now, the challenge is truly grinding into the next phase of my life," he says. "I relish the competition." The film, out Sept. 2, stars Klein and Victoria Summer (Saving Mr. Banks) as Cove, an American soldier, and Eleanor Morgan, the English nurse who serves as his translator. The duo must travel to the Arabian Desert to recover a German double agent (Werner Daehn). "It was an adventure," Summer says of the experience, which required shooting in the hot Mojave Desert. Both actors say they relished the opportunity not just to film a period piece but to do it in a remote location. "I appreciated the stillness, the beauty, being out in nature, and also the fact that I got to run up and down sand dunes, learn World War I guns with the boys — it was just so fun," says Summer.
The fact that Game Of Aces is a rarity — a low-budget war film with a tiny cast — added to the enjoyment of the filming experience, the actors say. "The fact that this is an adventure film with three characters is really incredible," Klein says. "And the character development in this movie is really remarkable." Summer adds that she had only five days to learn the German Eleanor fluently speaks in the film, but the pressure was motivating. "Just doing this movie gave me so much confidence as an actress," she says. "It's so much fun as an actor to be on a set where you know you have to bring your A-game every day."
The challenges weren't just of the acting variety. Summer and Klein did all their own stunts, and every one shown on-screen was completed in camera. (i.e. no green screen to fill in the blanks.) "Something about independent filmmaking which is a lot of fun is that you get to take risks that you otherwise wouldn't be allowed to take on any other film production, and probably wisely," Klein says. "But [with Game Of Aces], that's really one of the things that you sign up to do. 'Yes, I'm involved in every frame of this movie,' and you commit to that."
It may have been a big challenge, but thanks to this movie, Klein and Summer get the pleasure of being two newly minted action heroes.
Image: Samaco Films; Universal Pictures