Well-Known 'Jungle Book' Star Isn't Phased By Fame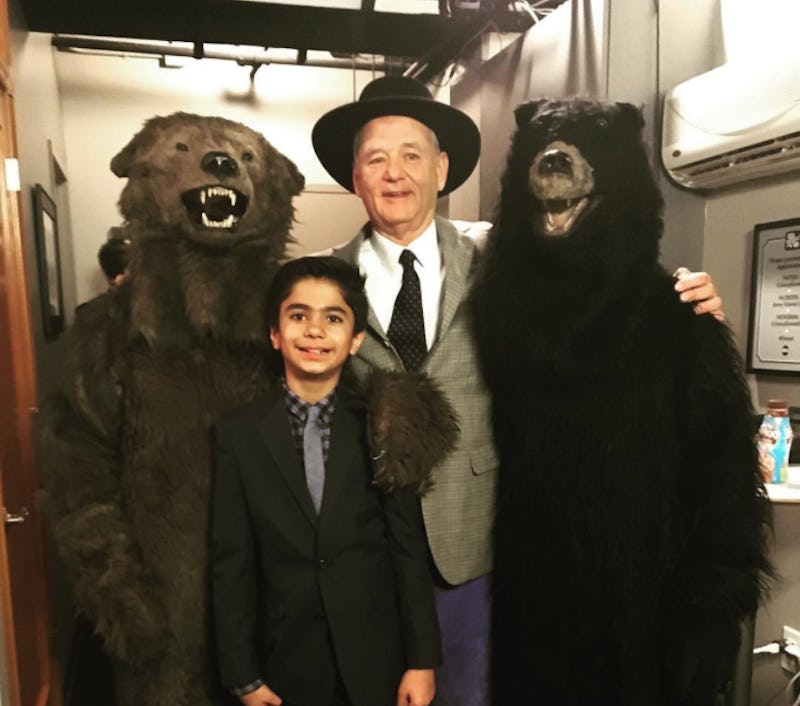 The Jungle Book director Jon Favreau has seen everything I imagine Hollywood has to offer. Emerging from the world of improv, he became an indie-film favorite and made his way to mainstream mega films and shows like Friends , The Wolf of Wall Street, and Couples Retreat. And that's only in front of the camera. Favreau has taken his talents to executive produce, such as films within The Avengers franchise, and direct, including the first two Iron Man movies. The Hollywood vet may have thought he'd seen it all, however, until a very particular actor walked onto The Jungle Book set.
The 2016 re-creation of the Disney classic has a star-studded cast including Idris Elba, Scarlett Johansson, Lupita Nyong'o, and Christopher Walken, and while all were phenomenal to work with, according to Favreau, there was one who truly taught him about fame and made him rethink his own daily actions. "I don't think I've ever been around anybody more famous or recognizable [than] him and watching him really be accessible and engage with his fans, it was quite a unique experience, I don't think I'd ever seen anybody handle it with quite that much style and graciousness," Favreau says of the iconic Bill Murray.
In fact, Murray, who takes on the lovable bear Baloo, was one of Favreau's "heroes" growing up, becoming one of the reasons he picked up and moved to Chicago to pursue improv in his earlier acting days. "[Bill] studied with an improv teacher named Del Close and I sought him out, just studying with him," says Favreau. "I was a little guy when SNL was first on the air and he was there. Meatballs, Ghostbusters, all the great films that made me love movies and want to get into it."
The admiration was mutual, as Murray has said he "really couldn't say no" when Favreau approached him about joining The Jungle Book. Working with an idol, which can be risky, was an unexpected game-changer for Favreau. "To actually be there and watch his process and to humanize him and to get to hang out with that guy... I learned from watching him interact," he says.
Favreau explains that Murray's behavior on set was unlike anything he'd ever seen. "Watching him be open and engage, just travel around alone whether it's going to the ice cream store or going out to hear music in New Orleans, he just traveled and he was not going to let his fame interfere with his life," the 49-year-old says. "He was very authentically him. He even ate breakfast with everybody. It was quite a memorable experience."
Murray's humble nature was so impactful, it caused Favreau to rethink the way he interacts with fans. "It made me feel like, I should be taking a picture with everybody, too. And I should be smiling when people come up to me and appreciative of it as opposed to feeling trapped or confronted," he says.
"I don't think there was any line for Bill Murray that came out as scripted," he explains of Murray's natural skill. Murray also took the movie's pint-sized star Neel Sethi (12) under his wing. "Bill was very good, as you could imagine. That's part of why I hired him. You see him in Meatballs, he's the ultimate big brother," says Favreau. "He really lived up to that." As a reporter, there may not be anything more refreshing than hearing about such an established celebrity who doesn't act like one.
Watch Murray and Favreau's on-screen magic in digital HD now and on Blu-Ray, August 30.
Images: @disneythejunglebook/Instagram