Franchise Movies Are Making A Huge Change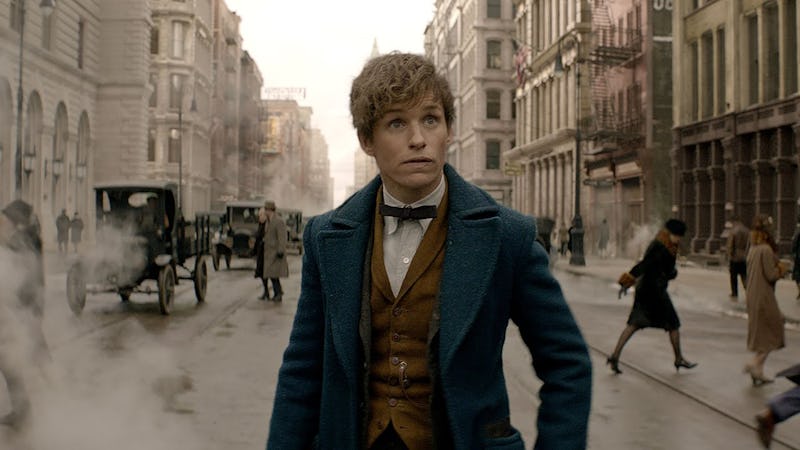 As September approaches, movie fans might be disappointed to realize that summer 2016 didn't end up producing any one huge movie. Few of the expected major movies — Ghostbusters, Suicide Squad, The Legend of Tarzan, and more — did nearly as well financially as studios hoped that they would. Yet if you think the lack of box office success for so many supposed-to-be-massive movies means that franchise fever is coming to an end, think again; many more potential blockbusters are set to come out at the end of the year, during the months usually reserved for awards season. Rogue One: A Star Wars Story, Doctor Strange, and Fantastic Beasts and Where to Find Them all arrive this winter, hinting at the possibility that summer is no longer the sole time for blockbusters, and that the time of year typically meant for "prestigious" award season films could now be home to more and more big budget tentpoles — which could change the way we, as audiences, view and critique our movies.
While at first, the lack of any one huge movie this summer might seem like it's the result of franchise fatigue, that's simply not the case. The top grossing movie of the summer, Finding Dory, is a sequel, and the second ranked, Captain America: Civil War, is a part of an ongoing series, so audiences clearly aren't tired of these movies. What might explain the lack of blockbusters is that some of the most anticipated films of the year are set to hit not in the summer months, but as the snow starts to fall: Rogue One: A Star Wars Story premieres on Dec. 16, with Doctor Strange and Fantastic Beasts and Where to Find Them coming a bit earlier in November.
In recent years, studios have been pushing more and more tentpoles to the holiday season; big-budget fantasy fare like The Hobbit series and Christopher Nolan's Interstellar have come out later in the year, and 2015's Star Wars Episode VII: The Force Awakens hit theaters around Christmas. The Harry Potter franchise alternated its release schedule, putting out some of its installments during the summer and some around Thanksgiving, which has become a popular time for franchises. After starting out with The Hunger Games premiering in March 2011, the series then followed up with November premieres for it's next three installments. Looking ahead, many comic book films of the kind always associated with summer are starting to slip into the holiday season as well. But how come?
It might just be a matter of quantity. There are so many superhero films and franchise additions scheduled each year that they can't possibly all fit in a single summer. With six superhero movies and a whopping 18 other sequels or franchise movies hitting in 2016, it's no wonder the spillover happened. And it seems like the new release schedule might be here to stay. Rogue One's December debut follows in Force Awakens' footsteps, and Doctor Strange will be the second Marvel film to premiere during a winter month after 2013's Thor: The Dark World. The 2017 release schedule, meanwhile, has both Thor: Ragnarok, and Justice League hitting theaters in November, with Star Wars Episode VIII premiering mid-December. Come the holidays of 2018, a Fantastic Beasts sequel will hit, along with an as-yet-unrevealed DC Comics universe movie. That's a lot of summer action, comics, and big fantasy usually reserved for summer heading into the holiday movie season.
So what does this mean for these types of movies and, more importantly, the people who like to see them? Well, for audiences and fans, there doesn't seem to be a downside, just more movies from which to choose. But if they're good movies, than positive audience response might just have a positive effect come awards season. Awards voters have short memory spans, and seem to forget movies that come out during the first two thirds of the year, which is why so many studios release their most award-worthy films in the final few months of the year. Now that we're in an era where superhero-centric movies are taken seriously and, often, winning critical raves, it makes sense that studios might opt to put out their best blockbusters towards the end of the year, too, giving them a better shot at year-end best of lists and awards ceremonies.
Just a few years ago, audiences who loved Christopher Nolan's The Dark Knight were incensed when it wasn't given a Best Picture Oscar nomination. The response led to the Academy expanding the number of nominees allowed for Best Picture, with the thought that it would lead to more audience-friendly movies and "mainstream" populist flicks to be nominated for Oscar's biggest award. Now, with so many big movies moving into awards season, it might actually happen. A Best Picture nomination for a comic book movie hasn't happened yet, and no sci-fi film has yet to win the prize, but similar films have been honored in the past. Just last year, Mad Max: Fury Road earned a Best Picture nod. With more big budget tentpoles moving into awards season, it could mean that voters might start taking them more seriously by giving them prestigious honors other than the shoe-in technical ones.
The fact that Oscar winners like Eddie Redmayne and Tilda Swinton and Oscar nominees like Felicity Jones and Benedict Cumberbatch are all appearing in big films this winter is even more telling of how these movies might be received going forward. Best Actress winner Brie Larson is soon playing Captain Marvel, and two-time Oscar winner Ben Affleck is reprising his role as Batman. Increasingly more "serious" and "prestigious" actors are taking on roles in comic book and fantasy films, and with this change, it's going to be hard for Oscar voters to avoid awarding these kinds of films forever.
So rather than lament how this summer was disappointing for the big budget, action-type movies that we've come to expect of the season, be excited over the fact that we have an entire other season to look forward to.
Images: Marvel Studios; Disney; 20th Century Fox