'The Light Between Oceans' Has A Side Of Reality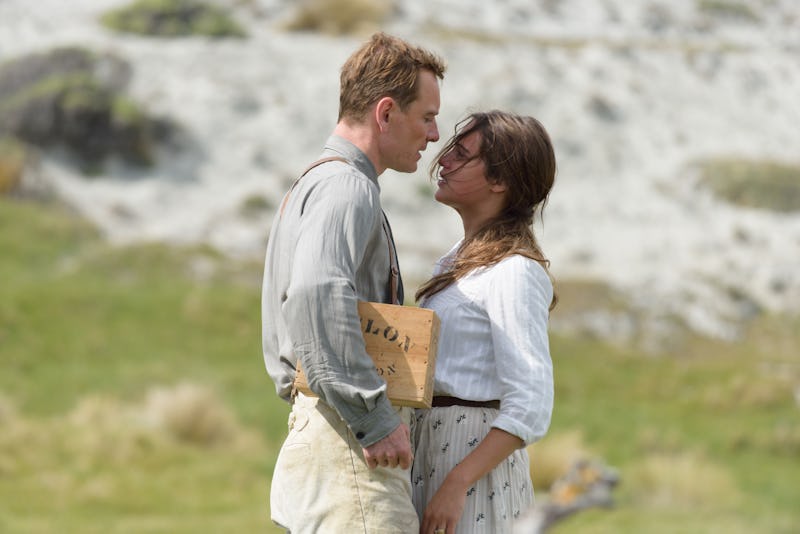 The Light Between Oceans is the end-of-summer romance you need in your life. The film stars real life couple Michael Fassbender and Alicia Vikander as Tom Sherbourne and Isabel Graysmark, a young married couple living on the West Australian coast. After being unable to conceive, they rescue a baby that washes up on their shore and decide to raise her as their own. Of course, things don't just end there and the story gets complicated when they meet a woman who appears to be the baby's biological mother. It all feels too melodramatic The Light Between Oceans to be based on a true story, but, hey, if War Dogs can be based on a true story, then anything can.
So, is any of this pulled from reality? Well, I'll put it this way: Finding out The Light Between Oceans is based on a true story would be like learning Noah and Allie from The Notebook really did write their epic love story and they just left it in Nicholas Sparks' basement. Neither of those two things is ever going to happen. So, no, The Light Between Oceans didn't happen to a real couple. However, just like The Notebook, The Light Between Oceans is based on a novel of the same title, though not by Sparks. Written by M.L. Stedman, The Light Between Oceans became a bestseller when it was first published in 2012.
Though the film is fiction, writer-director Derek Cianfrance made sure to make the film as authentic as possible. Cianfrance, known for his breakout feature Blue Valentine, is famous for immersing actors in real life situations and letting them loose during filming (to a certain extent). For The Light Between Oceans, Cianfrance moved Fassbender and Vikander to a remote area in New Zealand, where they lived together for five weeks. "We lived there for five weeks, trying to find a place where acting stops and being [begins]. And where the story stops and life begins," Cianfrance said in an interview with Entertainment Weekly . Rachel Weisz, who stars as the baby's biological mother, said she loved Cianfrance's somewhat unorthodox way of working: "He's very different from anyone I've ever worked with, in that he's really interested in the reality of the situation," she told Indiewire.
While the film isn't a true story (which, let's face it, is probably for the best), there is still one real life tale tied to the film: Vikander and Fassbender actually fell in love on the set — they're still together two years after filming. That sounds pretty real to me.
Images: Walt Disney Studios