14 Apps For Saving Money In College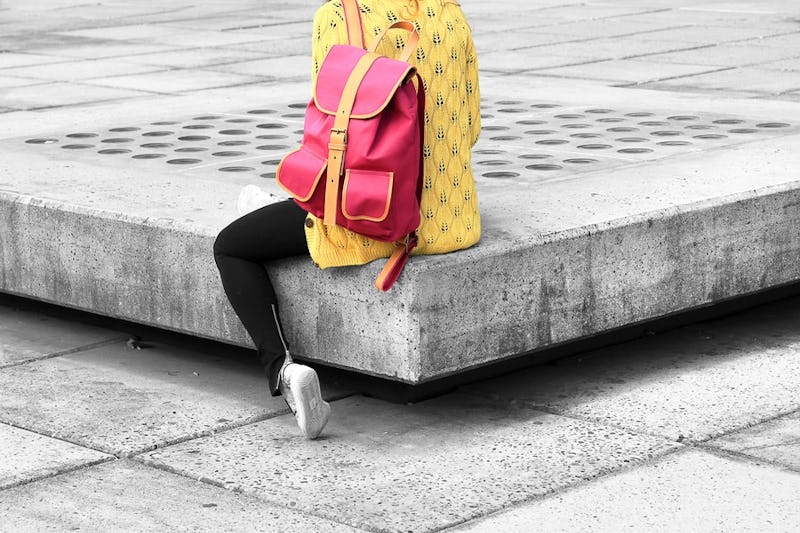 Saving money is not easy. Saving money as a college student — damn near impossible. That why these apps for saving money in college are crucial for anyone planning on having a stable financial future post graduation. If only I had known about them a few years back! Maybe I would be taking vacations in Hawaii instead of sitting on lawn chairs with fake palm trees around me right about now. Lucky for you, this list exists now. So get your budgeting education on.
Going to college means being on your own for the first time. That can get tough — especially when it comes to your finances. Your mom and dad are no longer paying for movie tickets and shopping sprees. No, they are too busy helping you pay off your student loans. Your job as a responsible new-adult is to make their lives easier by becoming financially independent from them. Key words: get a job. Once you have gotten yourself a part-time job on campus or near campus you should save as much as you can. That money will come in handy when you move to your first apartment or need to put a downpayment on a car. Since college provides you with a meal plan and housing, your spending should be minimal until you move off campus.
That's when the real fun starts and where these apps can kick in with savings up the wazoo. By carefully planning and taking advantage of these free apps you can save up a pretty penny. So get ahead of the curve and download them today.
1. Flipp
In the Flipp app, you will find hundreds of coupons from the brands you love. Flipp allows you to load all of your loyalty cards to the app and load coupons in the app to your loyalty cards. You can scan your loyalty cards directly from your phone for instant savings at the checkout.
2. Hopper
If you attend college far away from your home, this app will help you save money on airfare tickets. Their website states that they are able to do this with 95 percent accuracy, so you don't have to worry about buying tickets too early or missing the good deals by buying too late.
3. GasBuddy
In the same vein, GasBuddy is here to save you money on your gas. It looks at the prices of gas near you and directs you there. I've been using this app for a while and it's awesome. You can also help keep the app updated by putting in the prices you come across.
4. LivingSocial
If you want to experience the neighborhood around your campus, but don't want to make a huge dent in your savings every month, check out the deals this app provides. You can find restaurants and shops that are lowering prices just for you (and get your friends involved in the fun as well!).
5. WiFi Finder
I'm not saying that looking for an apartment near free WiFi is ideal, but I am saying it will save you money on your internet bill. (Sorry, neighbors.) But really, if you're looking to work somewhere off-campus or trying to get some studying done on the fly, this can be a lifesaver.
6. Venmo
Now you don't have to pay those annoying ATM fees when you forget to withdraw cash. Just use Venmo to pay your friends back for covering you after dinner. It's instantaneous and you can track your spending on the app.
7. Viggle
Get paid to watch T.V. and stream shows online. This app will reward you for relaxing! This way you can hit the books and reward yourself with both prizes and some down time.
8. Repair Pal
If your car breaks down, you don't want to overpay for the fix. This app will let you plug in your problem and calculate what it will cost to repair it. That will be your bargaining tool once you enter a repair shop — because trust me, people will try to charge you for way more than the work is worth, especially if you seem inexperienced.
9. ShopKick
Find rewards and discounts from hundreds of name brand stores. You can furnish an entire house or just pick up a few things for the dorm using the coupons and deals it finds you online.
10. MobiSave
Rebates, rebates, and more rebates. All you do is go shopping at your regular store. Do everything you always do. Then keep the receipt, plug it into your app, and watch the rebates come flying in. Connect it to your Paypal account and withdraw the money when you want it.
11. TUN
If you are a student and are looking for exclusive deals, this app will locate them for you. Now you and your friends can plan around things happening near you and save a pretty penny while having fun.
12. Ibotta
Coupons are overlooked far too much in this country. You are sitting on MONEY, PEOPLE. This app will find you coupons for things at retail stores as well as pharmacies nearby. So be on the lookout.
13. RoverTown
Student-specific savings can be found on RoverTown. You also get them on your phone, so that way you don't have to print out a thousand sheets and carry them everywhere. Don't forget to pack that University ID, guys!
14. Qapital
If you are uncontrollable spender, this might just be the app for you. It saves you money by having you create rules for your checking account. For instance, every time you spend money on a cup of coffee, you can tell the app to send three dollars to your savings account. If you tacked just a small amount of money on your frequent purchases, you can sneak your way into saving in no time!
Images: Pexels; Courtesy of Apps