You Must See This New 'Beauty & The Beast' Still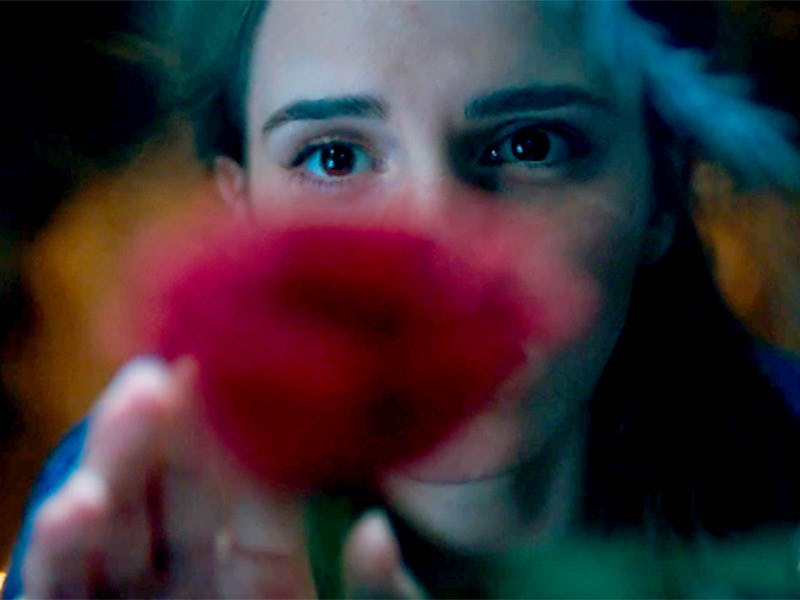 By now, live-action adaptations of everyone's favorite Disney classics are becoming — wait for it — a tale as old as time. First, we had the reimagining of Sleeping Beauty with Maleficent, then it was Cinderella, then The Jungle Book, and next in the lineup we have: Bon jour! Good day! Beauty and the Beast . Directed by Bill Condon and starring Emma Watson as Belle and Dan Stevens as the Beast, Disney's live-action remake will be based off the studio's Oscar-winning animated feature from 1991. We've already seen the official poster and teaser trailer, the latter of which featured a small snippet of Belle — but finally, it seems we have a look at the Beast. Specifically, the Beast in his human form, which shows just how closely the live action version will stick to its source material. (Spoiler alert: Stevens looks almost identical to the 1991 animated human prince.)
The behind the scenes shot has surfaced on Twitter. Apparently it's been taken from the bonus material of the 25th Anniversary Blu-ray from the original Beauty and the Beast, though this has not yet been officially released. In the shot, we see Stevens donning the luxurious Beast locks, along with a white shirt, and a penchant for Belle. OK, that last part isn't evident from the photo, but we're all friends here, we know the story. Take a look.
This photo seems to confirm what we already pretty much know to be true. The live-action version will be a repackaging of the story — just with real human peoples and not animated ones. The teaser trailer hinted at this already, as it showed the Beast's castle looking eerily similar to the one we already know from the '91 version. It played the exact same song from the prologue of the animated film, and though the only character we saw in the trailer was Watson's Belle, we did hear some dialogue from Lumiere and Cogsworth. They say, "'Look, a girl!' 'Yes, I can see it's a girl, you fool!' 'What if she's the one?'" This just so happens to be almost the same exact dialogue from the 1991 version.
Oh, plus this. The slashed portrait of a young Beast. Seen in the original here:
And from the trailer here:
So in terms of story, music, dialogue, set design, and right down to the detailed looks of the characters, we can pretty much assume that the live version of Beauty and the Beast won't be straying far at all. To steal a line from Cogsworth himself, "If it's not baroque, don't fix it."
Images: Walt Disney Pictures; Disney Movie Trailers/YouTube (2)