Ashley & Wells May Not Go The Distance On 'BiP'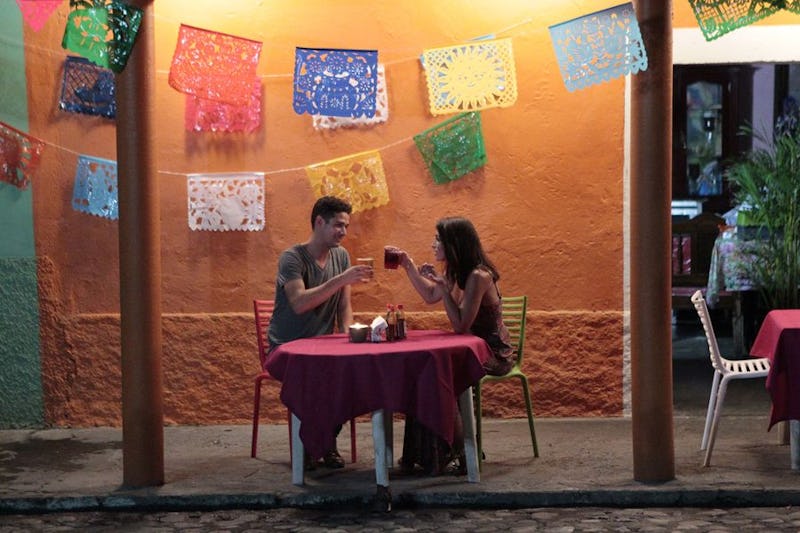 What's a better way to close out the summer than watch fan-favorite former Bachelor and Bachelorette contestants compete for love again in the free-for-all that is Bachelor in Paradise? Probably a vacation, but Bachelor in Paradise is a close second — especially since it's already been heavily hinted that Season 3 will end with three engagements. Will those engagements be longstanding couples (at least, in terms of Paradise), or newer connections? Do Ashley I. and Wells get engaged on Bachelor in Paradise ? Could you imagine?
Ashley has notoriously been hung up on Jared since Season 2 of Bachelor in Paradise and, according to her, the time between seasons only helped to make the waters of their relationship murkier. But, after Jared made it clear (quite a few times) that he wasn't interested in pursuing a romantic relationship with her, Ashley asked for a second chance in Paradise this season — and it seems she'll finally get it when Wells rolls into Mexico during Week 4. The date between Ashley and Wells has been teased ever since the first trailer for Bachelor in Paradise Season 3, so I'm looking forward to seeing how it all turns out. But, do Wells and Ashley have staying power, or do they part ways before the Bachelor in Paradise finale credits roll?
Well, as I mentioned, before the season premiere Bachelor in Paradise producer Mike Fleiss tweeted that there would be "Multiple Engagements!!!" and many fans have taken those three exclamation marks to mean there will be exactly three engagements. Plus, if you have been following the Bachelor in Paradise news beat — as I'm sure many of us in Bachelor Nation do — you've probably heard about two couples that have been spotted together since filming on Season 3 wrapped, which means there's one other couple from the show potentially getting engaged. Is it Wells and Ashley? My gut says probably not.
At this late in the game, I doubt any newer couples will be getting engaged. We all know love happens fast on these Bachelor shows, but going from meeting to sharing a first date to getting engaged in a week is fast even by these standards. Plus, neither Ashley nor Wells have posted any hints about being in a relationship on their social media. Wells seems closer to his dog, Carl the bloodhound, than Ashley, and she went on vacation with Jared — as well as her sister Lauren, and Bachelor in Paradise Season 2 success story Jade and Tanner — shortly after the season wrapped. Call me crazy, but going on vacation with the guy you're still getting over being in love with doesn't scream "Just got engaged."
Of course, there is a particular Instagram video on Wells' account that has some fans speculating whether he did spend time with Ashley after the show. In the video, he can be seen jumping off a cliff and into the lake below, and some fans have wondered whether the woman filming is Ashley. I'd guess it isn't — partly because it doesn't really sound like her. But, I also don't think it is because it would mean Wells went on vacation with Ashley and her friends — and Jared. While possible, it seems a little weird to me.
Still, we'll have to wait and see what exactly happens between Ashley and Wells on Bachelor in Paradise. I'm certainly going to be rooting for these two to make it out of Mexico with a relationship in tact, but so many things can go wrong. Just look at Vinny and Izzy.
Images: Rick Rowell/ABC