Could Wells Be Endgame For Ashley On 'BiP'?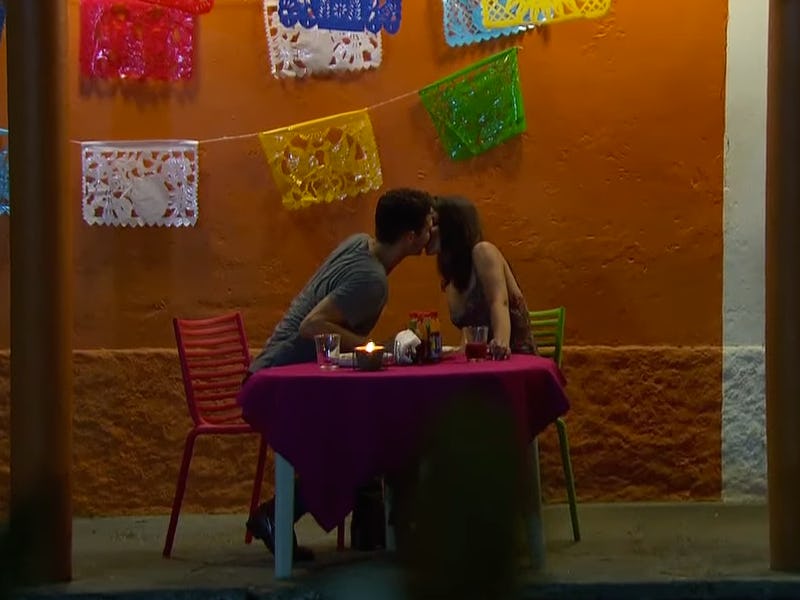 Ashley I. has a thing for nice guys — well, I mean one nice guy since her time on Bachelor in Paradise Season 3 has been dominated by her continued obsession with Jared. But that might all change when Ashley goes on a date with Wells on Bachelor in Paradise . Another nice guy, Wells was a favorite from JoJo's season of The Bachelorette for being so adorably real and this Nashville DJ is getting a second chance at love with Ashley. While Ashley still appears to be head over heels in love with Jared during the Aug. 23 episode, ruining his time with Caila with her tears, previews for future episodes show that when she does meet Wells, she finally (finally!) has a change of heart. However, since I don't trust her as far as I can throw her, is it really possible that Wells and Ashley stay together after the show?
Because of Ashley's antics when it comes to Jared and Caila (for the love of Chris Harrison, stop with the crying!), Jared was seen stooping to her level during the Aug. 22 episode when he tried to pawn off Ashley on Ryan. Yet, Ryan from Kaitlyn's season was no fool and went on a date with Haley instead since it was obvious that Ashley only had eyes for Jared as she fawned over him to Ryan, stating that she thinks that Jared is "the entire package." The fact that Ashley still isn't ready to move on in any sort of capacity from Jared doesn't seem to bode well for her relationship with Wells, but according to Ashley in the Season 3 promo, they could be the real deal.
As seen in the above video, Ashley says, "Once I met Wells, like everything turned around. When I look at his eyes, I feel more chemistry than I ever did with Jared." Wells is then shown already jumping into baby making in Paradise (slow your roll, dude — she's a virgin), so does this mean that Ashley is officially over Jared and ready to commit to Wells? One possible good sign for Wells and Ashley is that she posted the below video on her Instagram of her desperately, but also hilariously, literally hanging onto Jared in a pool with the hashtag #actuallyoverit.
While the Ashley on Bachelor in Paradise is currently smitten with Jared as of the Aug. 23 episode, Ashley post-Paradise says she's over him. But just because she says she is finally over Jared, that doesn't mean she's dating Wells after the show. With some social media sleuthing, I didn't find either of them mentioning the other one — but that actually usually means good things for a real relationship since you've got to keep spoilers at bay when you're a part of Bachelor Nation. The only social media connection they have besides shared Bachelor Nation friends is that they both posted on Instagram about hanging out with Mario Lopez on Extra, but uh, similar self-promotion a month apart doesn't equal lasting relationship.
Whether Wells becomes a long-term relationship for Ashley or just helps her get over Jared, I gotta admit that I'm happy for her. Maybe I'm just happy for myself that I won't have to see her sniffling as much once Wells appears, but I am also glad that she will realize there is life after unrequited love. But before she can reach that moment of clarity, she's going to ream out Caila a bit in the Aug. 23 episode, so don't expect a well-adjusted Ashley just yet.
Image: ABC