Get Ready For A Long 'PLL' Hiatus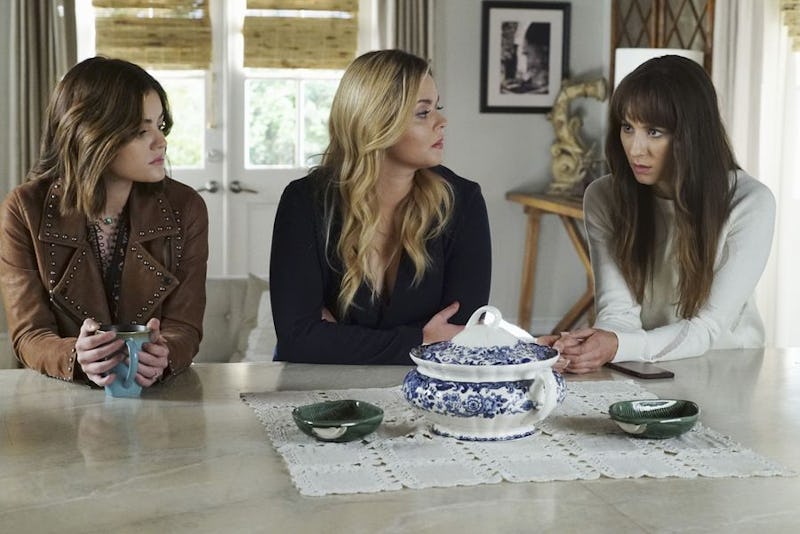 It feels like only a week ago we were gearing up for the Pretty Little Liars Season 7 premiere and now, here we are, 10 weeks later on the cusp of its 7A summer finale. Yes, our Tuesday nights are about to be pretty bleak without our favorite Rosewood residents to help keep us company. And considering the inevitable cliffhanger the writers are bound to leave us with, the wait for its imminent return is going to be absolute torture. But just how long will we have to wait? When will Pretty Little Liars Season 7B return and end our suffering? Unfortunately, this hiatus is going to last a lot longer than we're used to.
On the heels of announcing that Pretty Little Liars Season 7 will be the show's last (*sobs uncontrollably), I. Marlene King also revealed on Facebook Live that the show will return for the second half of its seventh season in April 2017. Now, as many of you know, Pretty Little Liars has a longstanding history of kicking off their mid-season debut every January, so I thought they were probably going to follow the same game plan here. Turns out, I was very, very wrong. Our wait has just been increased by three additional months!
It's definitely not an ideal scenario for a show as addictive as this one, but I suppose fans can at least take comfort in knowing that when the series does return, it will prove to be well worth the wait, considering how many things we have to look forward to. Such as...
Wren's Return
We knew Julian Morris couldn't stay away forever and now that The Hollywood Reporter has confirmed that he's officially coming back to Rosewood as Dr. Wren Kingston I can't wait to see how he'll fit into the ongoing storylines. Has he been working with A.D. this whole time? Is he A.D. himself? Could he be Mary Drake's other child? Something tells me that his reappearance will help a lot of unanswered questions fall into place.
The Reveal Of Mary Drake's Other Child
I. Marlene King told Entertainment Weekly in a recent interview that Mary's child won't be revealed in the first half of the season, which means it will most likely come out at some point in 7B. And to add a little extra excitement to the mystery, she also said that it will definitely be someone fans already know. "As we get into these next 10 episodes we've been trying to give enough information where we can't confirm or deny it but fans can figure it out," King stated. "There are definitely dots to connect to get to the end."
Pastor Ted
Along with Wren, it's also been announced that Ed Kerr will be reprising his role as Pastor Ted during the second half of the season. Is this simply to reunite him with Hanna's mom or is his purpose a little more sinister than that? I'd like to think that Pastor Ted is one of the good guys, but on a show like this anything is possible.
'Shipper Bliss
It's been a weird season for all of your favorite PLL relationships what with the introduction of Spaleb and everything. But it seems like the series is about to make it up to loyal fans in a big way for the finale, which will undoubtedly carry over into future episodes. King told Entertainment Weekly in a different interview that "there are three sets of shippers that will be very happy with this finale." Considering the steamy fireplace scene between Hanna and Caleb featured in the finale promo, I'd bet they're definitely one of them, which means a reconciliation is well underway and I am HERE for it.
Suffice to say, April can't get here soon enough.
Images: Ron Tom/Freeform; Giphy (2); Freeform; prettylittleliars/Tumblr