'Yoga Hosers' Continues 'Tusk's Canuck Freak Show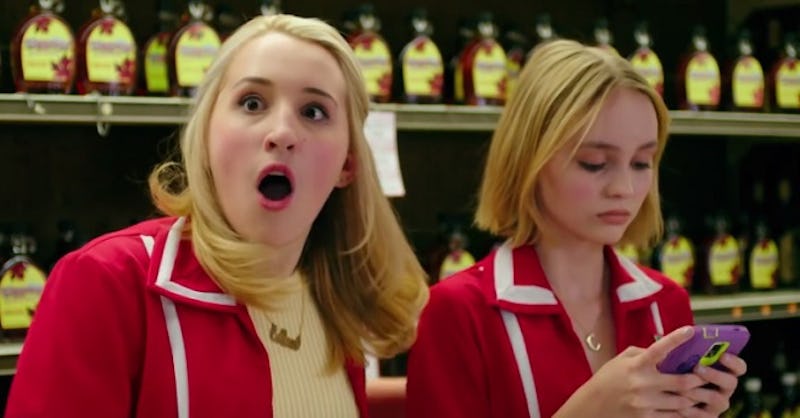 Kevin Smith fans can rejoice, as the cult favorite writer/director has a new film hitting theaters. Yoga Hosers, which stars his own daughter, Harley Quinn Smith, and Lily-Rose Depp as two Canadian high school sophomore yoga fanatics who work at a convenience store in Manitoba. Their lives take an exciting turn when a group of bratzis (tiny Nazis made of bratwurst) invade their store on a night they were supposed to be at a senior party, forcing them to use their yoga skills to defeat the little meat demons. It's Smith's first film since 2014's Tusk, and given that his movies are often connected, fans may be curious how Yoga Hosers connects to Tusk.
Yoga Hosers is actually a direct spin-off of Tusk . Although the new film doesn't continue the story of Tusk's grotesque human/walrus hybrid, it does feature several members of that film's cast — like Justin Long, Haley Joel Osment, and Genesis Rodriguez — albeit in different roles. Portraying the same characters in both films are Harley Quinn Smith and Lily-Rose Depp, whose nameless convenience store clerks (dubbed Colleen McKenzie and Colleen Collette in Yoga Hosers) appeared briefly in Tusk; as well as Johnny Depp (Lily-Rose's father), who reprises his role as investigator Guy LaPointe. And if you're a fan of Kevin Smith's gross out brand of horror-comedy that pokes fun at Canada, then you're in luck, because a third film is on the way.
Kevin Smith's next film is set to be Moose Jaws, the third and final installment in what he's dubbed his "True North Trilogy." The movie is being billed, as you may have guessed from the title, as Jaws with a moose. Actor Harley Morenstein said on his Facebook that he will portray the lead in the film, after playing two different characters in Tusk and Yoga Hosers. Also confirmed to be returning for the movie, once again as "The Colleens," are Harley Quinn Smith and Lily-Rose Depp, who receive mention that they will be back in the end credits of Yoga Hosers.
The films may be loosely connected, but Tusk and Yoga Hosers are indeed linked, thanks mostly to the teenage convenience store clerks who have a tendency to come across horrific things in the Great White North... and they're not ready to call it quits just yet.
Images: Invincible Pictures