The 'Incredibles' Sequel May Have Some Surprises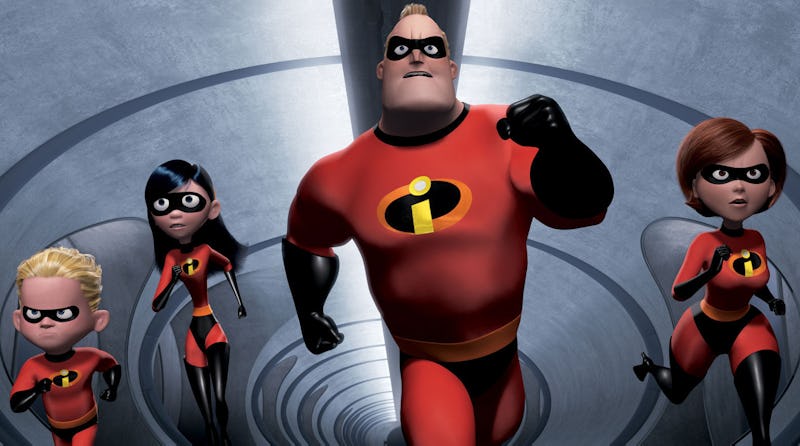 After years of sequels to Disney/Pixar classics such as Toy Story, Cars, and even Finding Nemo, we Disney superhero fans are finally going to get the one sequel we've been waiting for: The Incredibles 2 . With the first film's original writer and director, Brad Bird, on board, Mr. Incredible, Elastigirl, Violet, Dash, and Jack Jack are back to fight the evil villains of the world. What villains and how exactly the team will be fighting is still up in the air, and, in fact, any guesses that we might have made about the plot might already be wrong. In an interview with Entertainment Weekly, Bird revealed that The Incredibles 2 may be going in whole "new direction." Now, anything is possible.
"It's very actively moving [with The Incredibles 2], and we're excited about it," said Bird. "[We're] trying to take it in some new directions. [...] Hopefully it's the same characters and feel, but going in a new direction. I mean, that's the trick with a sequel. It's repeating yourself, without repeating yourself."
My younger self (who proudly carried the nickname Violet) is reawakened. However, she's also got her force-field ready for action. If The Incredibles are headed in a "new direction," some unexpected twists and turns could be on their way. I'm talking new heroes (without capes, of course), plot twists, and, of course, a brand new villain. Bird followed up his hesitation to share more by saying, "I don't like unwrapping presents before Christmas," and yet I'm suddenly a little kid running down the stairs on Christmas morning. It's time to shake some of the unopened packages under the tree.
For one, I think Bird's statement rules out any chances of Syndrome making some kind of surprise return. As much as I love these fan theories, this could also rule out the chances of Jack Jack becoming the villain or the babysitter coming back for revenge. However, this does open up the possibility of Disney introducing all new heroes and villains with unique abilities. I'm totally on-board for some seriously kick-butt new female characters.
Maybe Frozone's wife will join the crew? Or it'll be someone from Elastigirl's past that plans on taking back the city? Or, if they're really shaking things up, perhaps Disney is seeing this sequel as a window of opportunity for merging The Incredibles with Marvel? With the success of Big Hero 6 , I just have to throw that idea out there. Seriously, if there's even a chance that's what they have in store... I'm pretty sure a force-field alone won't be able to handle my excitement.
I'm just have to dust off my super suit and sit invisibly by as we await more details.
Images: Disney Pixar Animation Studios; Giphy