This 'GG' Shirt Can Now Be Yours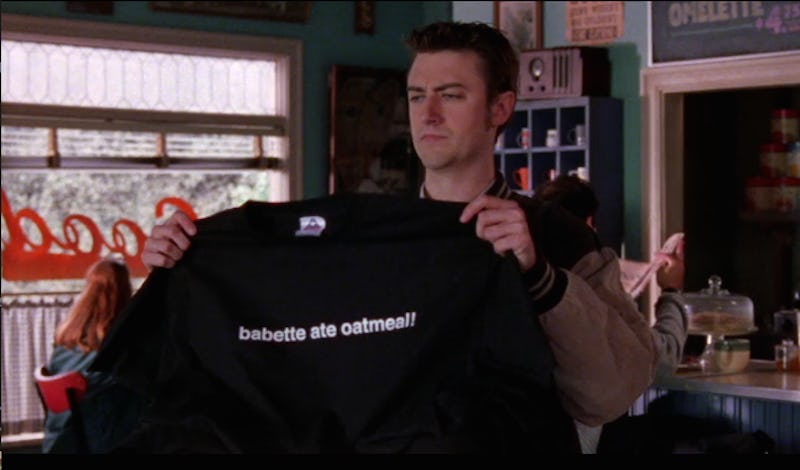 If there's one way to get in the spirit of the Gilmore Girls revival, it's with some of the best souvenirs from Stars Hollow. I've already started. My Dragonfly Fly Inn keychain has been keeping my keys company for months now, for instance — and that's just for starters. But when the Gilmore Girls posted a picture to Instagram of those infamous "Babette ate oatmeal!" shirts, I had to get my hands on one ASAP. And I know I'm not the only one: There have been plenty of people clamoring for these shirts over the years, pretty much ever since Kirk started selling them in Stars Hollow. So, now that they're appearing on the Gilmore Girls revival Instagram, where can you get the "Babette ate oatmeal!" shirt? There are a number of places that can make this souvenir dream come true for you.
Babette Ate Oatmeal T-Shirt, $18, Amazon
What did we do before the Internet? I, for one, used cheap t-shirts and puffy paint to make shirts like this glorious "Babette ate oatmeal!" one — but, thankfully, now there are many options, including this one from RedBubble.com. This seems to me like the purest version of the original, coming in pretty close as far as font and color are concerned. You can also order colors other than black, but that just seems wrong to me.
Then there are the multiple options over at LookHuman.com. There, not only can you get this Gilmore Girls memory in t-shirt form, you can also get it as a hoodie, a racer back tank, and a baby one-piece, among others. I'm kind of all for indoctrinating the young with cultural references that I deem important, so I totally support this.
And then there is the option of altering the font style and punctuation. Over at CafePress.com, you can pick the font style and the punctuation that you prefer on your shirt. This is great, because it allows room for personalization: Don't love the font? Get a different one! Not a fan of the exclamation point? Get one without!
So take your pick, Gilmore Girls fans. There are plenty of options to get your Stars Hollow fashion items before the revival airs.
Image: Warner Bros. Television