Here's What The Chile Mocha Tastes Like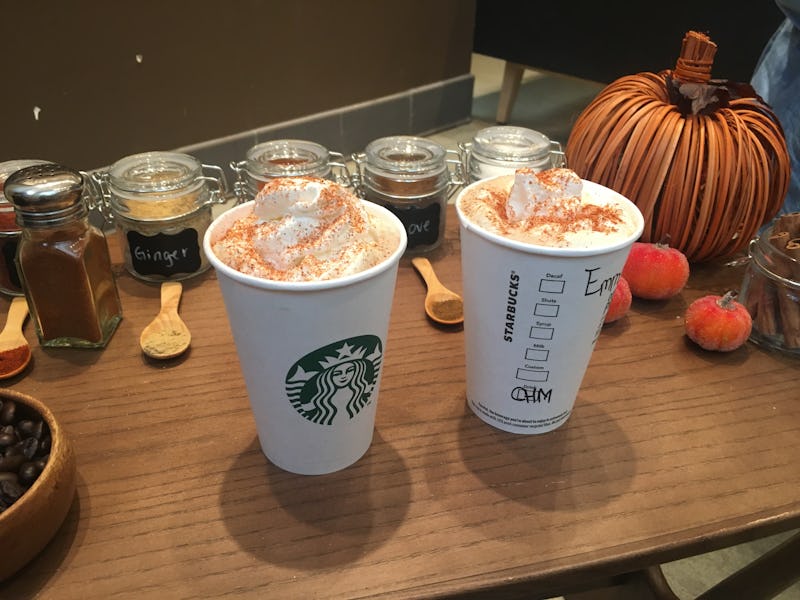 Listen, fam: I am not a person who is prepared for change. When Starbucks announced the Chile Mocha as its newest fall drink, I was ready to cling to my boyfriend the Pumpkin Spice Latte for dear life. But thankfully I made room in my heart for another, and anyone who is wondering what the Chile Mocha at Starbucks tastes like can rest assured that you will not be disappointed in this year's new addition to the fall beverage lineup. In fact (*covers the ears of my PSL*) this drink is so delicious that it might just become your new fave.
It's a little hard to describe the exact taste of a Chile Mocha simply because it's not like anything Starbucks has ever done before. To me personally, it tastes a bit like how a campfire feels. You get just the right amount of kick from the spice of it, which is smoothly evened out by the chocolate, and leaves this super satisfying warm aftertaste. If you're worried about it being too spicy for you, don't be — I'm a person who is infamously bad with handling spice of any kind (like, "Wow, this water sure is spicy!" bad), and I thoroughly enjoyed it. It's just the right amount of spice to open your eyes a bit more in the morning on your commute, or get you through that last round of study guide scrawling during fall midterms (#prayingforyou).
Here are the specifics on what to anticipate from this new fall menu item: the drink is blend of cocoa and spice, steamed together with two percent milk, which then tops Starbucks espresso. It is garnished with whipped cream and sprinkled with a spice topping of ancho chili pepper, sea salt, cinnamon, paprika, cayenne chili pepper, and sugar. Don't cower at the words "chili pepper" and "cayenne pepper" though, fam — it really does give it just the right amount of ~kick~.
You can also shake things up a bit by trying the Chile Mocha on ice or in Frappuccino form, or even customize it with Starbucks' new Almondmilk, which will give it a nuttier, slightly less sweet flavor. But don't take my word for it, guys — you can try it for yourself when the drink is available nationwide on September 6, and if you're a Starbucks Rewards loyalty member, you can get early access to try it September 3. This definitely is not an experience to miss!
Images: Courtesy of Starbucks