Almond Milk Is Coming To Starbucks!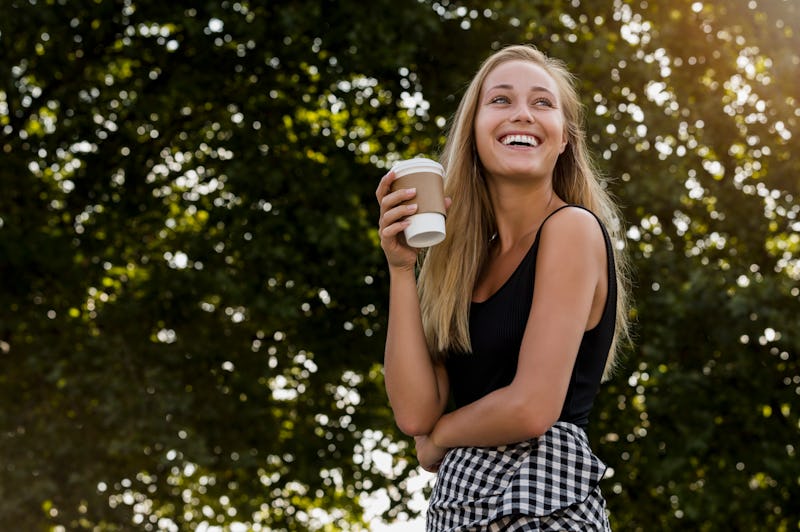 Westend61/Westend61/Getty Images
Good news for everyone who's been clamoring for ages to have the option of getting almond milk at Starbucks: It's finally happening! Starting on Sept. 6, Starbucks Almondmilk will make its appearance in over 4,600 stores — just in time for Pumpkin Spice Latte season, I might add. (And yes, it's stylized as "almondmilk" — according to Starbucks, spelling non-dairy milk alternatives as one word is "the latest industry approach.") Almond milk has long been one of the most popular suggestions on My Starbucks Ideas, the company's site for crowdsourcing ideas from the general public, so anyone who's ever wondered, "Hey, why the heck doesn't Starbucks have almond milk?"… well, you can stop wondering now. Hoorah!
What's more, it's not the same old almond milk you usually grab from the grocery store — Starbucks makes their own version themselves. Why? Because it needed to have some special properties. Said Yoke Wong, manager for the Starbucks beverage R&D team, in a press release, "We created our almondmilk recipe to complement our hot, iced, and Frappuccino blended beverages. It was designed so that when steamed, it creates a rich foam for hot beverages and is delicious and creamy when served in cold beverages." No doubt it'll be a welcome addition, particularly for those looking for a vegan alternative to milk for their hot cappuccinos and lattes: As food writer and expert Mark Bittman notes, steamed almond milk creates "impressive foam" that "really holds its integrity" — something with which a lot of other non-dairy milk alternatives have trouble.
Starbucks Almondmilk joins two other non-dairy milk alternatives already on the coffee giant's menu: Soy milk (stylized as "soymilk"), which was released in 2004, and coconut milk (you guessed it — officially, it's "coconutmilk") arrived in February, 2015 after being tested in Los Angeles, Cleveland, and Oregon during the fall of 2014.
Alas, Starbucks Almondmilk won't arrive everywhere all at once; according to a press release, company-operated and licensed stores in the Pacific Northwest, Northern California, New York, Northeast, and Mid-Atlantic will be the first places to get it when it debuts on Sept. 6. However, a nationwide rollout should be complete by the end of September, so you'll still have plenty of time to enjoy an almondmilk-spiked PSL this fall, if that's your jam. It'll be available in any Starbucks beverage you like for an additional 60 cents. Heck. And yes.
Images: Westend61/Westend61/Getty Images; Giphy