18 Must-Read Nonfiction Books Of September 2016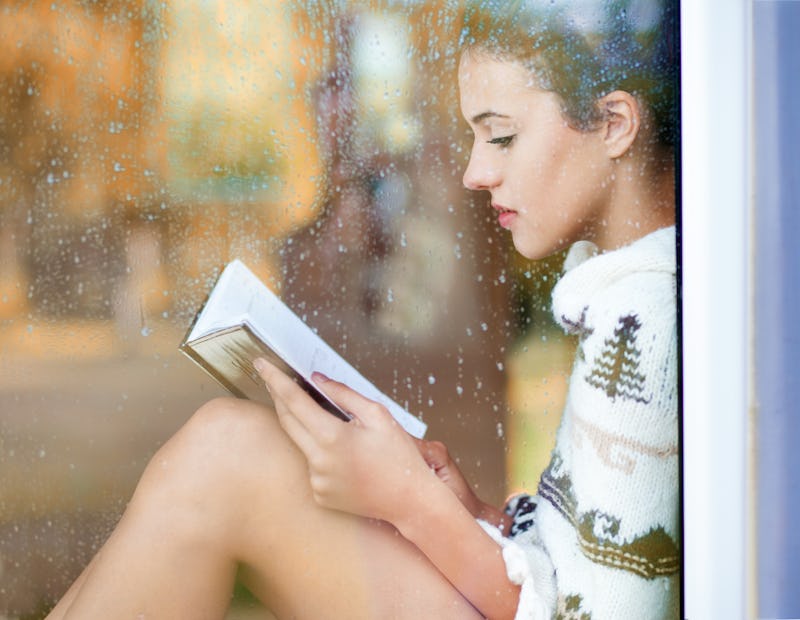 Summer is winding down, so you may soon have to retire your favorite outdoor reading spots for the next several months. Fortunately, there is just as much — if not more — reason to read in autumn: As the weather gets colder, you'll have the perfect excuse to stay inside with a pile of books. If you take advantage of it, you can plan on finishing up your summer reading list and taking on fall's exciting new releases.
September will close out summer and kick off autumn with a strong selection of new nonfiction books. As always, the genre offers up a variety of appealing work, no matter your reading interests. This month, you'll be able to celebrate women and their accomplishments, cry over beautifully poignant true stories, journey to faraway places, and more.
The fact that September is part of the back-to-school period could provide an additional incentive to read nonfiction. After all, the beginning of the school year is all about learning, and you don't have to be a student to get in on the action. It doesn't really matter, though; read for enrichment or read for fun — just read.
Below are 18 nonfiction books coming out in September 2016 that you should get your hands on ASAP.
1. Fashion Is Freedom by Tala Raassi (Sept. 6; Sourcebooks)
Born in Iran, Tala Raassi faced tremendous obstacles in pursuing her sartorial passion, including being lashed for wearing a miniskirt. She details her unlikely path to starting her own clothing label in Fashion Is Freedom: How a Girl from Tehran Broke the Rules to Change Her World. Her memoir both an engrossing personal journey and look at fashion in different cultures.
2. Pancakes in Paris by Craig Carlson (Sept. 6; Sourcebooks)
In Pancakes in Paris: Living the American Dream in France, Craig Carlson shares how he came to open a successful American diner in one of the world's culinary capitals. Having never started a business or even worked in a restaurant before, he admits his goal was a long-shot, but that just makes his story all the more inspiring. His adventures are full of interesting characters, delicious food, and charming sites.
Mark Manson may turn your entire approach to life upside down in The Subtle Art of Not Giving a F*ck: A Counterintuitive Approach to Living a Good Life. The self-help blogger uses his knack for getting straight to the point to show readers how being "positive" isn't realistic in the world we live in. If you can handle his no-BS approach, he'll entertain and, more importantly, educate you.
4. Feminist Fight Club by Jessica Bennett (Sept. 13; Harper Wave)
Born out of a women's group's monthly meetings, Jessica Bennett's Feminist Fight Club: An Office Manual (for a Sexist Workplace) delves into the struggles of being a woman in the workforce. Using personal stories, research, illustrations, and more, Bennett provides vital information for navigating the working world. If you've ever dealt with a "Manterrupter," self-sabotage, or other all-too-common issues, you'll appreciate the tools, tips, and tricks she provides.
5. When Strangers Meet by Kio Stark (Sept. 13; Simon & Schuster/TED)
Kio Stark may change how you view interactions with strangers in When Strangers Meet: How People You Don't Know Can Transform You. In the book, she discusses how insular our lives have become and why it is important to chat with strangers we encounter. Stark makes her compelling case using her own stories and shows both the personal effects and the impact on humanity.
6. Trailblazers by Rachel Swaby (Sept. 13; Delacorte Books for Young Readers)
While Rachel Swaby's Trailblazers: 33 Women in Science Who Changed the World is geared toward middle grade kids, the collection of profiles serves as a chance for anyone to learn more about women's amazing accomplishments in a field dominated by men. The gender bias in STEM makes it especially important to honor the work women have done, and Swaby's book does just that. You'll be inspired by the scientists' stories.
7. Sorry Not Sorry by Naya Rivera (Sept. 13; TarcherPerigee)
Naya Rivera embraces her past, missteps and all, in her memoir Sorry Not Sorry: Dreams, Mistakes, and Growing Up. The former Glee star candidly revisits her career and personal life, from her friendships and relationships to her acting successes and failures. Not only will you get a look at her fascinating story, you'll benefit from the lessons she learned along the way.
8. When in French by Lauren Collins (Sept. 13; Penguin Press)
Lauren Collins shares her own cross-cultural love story in When in French: Love in a Second Language. After falling for and marrying a Frenchman she met while living in London, Collins began to wonder what she was missing by not speaking her husband's native tongue. In her thought-provoking and often comical memoir, she details her struggles to learn French and explores the impact of culture and history on language learning.
9. Forward by Abby Wambach (Sept. 13; Dey Street Books)
U.S. soccer star Abby Wambach opens up about her life in Forward: A Memoir. The book brings readers from her childhood days of playing on a boys' team to her years as an international standout. Along the way, she reveals her personal and professional struggles, showing off her strength and courage.
10. The New Better Off by Courtney E. Martin (Sept. 13; Seal Press)
TEDWomen speaker and columnist Courtney E. Martin looks at life in the United States in The New Better Off: Reinventing the American Dream. She compares different generations' definitions of success to examine the kind of goals Americans pursue and how this affects society. Her work makes the case for a new American dream using fascinating personal anecdotes and social analysis.
Jane Austen's influence has continued long beyond her life, and lessons from her writing are still applicable. In The Jane Austen Writers' Club: Inspiration and Advice from the World's Best-Loved Novelist, Austen descendant Rebecca Smith provides tips and tricks based on the vaunted author's novels and letters. Not only does the book offer solid information, it gives Janeites a great excuse to revisit Austen's work.
12. Marrow by Elizabeth Lesser (Sept. 20; Harper Wave)
Elizabeth Lesser tells a heartbreaking and beautiful tale in Marrow: A Love Story. The memoir centers on Lesser and her sister Maggie as they prepare to do the bone marrow transplant Maggie needs for a chance at survival. They decide to do a "soul marrow transplant" as well, and together delve into their relationship, family history, and more to share their true selves.
13. The Tao of Bill Murray by Gavin Edwards (Sept. 20; Random House)
The Tao of Bill Murray: Real-Life Stories of Joy, Enlightenment, and Party-Crashing by Gavin Edwards is entertaining, whether or not you're a die-hard fan of the comedian. Readers get to join Edwards on a wild ride, full of Murray's amusing (and often bizarre) adventures. On top of sharing the actor's shenanigans, the book explores his unique guiding principles.
14. Die Young With Me by Rob Rufus (Sept. 20; Touchstone)
Prepare for another emotional one: Die Young With Me: A Memoir by Rob Rufus recounts a truly difficult period of the author's life. Diagnosed with Stage IV cancer as a teen, Rufus tabled his dreams of punk band stardom with his twin brother to literally fight for his life. His story isn't all tragedy, though: Music plays a key role in his moving journey.
15. Rad Women Worldwide by Kate Schatz (Sept. 27; Ten Speed Press)
Kate Schatz spotlights influential female figures in Rad Women Worldwide: Artists and Athletes, Pirates and Punks, and Other Revolutionaries Who Shaped History. Schatz tells the stories of the featured women, whose impact is remarkable but often overlooked. Illustrated by Miriam Klein Stahl, the book includes stunning artwork to accompany its captivating profiles.
16. Life Without Envy by Camille DeAngelis (Sept. 27; St. Martin's Griffin)
There's a reason we talk about starving artists: Finding success isn't easy. Understandably, struggle, rejection, and stagnation take a toll, and that's where Camille DeAngelis' Life Without Envy: Ego Management for Creative People comes in. The book aims to help creative types find contentment, even when their work isn't going well.
Jessica Teich explores a stranger's suicide and her own difficult past in The Future Tense of Joy: A Memoir. Battling demons of her own, she hopes that discovering why the young woman killed herself will help her cope. Teich digs deep into her own life along the way, creating a revealing and poignant account of her struggle.
18. The Bitch Is Back by Cathi Hanauer (Sept. 27; William Morrow)
Cathi Hanauer and numerous contributors follow up a bestselling anthology with The Bitch Is Back: Older, Wiser, and (Getting) Happier. Like its predecessor, The Bitch in the House, the companion collection is composed of insightful essays about womanhood. Now in their 40s, 50s, and 60s, the authors share new perspectives as they discuss aging, sex, love, feminism, and more.
Image: Fotolia