Amanda & Josh's 'BiP' Fantasy Suite Is Up To Them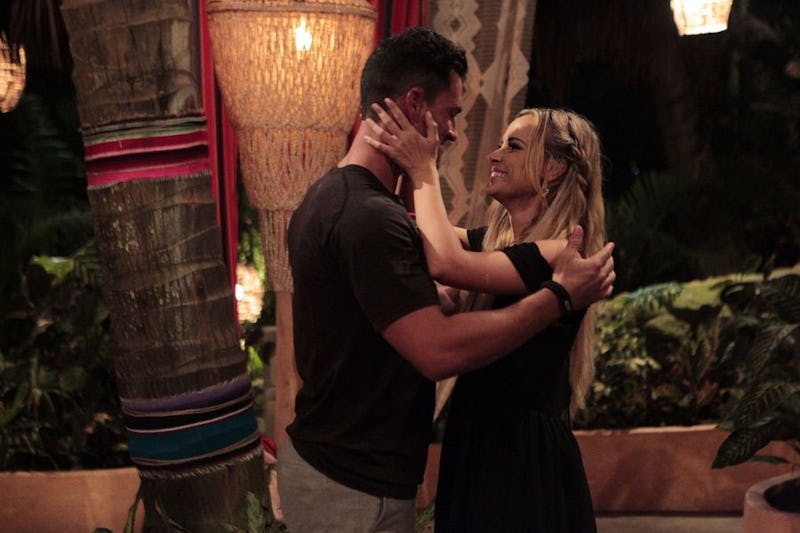 Bachelor in Paradise Season 3 has brought together an unlikely couple: Josh Murray and Amanda Stanton, who have been basically inseparable since the first night of Paradise that they spent together. And, now that the season is coming to an end, there's one major question left for this couple: will Josh and Amanda have sex in the BiP Fantasy Suite? I mean, they're already confirmed that they're living together, so I'd guess they'll be sharing the night together. As if they'll have sex? There's no reason to speculate on what's totally their private business... but if I was in a couple who loved PDA that much, I'd be saying, "Why not?!" If any couple in Paradise is going to hook up before the season is over, I'd say Josh and Amanda have a pretty great chance of doing so.
Even if they stick to the "we just talked in the Suite" cliche in order to avoid telling millions of people about whether or not they had sex, I would be shocked if they didn't choose to spend their night together — with one exception. I may buy that the couple decide to forego the Fantasy Suite if, and probably only if, Josh wants to distinguish this relationship from his relationship with Andi.
As you may know from watching Andi's Bachelorette season or from reading her tell-all book, Andi and Josh and allegedly fought over the fact that Andi also had sex with Nick in the Fantasy Suite. Josh has dismissed all of Andi's claims while on Paradise. "I can't comment on specific things in any kind of book that my ex has written, because it's a fictional story," he said. "There's stuff that's so ludicrous; how do you comment on stuff like that?"
Still, her claims have hung over the season and been brought up several times, so this could be a chance for Josh to show how different this relationship is to his last one. And Amanda has been standing by her man all season long, and even moved in with him and introduced him to her children, so giving up one night together could be a way to show her commitment to their relationship beyond the show, which is clearly flourishing.
Either way, though, there's no reason to judge the couple. Spending your first night together in Paradise could be either a fantastic new memory or something a pair decides to forego — that should be up to Josh and Amanda to decide, and nobody else's business. But, if I'm guessing, they totally take their chance to spend the night alone.
Image: Rick Rowell/ABC