See Swatches Of The Pumpkin Latte Highlighter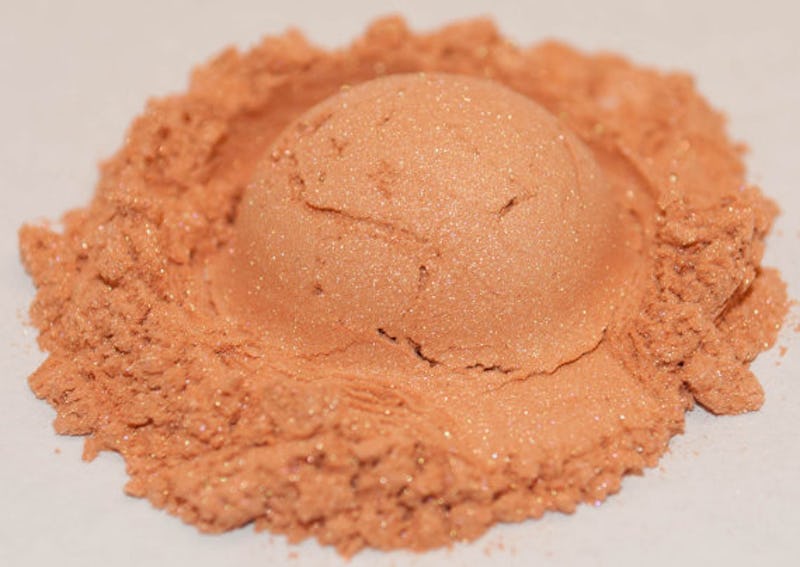 If you aren't in fall makeup mode yet, you will be soon. PopSugar found the Pumpkin Latte Highlighter of your dreams, and it's just waiting to be added to your makeup bag. Beauty products don't get much trendier than this, people! Swatches of the Pumpkin Latte Highlighter will have you ready to get in the PSL spirit.
This year has been all about the cheek shine. On top of Jaclyn Hill coming out with an entire Champagne Glow collection with BECCA and the rainbow highlighter that took the web by storm, another trendy product has hit Etsy just in time for fall. PopSugar came across Etsy user FeatherRiverBody's Pumpkin Latter Highlighter, and it's every bit as gorgeous as you'd imagine it to be.
While it doesn't seem like the highlighter smells like the drink it's named after, it does have a bright orange tone to it. PopSugar even compared it to Champagne Pop, Jaclyn Hill's iconic highlight with BECCA cosmetics. For just $5, you can try the product out yourself. Even if you don't like how it looks on the cheeks, it would make a gorgeous fall eyeshadow. Don't just take my word for it though, see this stunning shade for yourself.
Pumpkin Latte Light Orange Highlighter, $5, etsy.com
This color packs serious shine. It's got just the right amount of shimmer without being too glittery. In my opinion, that's the best type of highlighter. I can see Pumpkin Latte being worn on tons of different skin tones, too.
Pumpkin Latte Light Orange Highlighter, $5, etsy.com
The Pumpkin Latte looks a little more intimidating in the packaging than it does swatched on the skin. The golden sheen becomes apparent when you see it swatched.
Pumpkin Latte Light Orange Highlighter, $5, etsy.com
A great highlighter for about the same price as a PSL? I'll take it!
Images: FeatherRiverBody/Etsy (3)