TV-Inspired Couples Costume Ideas For Halloween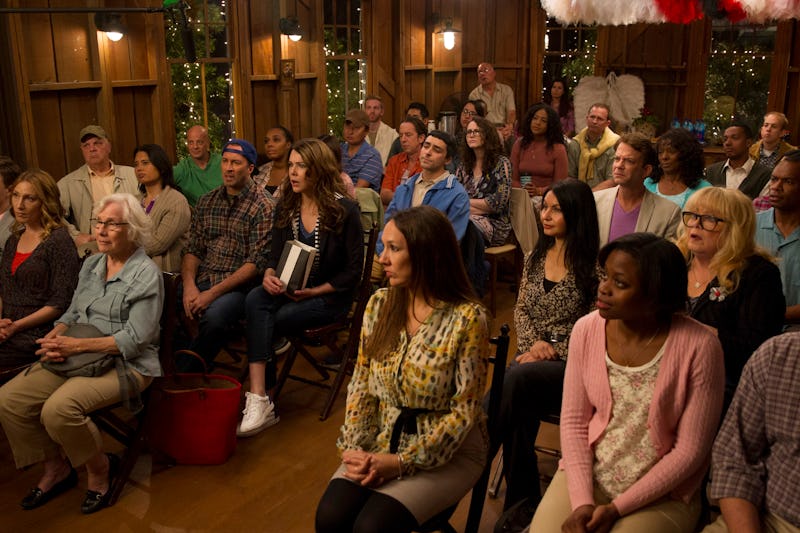 It's that time of year again. And, no, I'm not talking about the start of the fall television season. (Although, technically, it's that time of year, too.) No, I'm talking about the time of year where the weather cools, the leaves start to turn, and everyone starts planning the perfect Halloween costume for couples. But if you're the kind of person who thought "fall television season" in response to that first sentence, though, then chances are you are the kind of person who will find great inspiration from 2016 TV-inspired couples costumes. Because, if you happen to love Halloween and television in equal parts, then you are going to want to get your hands on some of these costumes inspired by your favorite television couples.
And here's the good news: They're all current couples. No Laverne and Shirley, and no Luke and Laura (though hey, if you want to dress up as any of them, you do you). These costumes are all inspired by shows that are popular (or are sure to be popular) in 2016. Oh, and the other good news? Each of these costumes are not only easy to recreate, they're totally affordable. If you have a reluctant partner who's not entirely into the Halloween thing, then all the better, because chances are you have a number of these items already lurking in your closet just begging to be utilized on the most photographed day of the year.
So get your bookmarks button ready. You're going to love these couples costumes inspired by your favorite 2016 TV shows.
1. Luke & Lorelai (Gilmore Girls)
What is this, 2007? No, the Gilmore Girls are back, thanks in large part to Netflix. What better way to ring in this exciting revival series than by paying homage to the ultimate coffee couple. The great news about this pick is that they dress like normal people (most of the time).
Gigantic Coffee Mug, $23, Amazon
For Lorelai, all you'll need is a pretty standard outfit (she does love her wrap dresses, so that's a good thing to remember), and a monstrous cup of coffee. For Luke, all you'll need is a baseball hat to wear backwards and a flannel that you have on hand. Thank god that man is low maintenance.
2. Lucious & Cookie (Empire)
Please tell me I am not the only one who dreams of living like Cookie on daily basis?
Gold Dress, $50, Amazon
Well now, for one night only, you can! In order for this couple to be recognizable, I'm going to suggest a gold dress for her.
White Suit, $67, Amazon
Next, a white suit for him.
If you can wrangle a faux fur jacket into the mix, even better.
3. Rebecca & Josh (Crazy Ex-Girlfriend)
The way to nail this couple costume is with the accessories. These guys dress pretty normally, but their alter egos are anything but.
I'd recommend toting around some boba tea (or at your local boba tea provider).
90's Style Boombox, $25, Amazon
Also maybe a '90s style boombox so you can regularly break into song ($25.43 on Amazon).
4. Phil & Claire (Modern Family)
A book of Phil's-osophies will be necessary to pull this costume off. Normal suburban clothes ought to do the trick, but I'd recommend maximizing the look with great accessories. Maybe even a wedge salad?
If you can score these Phil and Claire t-shirts, then even better.
5. Piper & Alex (Orange Is The New Black)
This one is pretty easy.
Beige Draw String Scrubs, $17, Amazon
Beige bottoms and tops are a must, but I'm going to say that being handcuffed together throughout the night would send this costume straight into the awesome territory.
6. Kim Kardashian & Kanye West (Keeping Up With The Kardashians)
All nude everything is a must to pull off this reality television couple.
Belted Coat Cape, $12, Amazon
I'd also recommend this Kim Kardashian jacket to really up the realism.
Kanye for President T-shirt, $16, Amazon
Oh, and this "Kanye for President" shirt to nail it home. Bonus points if you can Snapchat the entire party and not actually talk to anyone but your adoring fans through your telephone screen.
7. Ryan Lochte & Cheryl Burke (Dancing With The Stars)
For the sake of remaining recognizable, I think it would be best to stick to their normal uniforms.
I'm thinking a nice Speedo for him.
Flashy Dance Costume, $39, Amazon
And a flashy dance costume for her. If you can get your guy to wear a top hat and dress shoes as well, you'll really nail home this reference to the latest Dancing with the Stars couple.
There you have it. Now you can show off your love for Halloween and all things television at the same time.
Image: Netflix (3); Amazon (12); FOX; The CW; ABC