You Can Still Buy Kylie's Bronze Kyshadow Palette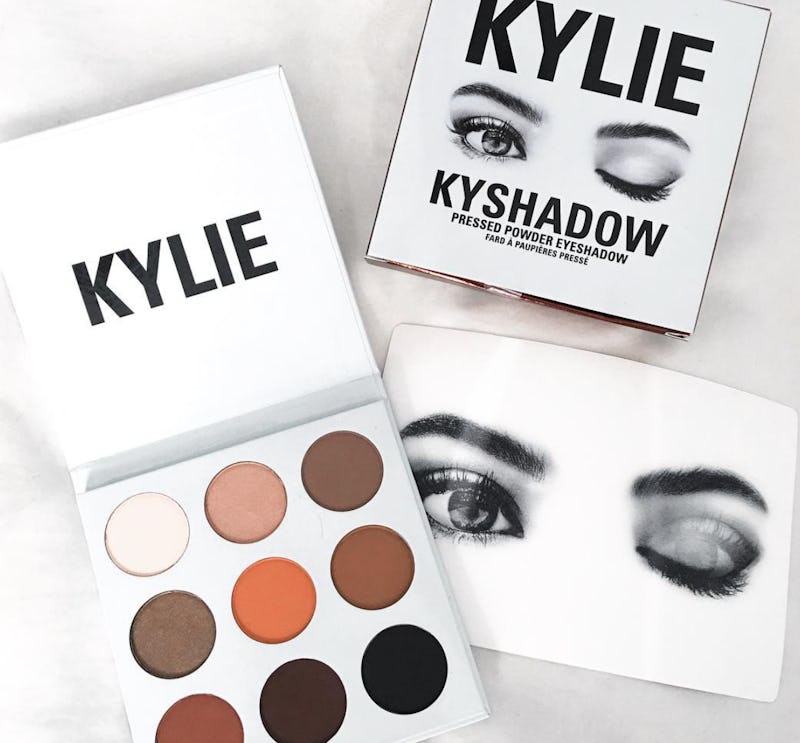 Wow. Just... wow. In the middle of making high profile appearances at NYFW, rocking Ferrari sunglasses, and dramatically swapping her naturally dark locks for a platinum dye job, as opposed to a wig, makeup mogul Kylie Jenner restocked her best-selling Bronze Kyshadow palette. Where did she find the time amid all that fabulousness? She obviously employs a team to help run the day-to-day operations of her cosmetics empire while she handles other pursuits. But it's rad that she didn't put her makeup biz on pause while she was out and about in NYC! The latest Kylie Cosmetics Bronze Kyshadow palette restock took place on Friday, Sept. 9. This restock has proven surprising for one reason.
What reason is that? The Kylie Cosmetics Bronze Kyshadow palette didn't sell out instantly. Perhaps the brand was able to produce additional quantity this time.
When the palette — the brand's first— debuted, it took all of a minute to fly off the digital shelves. Subsequent restocks fared much the same. The Kyshadow palette proved insanely popular and Jenner had a hard time keeping it in stock; she also enacted a one-per-customer limit.
But as of press time on Saturday, Sept. 10, you can walk on to the Kylie Cosmetics site and scoop up a palette. Even better, both the Black and Brown Kyliner Kits are also available.
The fact that the Kyshadow palette has been restocked and remains shoppable is wonderful news... especially if you've been shut out from purchasing from these eyeshadows since they launched.
The colors are so perfectly complimentary that it's no shock that the palette sells out all the time.
Here is the screen shot of the eye products on the site. All three are available. So don't delay. If you've lusted after any or all of these, you may as well shop them now, provided your budget allows. They are bound to sellout sooner than later. So get to it! The makeup universe is trying to tell you something.
Images: Kylie Cosmetics/Instagram (2); Courtesy of Kylie Cosmetics (1)