You Can Netflix These Shows In A Weekend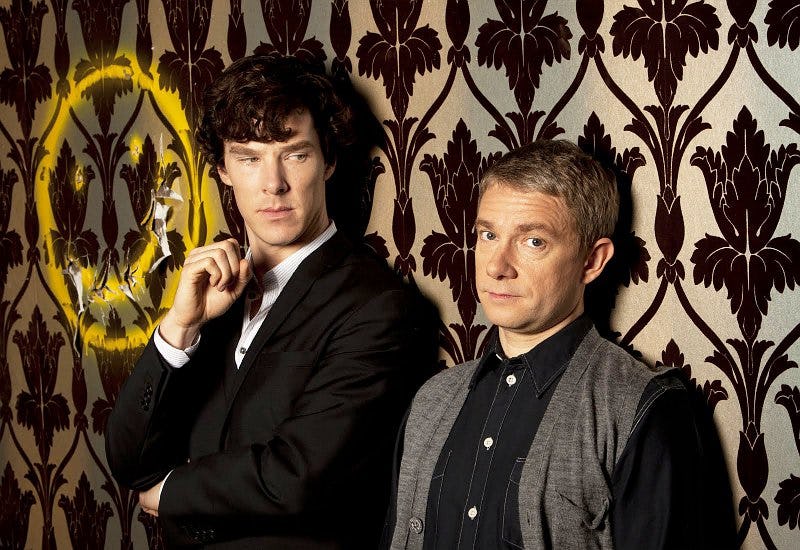 I love TV. Comedies, dramas, obscure British shows only eight people watched — as long as it is good and has at least one character I can actively root for, I'm there. The one part of the TV experience I struggle with is diving into a show after it has been on for more than two seasons. The task of catching up on five seasons worth of TV is just too daunting, I much prefer shows you can Netflix in a weekend or less. When I'm in the mood to marathon a new show, I want to know I can reach the end in a couple of days instead of half a year.
I know I'm not alone in my love of no fuss TV marathons, so I have combed through Netflix's extensive collection to find the best shows and miniseries you can watch in just one or two sittings. These shows are absorbing, entertaining, and, best of all, short. From one season wonders to those meaty British dramas you've been meaning to get to, these 23 TV shows are both manageable when paired with your busy schedule and well worth the time investment.
The next time you need a TV show to marathon on Netflix, but you don't feel like diving into a 10 season behemoth, consult this list to find your next favorite series.
1. Sherlock
Number Of Episodes: 10
Benedict Cumberbatch completely reinvents Sherlock Holmes for the 21st century in this show that deserves every ounce of its hype. There are three seasons consisting of just a total of 10 episodes, and with Season 4 coming in 2017 now is the perfect time to catch up.
2. The Get Down
Number Of Episodes: 6
An epic, sprawling tale of life in the Bronx circa 1977, this Netflix original is made for music lovers.
3. Better Off Ted
Number Of Episodes: 26
Don't let the episode count fool you. With each episode coming in under the 30-minute mark, a weekend is the perfect amount of time to devour this short-lived workplace satire.
4. Stranger Things
Number Of Episodes: 8
If you haven't met Eleven yet, then you need to devote eight hours to Season 1 of this fantasy masterpiece as soon as possible.
5. The Spoils Of Babylon
Number Of Episodes: 6
Hilarious, packed full of famous stars, and completely irreverent, this send up of epic melodramas is perfect for when you need a quick jolt of high quality nonsense.
6. The Fall
Number Of Episodes: 11
Gillian Anderson steals every scene in this cat and mouse game between a serial killer and a brilliant detective.
7. The Last Kingdom
Number Of Episodes: 8
Love the power plays and battles on Game of Thrones, but could do without the fantasy element? Here is your new favorite show.
8. Galavant
Number Of Episodes: 18
Galavant is a musical comedy that's part Princess Bride and part Monty Python and the Holy Grail.
9. Marcella
Number Of Episodes: 8
The noir touches make this British crime drama a dark treat.
10. Dark Matter
Number Of Episodes: 13
It's been a long time since a space drama with this much mystery and bite has come along. Season 1 is on Netflix now, so marathon it and then head to Syfy to watch Season 2.
11. Terriers
Number Of Episodes: 13
Cancelled after one all too short first season, Terriers is an addictive private detective show about two lovable, down on their luck guys who stumble onto a case that's just a little bit out of their league.
12. Black Books
Number Of Episodes: 18
Indulge your inner misanthrope with a visit to the most disorganized book shop in England.
13. Garfunkel And Oates
Number Of Episodes: 8
Why there were only eight episodes of this quirky, delightful comedy is a mystery to me. It's funny, silly, and has an amazing female friendship at its center.
14. Tin Man
Number Of Episodes: 3
Sometimes you just want to watch something silly and fun, and Tin Man will satisfy both of those cravings.
15. Top Of The Lake
Number Of Episodes: 7
The subject matter is difficult, but this miniseries is exquisitely made. This may be Elisabeth Moss' best performance to date.
16. Chef's Table
Number Of Episodes: 12
Sophisticated food porn for foodies who are looking for an in depth look at the world's best chefs.
17. Black Mirror
Number Of Episodes: 7
Black Mirror offers up wicked smart social commentary wrapped inside twisted sci-fi tales.
18. Don't Trust The B In Apt. 23
Number Of Episodes: 26
Krysten Ritter, Dreama Walker, and James Van Der Beek are the comedy trio you have been waiting for. Don't let the episode number scare you off, as all together, the episodes add up to a little under 13 hours, and you will be laughing so much you won't be watching the clock.
19. Jessica Jones
Number Of Episodes: 13
Once you've basked in Ritter's comedic prowess, watch her own Marvel's best TV series to date.
20. Lovesick
Number Of Episodes: 6
The show formally known as Scrotal Recall is a hidden gem about love in the modern age.
21. The Guild
Number Of Episodes: 6
Felicia Day's hit web series is compiled into six episodes of gaming goodness on Netflix for those days when you just want to geek out with people who get it.
22. The Bletchley Circle
Number Of Episodes: 7
A group of post-war female code breakers put their talents to use to catch killers in this gripping drama full of intricate female characters.
23. Master Of None
Number Of Episodes: 10
Aziz Ansari's comedy isn't just funny. It's insightful, thought-provoking, and one of the best love stories to ever make it to TV.
The next time you need a show to marathon, but you don't have much time to spare, queue up one these gems on Netflix and bask in the joys of the short TV show.
Image: BBC