Things Readers Can't Help Doing In The Fall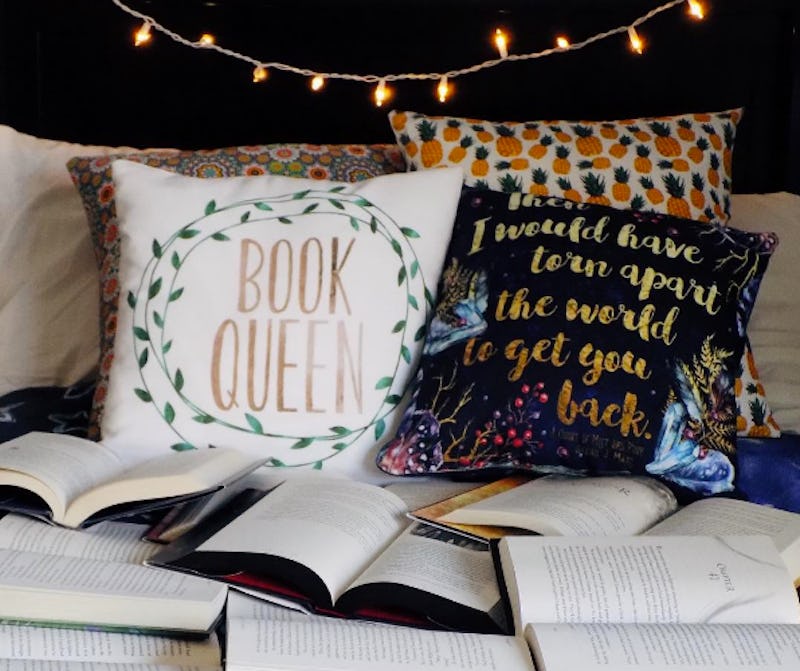 If you love reading, you probably have some weird habits, and those habits are only exacerbated by the change of seasons. As the leaves turn gold and red and the days grow crisp and cool, book-lovers come out to play.
This world is even stranger in the fall, when book-loving is at its prime. Summer may mean more time to read (and time to read on the beach), spring may mean reading outside amidst flowers, and winter may mean reading next to a crackling fire, but autumn is the true book-lover season. Everything from leaves changing color to cinnamon-scented candles to Halloween decorations everywhere gets me excited not for drinking pumpkin spice lattes, but for reading more books.
If you love reading, you know exactly what I'm talking about. There's something magical about autumn, and that magic manifests itself in a burning desire to sit in a pile of dead leaves and read EVERYTHING.
Those who hate reading probably don't understand this. They also don't understand some of the weird fall habits that book-lovers have. It's ok — your fellow book-lovers understand you. And we've probably all done the following things in the fall.
1. You Take Pictures Of Your Books Next To Mugs Of Tea
The minute the first hint of fall is in the air, we can finally switch from iced coffee back to hot coffee (JK, I never stopped drinking hot coffee, because I pretend it's autumn even when it's 90 degrees outside). And when you have your mug of tea or your cappuccino and your beautiful copy of Pride and Prejudice, you simply can't resist getting the perfect bookstagram picture. People need to see this!
2. You Sit In Piles Of Leaves And Read
When you were younger, you jumped in piles of leaves. Now, you're more mature, and you sit in them delicately while reading a book. There's nothing like reading while surrounded by the scent of fall.
3. You Look For Books Set In Autumn
When choosing your reading material, you exclusively look for books set in autumn. As long as the word "fall" is mentioned at some point in the book, it goes on your TBR list.
Nostalgia starts setting in as the leaves change, and suddenly you scratch that autumn-themed TBR list and go straight for all your favorite books. Luckily, most of them are set in autumn anyway — after all, even Harry Potter really gets going once September hits.
5. You Dream Up Literary-Inspired Halloween Costumes
When it's time to start planning your Halloween costume, you know automatically that it must be book themed. You start flipping through the pages of your favorite series, determined to find the perfect literary-inspired outfit.
5. You Spend Time Organizing Your Reading Nook
Now that the weather is getting colder and you're no longer reading on the beach, you start organizing your reading nook. You fill it with pillows and blankets and literary-scented candles that will be perfect for cold days outside (and warm days inside, reading).
6. You Start A Holiday Wish List... And Fill It With Books
The holidays are coming up, which means that you need to make your wish list. Spoiler alert: it's filled with books. And everyone knows that you'll probably give books as gifts, also — you start looking through lists to find the perfect read for all your favorite people.
7. You Constantly Spout Literary Quotes About Fall
There are so many great book quotes about autumn, and you've said them so many times that everyone around you is going crazy. But you just need people to know that, like Anne Shirley, you're so glad you live in a world where there are Octobers.
8. You Tell Everyone That Autumn Is The Perfect Season For Reading
You say it every year: autumn is the perfect season for reading. Never mind that you've said the same thing about summer, spring, and winter... you just have a special place in your heart for fall.
Images: Giphy (9), Instagram/readsleepfangirl (1)