'Mr. Robot' Season 3 Will Be Worth The Wait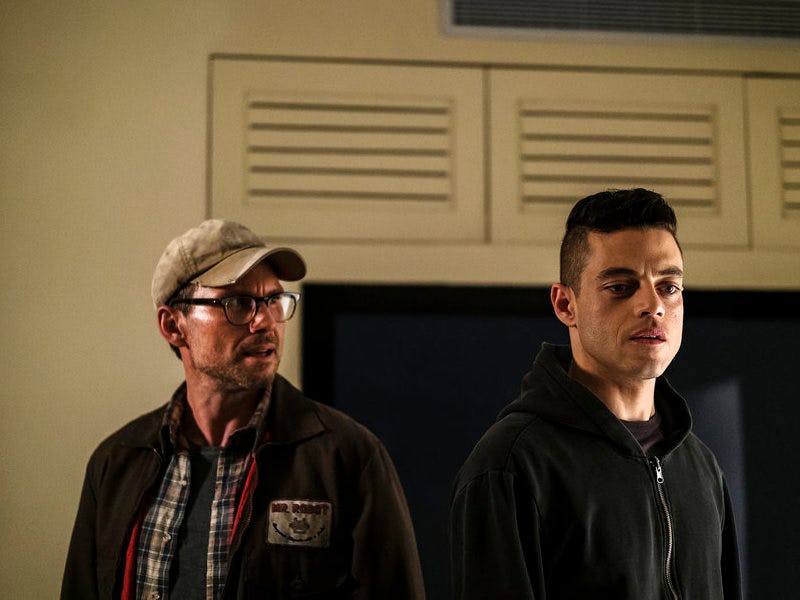 Just like in Season 1 before it, Elliot has continued to mislead viewers (and himself) throughout Season 2 of Mr. Robot. If you can't get enough of Elliot's dark, twisted, hacker world, then you may already be wondering when Season 3 of Mr. Robot will air. USA announced halfway through Season 2 that the network was renewing the series, but fans of Mr. Robot are going to have to be patient since the third season will premiere in 2017. Luckily, you've still got a two-part Season 2 finale to look forward to with the first episode airing on Sept. 14 and the second episode airing on Sept. 21. Still, while I don't have the digital know-how to figure out where Tyrell Wellick's phone is located like Elliot (if that even was Tyrell's phone), I can do my own type of digging to give my best guess at when Mr. Robot will return for Season 3.
Season 1 of Mr. Robot premiered on June 24, 2015, but USA switched up the schedule a bit when it came to the sophomore season since Season 2 premiered on July 13, 2016. Both premiere dates were on a Wednesday, but there was about a three-week difference between them. This inconsistency not only made fans have to wait longer for Season 2 than they probably wanted to (but, let's be real, anytime was too long), it also makes it more difficult to pinpoint exactly when Season 3 will premiere on USA. Yet, the reasons behind the mini-delay make some sense — definitely more sense than whatever the hell is going on in Elliot's mind most of the time.
The reason for Season 1 premiering in June and Season 2 premiering in July could have had something to do with the fact that no one expected it to be such a smash hit. Apparently though, USA had predicted the show's success since the network had renewed Mr. Robot before Season 1 even aired, so that theory doesn't hold much water.
A more reasonable explanation for the schedule change would be that before Season 2 premiered, it was announced that Mr. Robot Season 2 would have 12 episodes — not 10, like Season 1. Considering those extra two hours and how heavily involved creator Sam Esmail is in the show, directing every episode in Season 2 — a rarity for the TV industry, extra production time (if that was why there was a three-week pushback) for Season 2 was completely understandable.
Thanks to Esmail's consistent vision and the extra two hours of content, Mr. Robot Season 2 was worth that little bit of extra wait. And for Season 3, you may just have to wait even longer if Esmail has anything to say about it. He spoke to Entertainment Weekly about how strict TV programming schedules are no longer needed in the age of streaming services. "Personally, I think this is another weird, archaic judgment on television shows, where you have to bring them back at a certain schedule or you're going to lose your audience," Esmail said. "Is it better to rush something that's not as good just to stay on schedule because you're afraid of losing viewers?"
Esmail is not alone in this thought since his lead actor agrees with him. "Can you imagine how taxing it is to write all of those episodes, direct them, and have delivery or input for every trade in the crew and end up getting into the editing room with our editors over the weekend?" Elliot actor Rami Malek told Entertainment Weekly. "Sam deserves a break."
That being said, Entertainment Weekly noted how both Esmail and Malek are doubtful that Mr. Robot would become a fall season show, which means that Season 3 might still premiere in summer 2017 — even against the creator's wishes. Yet, if fans do have to wait longer for the new season, I wouldn't necessarily complain since Esmail's view of quality being more important than following a specific programming schedule is a very legitimate reason to keep fans waiting — even if waiting is a depressing notion.
Whenever Season 3 of Mr. Robot does premiere, be on the lookout for special, hacker-inspired sneak peeks before the official premiere date. Since Mr. Robot is anything but ordinary, the publicity around the show is typically unique as well. A few days before Season 2 officially premiered, the series unveiled the first half of the first episode to people who were watching a Facebook Live Q&A session with the cast. Other social media platforms quickly followed with the preview and I am pretty confident that the team behind Mr. Robot will come up with other clever stunts like this whenever Season 3 premieres. Let's just hope that unlike Elliot's misleading narration, Esmail and USA won't toy with viewers' emotions too much when it comes to a Season 3 release date.
Images: Michael Parmelee/USA Network (2); Giphy