Creepy Halloween Costume Ideas From Books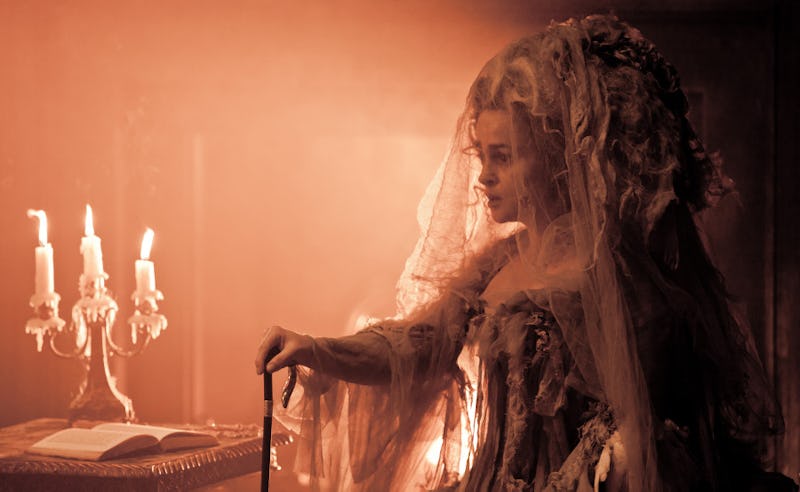 It's officially that time of year again: we can openly talk about Halloween costumes! (Instead of silently thinking about Halloween costumes, like we do the rest of the year.) Halloween is, of course, an opportunity to have fun and eat candy until you feel sick. But it's also an opportunity to scare your friends and any neighborhood children while referencing a great work of literature. So here are some supremely creepy Halloween costume ideas from books, for all you spooky book-lovers out there.
There are a number of different ideologies when it comes to Halloween costumes. Some people go for the easiest costume, or the punniest costume, or the cutest couple's costume possible. Some very well-read people go for a literary-inspired costume. And then there are those of us who are Halloween purists: it has to be creepy, or there's no point in dressing up at all. Luckily, with today's technology, we can merge at least two of those groups: literary Halloween costumes that are also creepy.
After all, literature is full of monsters, villains, and nefarious sorts. You've got your Draculas and your Frankenstein's Monsters, sure, but even beyond the famous literary creeps, there are some very clever options for dressing up and scaring trick-or-treaters this October:
1. Miss Havisham
Charles Dickens created quite a few strange characters in his time, but Miss Havisham from Great Expectations is the creepiest by far. She was left at the altar years ago, but she's still wearing her filthy, rotting wedding dress to this day. With a white dress, a veil, some grime and maybe a bouquet of dried flowers, you can easily transform yourself into a decaying, elderly bride. Pro tip: you can add age stains to any white dress by dying it with black tea.
Ghostly Wedding Dress, $69, A mazon | Old Age Makeup Kit, $21, Amazon
2. The Other Mother
Just thinking about the Other Mother from Coraline gives me the shivers. She's an evil creature who looks just like Coraline's real mother... but with shiny, black buttons for eyes. You can try to DIY those button eyes if you're feeling crafty, or just buy a pair, but either way the result is one creepy costume. Paint your nails bright red for an extra sinister edge.
Polka Dot Dress, $25, Amazon | Button Eyes, $53, Etsy
3. The White Witch
The White Witch is the scourge of Narnia in The Lion, the Witch and the Wardrobe. I wouldn't want to actually run across her on a chilly night, but she makes for a glamorously creepy get up. A white dress, crown, and box of Turkish delight is all you need (plus some frosty makeup, if you're feeling extravagant).
Icy Tiara, $10, Party City | White Dress, $40, Amazon | Frosty Makeup, $12, Amazon | Turkish Delight, $7, Amazon
4. Alex from A Clockwork Orange
It's a simple look: white shirt, white suspenders, white pants, a bowler hat, and excessive mascara on just one eye. But it goes a long way towards creeping everyone out, especially if they've read the deeply disturbing, ultra-violent book, A Clockwork Orange. Carry a cane or an orange for added oomph.
White Shirt, $23, Amazon | White Suspenders, $8, Amazon | White Pants, $22, Amazon | Bowler Hat, $8, Amazon | Eyelashes, $1.50, Amazon
5. The Cheshire Cat
The Cheshire Cat from Alice's Adventures in Wonderland isn't really a villain, but there's definitely something creepy about a cat that can disappear and reappear at will. And manifest itself as a giant floating head. And that smile is not not creepy. If you have the patience for this makeup look, I can personally vouch for the fact that the result is pretty fun.
Make Up Kit, $8, Amazon | Cat Ears, $7, Amazon
6. A Dementor
Sometimes October is a busy month at work, and you just need to throw on a black cloak at the last minute and be done with it. Lucky for you, Dementors are some of the creepiest monsters in the fantasy genre. A long black cloak, maybe some claw-like gloves, and you're golden. Add a Dementor's "kissing booth" to go from creepy to silly.
Black Cloak, $16, Amazon | Monster Gloves
7. The Grady Sisters
The Shining is one of the most famous horror novels in the world. And the Grady Sisters (or "the Shining twins") are instantly recognizable. Grab a friend, a blue dress, and some fake blood for a costume straight out of a horror masterpiece.
Blue Dress, $19, Amazon | Fake Blood, $9, Amazon
8. White Walker
Why be a regular zombie when you can be a White Walker from beyond the wall? A Song of Ice and Fire fans will recognize you right away, and everyone else will be cowering in fear. This is one that you can either buy or DIY, depending on your level of craftiness. Be sure to avoid dragon glass and/or fire.
DIY Tutorial | White Walker Mask, $49, By The Sword
9. A Jane Austen-Inspired Zombie
For another literary twist on the zombie trope, take a cue from Pride and Prejudice and Zombies and dress up as a shambling corpse from the Regency Era. If you'd rather not go full zombie yourself, you could also be a zombie-fighting Bennet sister in normal makeup and a blood-spattered dress (either way you're ruining a vintage dress... but for a good cause).
Vintage Dress, $56, Etsy | Zombie Makeup, $6, Amazon | Fake Blood, $9, Amazon
10. Poe's Raven
Grab a friend, and do Poe and his raven as a couple costume. Dress up as a raven in a little black dress and feathered mask, and just keep saying "nevermore." Or you could go all out and try a half-Poe, half-raven extravaganza. However you want to go about it, the raven from The Raven is one eerie bird, and it makes for a beautiful, creepy Halloween get up.
DIY Tutorial | Raven Mask, $20, Amazon
Images: Lionsgate