How To Make Your Bras More Comfortable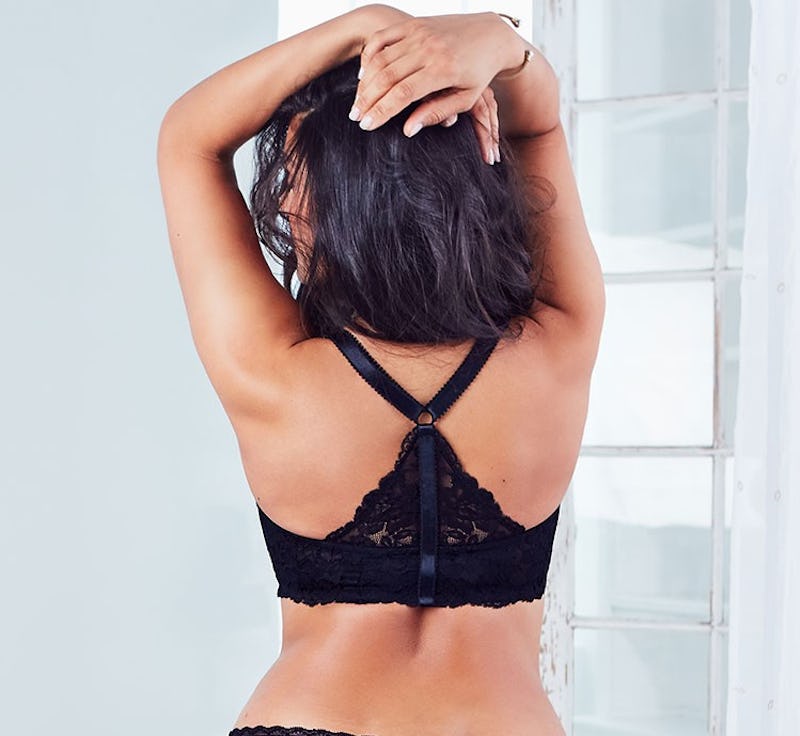 Whether you wear them occasionally or pray religiously at the alter of the push up, wearing a bra is a common part of everyday live. However, just because a large percentage of women wear them doesn't mean they're pleasant. Luckily, there are ways to make bras more comfortable that could potentially make the wearer forget they're even strapped in.
If you're a person that wears a bra more than a few times a week, you're going to want to get familiar with this information. With these tips, tight straps will be a thing of the past, bands will be looser, underwire problems will be fixed, and irritating loose bits will get cinched. Wearing a bra will hopefully become as much of a non-problem as putting on a pair of socks. If you've ever been poked by a stray wire this all might sound unbelievable, but all it takes is some proper planning and a couple of clever products.
Think about it: If you wouldn't let yourself hobble around in ill fitting shoes, you shouldn't grit your teeth and go through a day with an uncomfortable bra. Below are nine tips on how to make a bra more comfortable, ensuring you a whole new world where brassieres are no longer synonymous with discomfort.
The Strap Saver, $15, The Strap Saver
If you have a favorite bra that's seen its fair share of years, chances are the elastic in the straps has stretched out. In order to give them new life, consider trying The Strap Saver. "The clever device simply attaches to your stretched-out strap and allows you to tighten it beyond the built-in adjuster — or even if there's no adjuster at all. It's perfect for your bra, swimsuit, sports bra, camisole, tank top, dress and more — essentially, anything with a strap," a press release for the product explains. It's an easy and effortless fix for floppy, worn-out straps.
Rixie Clip Bra Band Tightener, $13, Amazon
If a favorite bra no longer gives you the support you need in terms of lift, try tightening its worn out band. All you need is a little product help to achieve it. "If the band is worn out, you can shorten it with the clever Rixie Clip," Elisabeth Dale, bra expert and author of The Bra Zone, shares in an email interview with Bustle. This is also a great fix for petites who have a hard time finding a perfect fit.
3. Wash Before You Wear
Classic Push-Up Bra, $68, Third Love
If you feel like your skin gets easily irritated by your bra bands or has a scratchy feel to it, wash it before you wear it. "Some brands use starch or sizing in their bras for a crisp look which can irritate skin. Be sure to soak them in lingerie wash before wearing to rinse it away. Also, keep in mind that washing by hand and air drying will keep your bra soft and silky against your skin. Harsh soaps and dryers ruin the elastic and material and make it scratchy to wear," Kimmay Caldwell, a lingerie expert, writes in an email to Bustle.
Fashion Forms Gel Shoulder Cushion 2 Pack, $14, Amazon
If you have straps that dig into your shoulders, you might need to add cushioning in order to take away the pain. "Straps can also dig into shoulders, causing pain and leaving marks. Wrap your bra straps up in silicone gel cushions to put an end to that problem," Dale advises. Or, if you want to pick up a quick fix at the drug store, just buy gel pads that you buy for the backs of your shoes and use them in the same way.
5. Be Careful How You Stow Them
Cinda Contour Plus, $50, Adore Me
If you like to toss all your bras messily into one drawer, you might be signing up for future discomfort. "Store your bra the right way to avoid bumps and dents. T-shirt bras should be hung up or stacked to avoid creasing the cups and making you look wrinkled," Dale advises.
6. Don't Be Afraid Of Padding
No Peek Molded Foam Cups, $12, Amazon
Pads aren't just godsends when you're 11 and trying to round out your training bra. They can also be your ticket to comfort. "Everyone has uneven breasts and some bras make that difference more noticeable. You can use silicone or fabric 'cookies' or cutlets to even out any extra space," Dale explains. Don't be afraid to grab an insert for one side in order to make your bra fit more snugly and correctly.
7. Wear Bra Liners To Amp Up Comfort
If the area where the cups meet in your bra pinches you, a liner might make your bra comfier. But a fabric liner doesn't only save you from poking underwires — it can also help you out in the sweat department. "If you live in a warmer climate or are prone to excessive boob sweat, bra liners are your friend. They'll also reduce wear and tear on your bras by allowing you to wash them less often," Dale explains. Save your bras and invest in a couple of liners.
Save-A-Bra, $6, Amazon
If you accidentally bought bra that's too small, or feel like the ones you currently have aren't the correct fit anymore, Save-A-Bra will give you a little more wiggle room. "Bra band too tight? There's a fix for that. Use bra band extenders to give you more breathing room," Dale encourages. And it's much cheaper than buying a new brassiere!
The Summer Wardrobe, $200, Third Love
Unfortunately, cup sizes won't always be uniform. Different bra styles will sometimes require different sizes, just like how sometimes you have to go up or down a measurement when trying on jeans from different brands. "Every brand has their own fit standards and method of measurement, especially when figuring out band sizing. If you go down a band size, you need to go up a cup size to retain same cup volume (and vice-versa). You may also wear a different cup size when it comes to another bra style. A push-up may require that you move up a cup, while a demi or lace style might mean going down a cup size. A contour or padded cup, with it's distinctly different materials, won't fit the same way as a cut-and-sewn seamed cup," Dale explains. So take your time trying on different band widths and cup sizes with each new brand and style, guaranteeing you choose the best fit.
Keeping these tips in mind, even the most uncomfortable bra can sit comfortably, allowing all of your future bras to be worn without a care.
Images: The Strap Saver (1); Thirdlove (3); Amazon (2); Bare Necessities (1); CupCare (1); Adore Me (2)