These Jess/Rory Eps Are So Underrated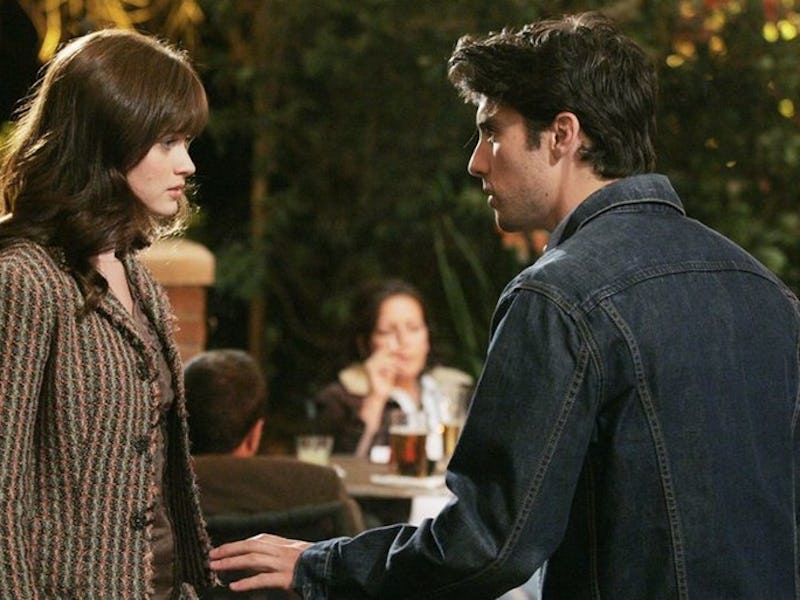 November 25 is getting closer every single day and with the premiere date of Gilmore Girls: A Years in the Life in the not so distant future, the promise of closure for Jess and Rory shippers is on the horizon as well. While you are waiting to see if Rory and Jess finally reunite, you are definitely going to want to revisit their greatest moments — but you should give some love to the underrated Jess and Rory episodes too. I too never get tired of watching "They Shoot Gilmores, Don't They?" but some of the best Jess and Rory moments actually occurred in lesser known episodes.
No one is ever going to forget the big moments — the first time Jess and Rory met, Rory skipping school to visit Jess in New York, and the first time those two literature loving teens kissed. All of those episodes have been rewatched again and again by Jess and Rory fans, but there are other episodes just as deserving of your adoration. Whether they pushed Jess and Rory ever so slightly closer together or showed the couple in their darkest moments, these 13 underrated Jess and Rory episodes should be just as essential as the likes of "I Can't Get Started."
1. "The Ins And Outs of Inns"
This early Season 2 episode is best known for Mia and Emily finally meeting, but it is also the episode where Jess draws a body outline in front of Doose's Market. There's only a bit of Jess and Rory interaction, but it establishes the push and pull between the two beautifully.
2. "The Bracebridge Dinner"
The carriage ride, people. The carriage ride. Jess jumping in the carriage for a ride with Rory leads to one of their first big heart to heart conversations, and it showcased everything beautiful about who they could be as a couple.
3. "Richard In Stars Hollow"
The bulk of this episode focuses on Richard clashing with Dean over the car Dean built for Rory, but the moment near the end when Jess solves the Rory Curtain problem makes this episode a must watch.
4. "Lost And Found"
Not only is this episode notable for featuring genuine Jess and Lorelai bonding, this is also a turning point for Rory whether she realizes it or not. This is the episode she decides it matters to her whether or not Jess and her mom can get along.
5. "There's The Rub"
The great literary meeting of the minds between Jess, Rory, and Paris is legendary. It is also worth noting Jess gets Paris' stamp of approval in this episode — something she never offered any of Rory's other boyfriends. If Paris is a fan, you know Jess has to be good people.
6. "Dead Uncles and Vegetables"
Rory bossing Jess around is quite possibly the greatest thing to ever happen in the history of Rory and Jess, minus the kissing.
7. "Eight O'Clock at the Oasis"
After their first kiss, the long summer apart, and the hurt feelings they encounter when the summer ends, Rory and Jess finally have a sweet moment in this episode to remind everyone why they are the actual best.
8. "That'll Do, Pig"
The winter carnival episode is full of awkward moments thanks to Jess and Rory spending the Winter Carnival with Dean and his little sister, but the episodes that expose the cracks in Rory and Jess' relationship are just as important as the ones that celebrate it.
9. "Swan Song"
Jess and Rory's first fight also happens to occur in the episode where Jess gets hit in the eye by a swan.
10. "Nag Hammadi Is Where They Found the Gnostic Gospels"
Jess says "I love you" and runs in this episode that is almost too much to take if you are super invested in Rory and Jess.
11. "Last Week Fights, This Week Tights"
Tragedy, thy name is Jess and Rory. Watching Jess' last attempt to rekindle his relationship with Rory is a heart breaker, but the acting is so good during their hallway confrontation it is impossible to look away.
12. "Let Me Hear Your Balalaikas Ringing Out"
As amazing as the early days of Jess and Rory were, seeing them interact as adults was just as rewarding. Jess coming back in town just in time to wake Rory up from her defeatist slumber was a gift.
13. "The Real Paul Anka"
Jess' final appearance, the last Jess and Rory kiss — this is an episode full of goodbyes, but even though Rory chose Logan, the chemistry between Rory and Jess continued to be as undeniable as ever.
Watch these underrated Jess and Rory episodes now so you can be fully prepared for the awesomeness of seeing these two onscreen together once more in the revival.
Images: Warner Bros. TV; oywiththepoodlesalready/Tumblr (13)