John Mayer Made An Emmys Appearance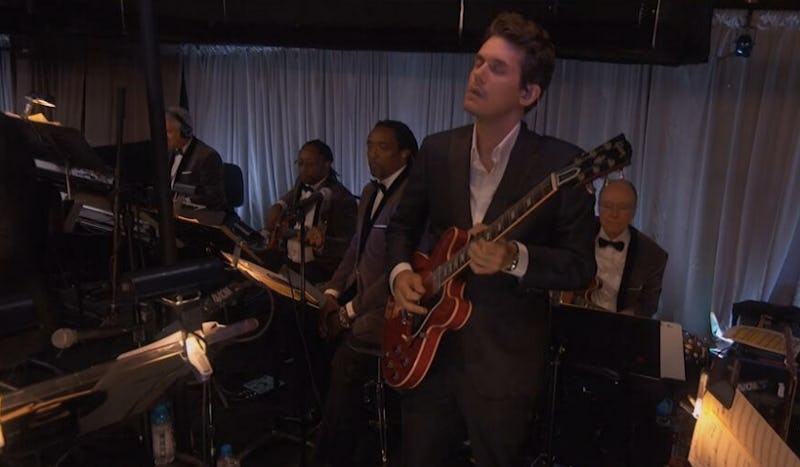 John Mayer has been pretty quiet lately, especially when it comes to original music. He released his last album, Paradise Valley, in 2013 and his best friend, Ricky Van Veen, got married to Allison Williams last year, so he was there for that. He's also been appearing with Dead & Company on tour, which makes sense — it's all about the guitar there. But I was surprised when he appeared on the 2016 Emmy Awards. Yep, John Mayer is apparently playing guitar for the 2016 Emmy Awards house band. Gotta do something, right?
I've always liked John Mayer; he's an immensely talented artist. People don't give him enough credit for his musical chops. There's really more to him than "Your Body Is A Wonderland" (which any big John Mayer fan would say is probably his worst song). He's a bluesman and a hell of a guitar player. I think he got bogged down in who he was dating and doing stupid interviews, and that overshadowed his musical talent. So yeah, that was John Mayer in the 2016 Emmy Award band. Why'd he do it? Maybe he was staying sharp musically or maybe he just wanted to play some music and wear a nice suit. Maybe Mayer wanted to play some serious guitar on a Sunday night. Who are we to judge?
In reality, this is the only award show in which Mayer won't run into any of his alleged ex-girlfriends. Katy Perry does nothing for television (and neither does her boyfriend Orlando Bloom), and Taylor Swift (who he was only rumored to have had a dalliance with) has no business at a television awards show. The Emmy Awards are a safe space for John Mayer, so let him play on.