Urban Decay's Junkie Vice Lipstick Palette Is Here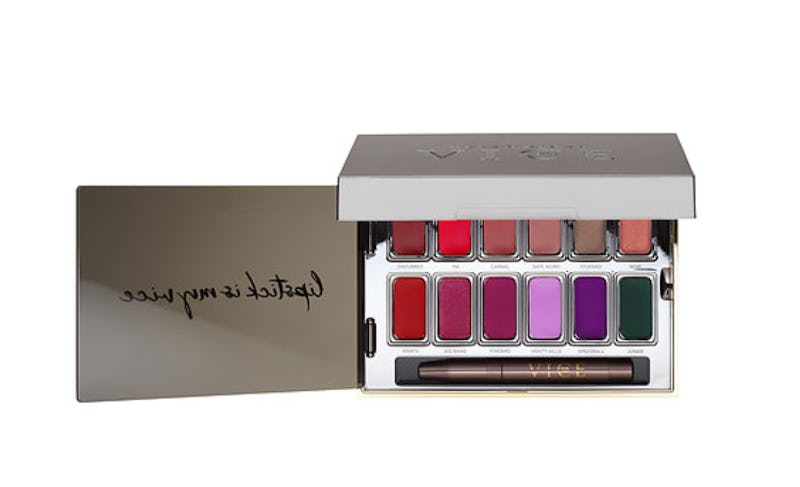 Have you indulged your "Vice" lately? I mean the good sort of Vice — Urban Decay's Vice lipstick. The brand revamped its entire lipstick range earlier this year, with 100 Vice lippies. While a Vice Lipstick Vault isn't on deck for the holiday season, two Vice Lipstick palettes are. The Blackmail Vice Lipstick Palette was made available earlier this month via Ulta. But what about its counterpart — The Junkie Vice Lipstick Palette? The second of the two Vice lipstick palettes is now available. Where can you buy the Urban Decay Junkie Vice Lipstick palette?
You can snag the Junkie Vice Lipstick palette from Sephora.com right now. For $20, Beauty Junkies can sample 12 different shades and finishes of the buttery Vice lippies, which are pressed into flat plans. The palette comes with both a lip brush and a mirror, as well as a cover that protects the product.
Junkie Vice Lipstick Palette, $20, Sephora
The packaging of the Vice Lipstick Palettes is brilliant. It was expressly engineered to avoid waste and to prevent messes. The lipstick wells have a stair-step effect. It's basically a recessed design with some extra room so you can wipe any excess lipstick off the brush and thus keep the lipstick in its proper compartment, as opposed to smeared all over the palette walls.
You can see the stair effect if you look closely.
The following shades are included, per the Sephora product description: Disturbed (deep brick red), 714 (bright red), Carnal (medium warm nude), Safe Word (neutral nude-pink), Studded (metallic gray-brown), Whip (soft pink with gold iridescent shimmer), Wrath (metallic red), Big Bang (bright pink sparkle), Firebird (deep fuchsia), Vanity Kills (lavender), Speedball (deep vibrant purple), and Junkie (metallic teal shimmer with gold micro-sparkle).
The Junkie Vice Lipstick palette by Urban Decay is limited edition, exclusive, and online only. Grab it while you can. It's also travel-friendly, so you can take it with you and switch out your lip look several times a day. Both Junkie and Blackmail are perfect fall lip wardrobes.
They are also too good to last long, since they are not permanent products. Indulge your lip lust and play with different colors every day of the week or multiple times per day.
Images: Courtesy of Sephora (3)