The Best Dating App Of 2016 Is...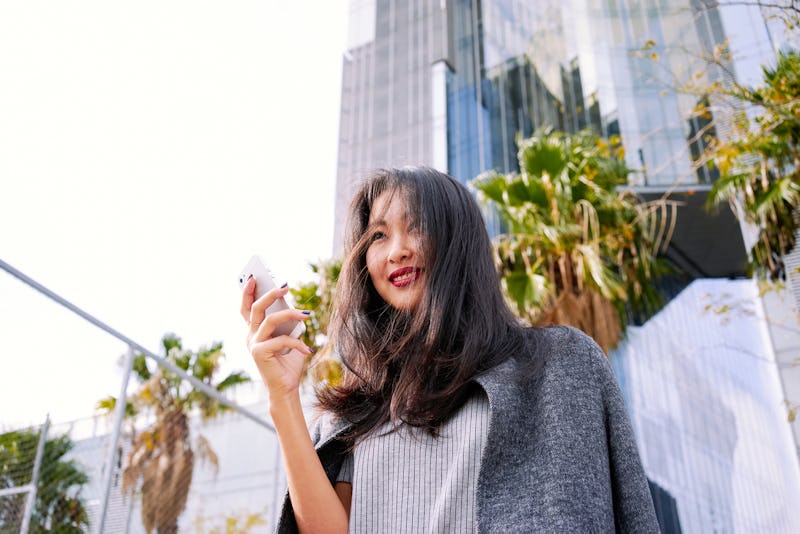 As my fellow veteran online daters can attest, dating app oversaturation is a *very* real thing. For people just getting into the dating app game, it's understandable to feel lost when choosing which apps to download, simply because there are so many out there. It's only natural to wonder which dating app is the best, because we all want to make the most of the time we spend swiping. I've (somewhat sadly) been doing the digital dating thing for years, so I've tried just about every app in the book — and let me tell you, not all dating apps are created equal. From a shallow pool of matches to bad user experience, I've just about seen it all. However, that doesn't mean there aren't some real gems in the mix.
So where should online dating newcomers start their search for love? Recently, a panel of dating experts at the first-ever US Dating Awards declared Bumble 'Dating App of the Year', so that's probably a good choice of dating app with which to start your journey. Bumble beat out four other amazing finalists (Hinge, JSwipe, Tinder, and Zoosk) for the top spot, so you know it's the real deal. Founded by Whitney Wolfe as a more feminist-friendly version of Tinder, Bumble allows heterosexual women to take the lead with online dating — which has positive effects on men, too.
"With empowering women, you're also empowering men so this is not just a girls' club," Wolfe tells Bustle."What we're trying to do is say, 'Guys, you don't have to put on this front of being the aggressor, the 'macho macho' man.'"
Since its inception in late 2014, the app has evolved a lot, and it's now some solid competition for Tinder. Bumble's new features have made it even cooler, and just a few short weeks ago, it introduced a paid version called Bumble Boost that elevates the app to a whole new level. If you haven't already downloaded it and started swiping, here are five reasons to consider trying Bumble today.
1. Bumble Is Not Just For Dating
Bumble knows that not all valuable relationships have to be romantic in nature. Their BFF feature lets you swipe on people of your non-preferred-gender ~just for funsies~ so you can find some new platonic friends to go out on the town with. Some of the most important people in our lives are our BFFs, and just because you're no longer surrounded by people your own age at college doesn't mean you can't meet new besties. This feature is a way to use technology to your advantage and find some fun new people to non-romantically spend your downtime with. Friendship is so cute!
2. Bumble Is Serious About Safety
Because of its focus on women, it makes sense that Bumble is super concerned with the safety of its users (both men and women). So much unnecessary abuse happens online, and Bumble is committed to weeding out bad eggs: Like any dating app, it allows you to report and block users, but Bumble also rewards users with good behavior by elevating them to 'VIBee' status. This way, you know for sure the people you're matching with aren't going to hurl insults at you the moment you reject them.
3. Bumble Is All About Action
By imposing a 24-hour time limit on starting a chat, users are forced to stop dilly-dallying and strike up a damn conversation. Hetero women make the first move after matching, and then their match can keep the convo flowing (For LGBT users, either person can send the first message within the 24-hour time limit). It's a way for women to set the tone, as well as a gentle nudge that says, "Hey, don't be afraid to say hi!" Basically, the goal is to encourage users to actually communicate rather than just using matches as an ego boost.
"The ultimate goal is for both parties to feel comfortable enough to perhaps exchange phone numbers as a first step and then ultimately, to meet in person," Jennifer Stith, the VP of Communications and Brand Development tells Bustle.
4. Bumble Can Help Minimize Rejection
Tired of the dread you feel when waiting to see if someone you swiped right on liked you back? One perk of Bumble Boost is its feature called Beeline, which pre-populates your queue with people who've already liked you, meaning there's no way you'll be let down — all you have to do is say yes. It's a major time-saver and if you ask me, that's a seriously welcome feature (even if you have to pay a small price for it).
"Don't always have time to swipe? Boost solves that," Wolfe tells Bustle. "We always listen closely to our users and the request for the type of experience Boost offers was overwhelming. So far, the response has been extremely positive and we're already talking with our users about ways to improve and innovate Boost down the road."
5. Bumble Lets You Fix Your Mistakes
Have you ever experienced the moment of pure devastation when your thumb muscles betray you and you accidentally swipe left on a major effing hottie? Well Bumble wants to help you recover from that trauma with their Backtrack feature (just shake your phone). Although Tinder has a similar feature called 'Rewind', it's only included if you pay for Tinder Plus. Bumble users get three Backtracks free, which then automatically refill after three hours (though you can also pay for more if you need them). Just shake your phone after an accidental left-swipe and voila! — crisis averted.
Images: Fotolia; Giphy (5)