The 21 Must-Read YA Books Out In October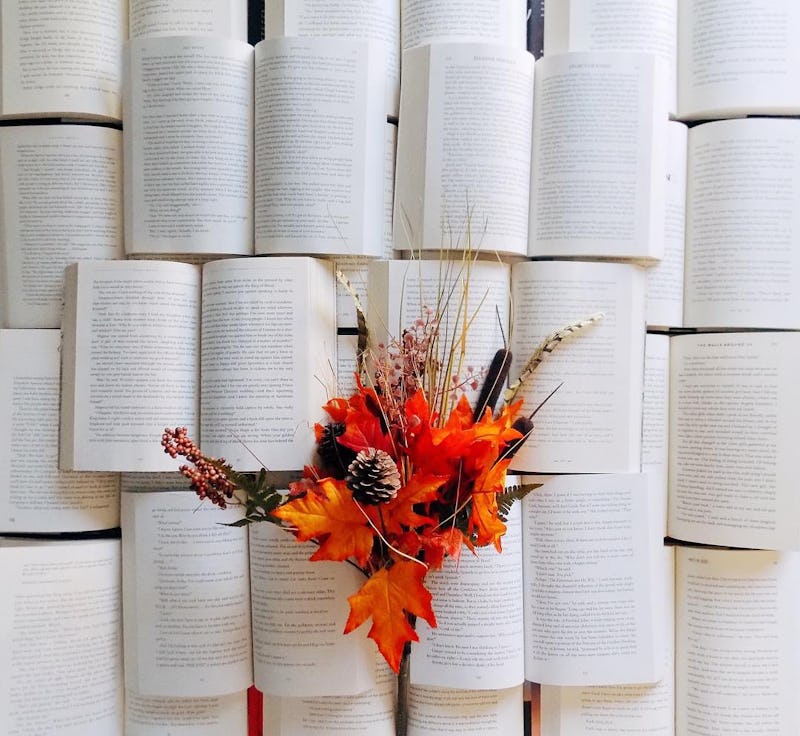 The weather is starting to turn crisp, so it's the perfect time to cozy up with a pumpkin spice latte or hot apple cider and delve into the world of a book. And believe me, your TBR list this month is going to be epic, because these 21 of the best YA novels of October 2016 are pretty much all un-skipable.
Let me just drop a few of the huge young adult author names releasing new books this month: Lauren Oliver, Marie Lu, Melissa de la Cruz, David Levithan, Jay Asher, A.S. King, Jennifer Niven, Kami Garcia, and those are just the start — seriously. Choosing just 21 (yes, just 21) books for this list was true exercise in Ginsberg's killing your darlings.
As the leaves are changing outside, within our books, we can travel into stories about clones, more than one Beauty and the Beast re-imagining, an evil queen (that we kind of cheer for), Edo-era Japan, a space station, a gang in 1919 Boston, and more. But these stories also touch on issues that hit home in our current day, such as the future of undocumented immigrants, rape culture on campuses, and abuse.
This October, the YA shelves are stocked with something (or 21 things) for everybody.
1. Replica by Lauren Oliver (Oct. 4; HarperCollins)
Lauren Oliver is a YA queen, and I'm so glad she's back with this ground-breaking new YA novel Replica. Let me give it to you straight: I'm an advocate for affordable, accessible e-books, but this is one you're going to want in hard copy because the design actually influences the way you read it. On one side, is the story from a replica (essentially, a clone) named Lyra, and if you flip the book around, you can read the same story from another replica, Gemma's, point of view. Gemma grew up sickly in the confines of her home, but she soon discovers that her father's has ties to a top-secret facility called Haven, where she finds her replica Lyra.
2. When the Moon Was Ours by Anna-Marie McLemore (Oct. 4; Thomas Dunne)
Anna-Marie McLemore's newest novel has already been longlisted for a National Book Award, and yes, it's as good as all the hype says. Everyone was already captivated reading her The Weight of Feathers, which I put on Bustle's best debut novels of 2015 list, but When the Moon Was Ours takes it to a whole other level. (Sophomore slump be damned.) The magical realism story is full of lush prose, telling the story of two magical teens — the transgender Pakistani-Italian Samir and his BFF-turned-romance Miel, a Latina girl who can grow flowers out of her wrists — their budding love story, and their confrontation with four sister witches who can make anyone fall in love with them.
3. The Lovely Reckless by Kami Garcia (Oct. 4; Imprint)
Kami Garcia is back with a modern love story you'll fall for. In The Lovely Reckless, there are no witches or magic, but that doesn't take away from the thrills. Frankie Devereux suffers from PTSD after the murder of her boyfriend, and moreover, she transfers from her privileged world to a new public school where fistfights in the halls and drag racing in the streets are the norm. Things start to get even more interesting (and even more heated) when Frankie starts to fall for the best street racer in the neighborhood, Marco Leone.
4. Something in Between by Melissa de la Cruz (Oct. 4; Harlequin Teen)
This election season, Melissa de la Cruz's Something in Between definitely hits home. Jasmine de los Santos has worked hard all her life, and she's about to reap the rewards in the form of a full ride to college scholarship. There's one problem, though: She just found out that her Filipino immigrant parents' visas expired years and years ago. This means the family is currently in the country illegally. Realizing that all of her hard work may be for naught, Jasmine rebels against her do-gooder personality and starts living the wild high school life. She meets and falls for Royce Blakely, who just happens to be the son of a congressman fighting against immigrant rights.
5. Fear the Drowning Deep by Sarah Glenn Marsh (Oct. 4; Sky Pony Press)
You've never read Beauty and the Beast like this before. The small town in France becomes the Isle of Man, and the princely Beast becomes a sea monster in Sarah Glenn Marsh's imaginative re-telling. Bridey Corkill hates the sea. She watched it compel her grandfather into drowning when she was just a young child, and now that girls across town are washing up dead on shore, she knows it's happening again. The only ones who believes her is Morag, the town's witch, and Fynn, the mysterious man whom Bridey saved from a watery death.... and the man the community believes is killing the women.
6. Our Chemical Hearts by Krystal Sutherland (Oct. 4; G.P. Putnam's Sons Books for Young Readers)
I'm sorry to have to do this to you, but the love story of Henry and Grace is going to kick you in the emotional gut. Henry is a hopeless romantic, but it's not until he meets Grace that he gets to put this into practice. The two meet as co-editors of the high school newspaper, after Grace transfers in. Grace isn't the girl Henry pictured falling for: she's quiet, she wears over-sized boys' clothes, and she walks with a cane. Soon, he realizes there's something more going on with his new love Grace than he sees on the surface... and their relationship isn't as wonderful as we might think.
7. Holding up the Universe by Jennifer Niven (Oct. 4; Knopf Books for Young Readers)
Speaking of heart-wrenching love stories, I'm still pretty broken after Jennifer Niven's debut All the Bright Places. She's back to make us grab for the tissues again with Holding up the Universe. Libby Strout was once dubbed America's Fattest Teen, whose home had to be cut open so she could be taken out and to the hospital. After years of counseling, and safe weight loss on her own volition, she's ready to return to school. Jack Masselin is the It Guy in school, but he's hiding his own worries: he can't recognize faces, even his own or his family's. When the two are forced together into community service after Libby punches Jack, they start to understand each other (and themselves) for who they really are.
8. This Adventure Ends by Emma Mills (Oct. 4; Henry Holt and Co.)
This Adventure Ends follows teenage Sloane's move from New York to Florida and the passionate group of friends she meets in her new town. Let's not even focus on plot, because it's the characters and the bonds that make this story what is is: a beautiful meditation on friendship, art, and passion.
9. Last Seen Leaving by Caleb Roehrig (Oct. 4; Feiwel & Friends)
Block off your day because once you start reading Caleb Roehrig's debut, you won't be able to stop. This twisty-turny mystery centers on Flynn whose girlfriend January goes missing. Naturally, the police suspect Flynn of knowing something about her disappearance, as he's the one closest to her, and he is hiding something, but it's not what the police think: He's gay. Flynn begins investigating himself, and starts to fall for January's coworker Kaz as they uncover secrets about Flynn's missing girlfriend.
10. Wrecked by Maria Padian (Oct. 4; Algonquin Young Readers)
Rape on college campuses is a massive issue right now (hopefully not forever), and Maria Padian's new novel Wrecked delves into not just the emotional and physical toll it takes on survivors but the bureaucracy and red tape that exists within the structures that are supposed to be stopping it. Jenny accuses Jordan of rape during a house party, after Jordan brags to his friend Richard that he had sex with a freshman. Both Jenny and Jordan as well as their respective friends Haley and Richard take center stage as the conflicting stories play out across the campus.
11. The Midnight Star by Marie Lu (Oct. 11; G.P. Putnam's Sons Books for Young Readers)
Marie Lu needs no introduction nor does her spectacular Young Elites series, so I'm just here to tell you that Oct. 11 is when you can finally get your hands on the series finale. The Midnight Star will be the last book (boo!), and our favorite (now pretty much totally evil) anti-heroine Adelina Amouteru is on a quest to preserve everything she has achieved. For a teaser, read an exclusive excerpt.
12. Beast by Brie Spangler (Oct. 11; Knopf Books for Young Readers)
Brie Spangler's clever retelling of Beauty and the Beast introduces a much more complex and layered "Belle" than we saw in the Disney version, which results in a totally humanized (no pun intended) version of both the Beauty and the Beast. Dylan has been nicknamed Beast because he's 6'4" and hairy, thus a target in his high school. After an accident, he must attend group therapy for self-harmers, where he meets Jamie, a witty smart and drop-dead gorgeous girl who just happens to be transgender. And the rest, as you know, is a tale as old as time.
13. What Light by Jay Asher (Oct. 11; Razorbill)
What Light is a love story that make you want to turn on those Christmas carols early. You know Jay Asher for his incredible standalone Thirteen Reasons Why, and now he puts the focus on Sierra, whose whole life revolves around Christmas. During the holiday season, she lives on her parents' Christmas tree farm in Oregon, but the rest of the year she lives in California. This one Christmas, however, she meets Caleb, and the holiday spirit takes over.
14. Rani Patel in Full Effect by Sonia Patel (Oct. 11; Cinco Puntos Press)
Rani Patel is a kickass, girl-power hip hop performer, but that's her secret life. As the daughter of Gujarati immigrants, she's been taught to believe that "husband is God," and has to live under their cultural norms on a remote Hawaiian island. However, things get even more complicated when Rani meets Mark, a man nearly her dad's age who patronizes her parents' convenience store, who offers her an opportunity to perform in an underground club. Red flags abound, but it's just one piece of Rani's journey of understanding her family, her past, who she is, and who she wants to be.
15. Still Life With Tornado by A.S. King (Oct. 11; Dutton Books for Young Readers)
A.S. King has always brought her unique touch to her YA novels, but she may have outdone even herself in Still Life with Tornado. As usual with King, to say too much about the plot would be revealing its surreal magic, but it focuses on teenage Sarah who has yet to come to terms with disturbing events in her life. The artist keeps running into fractured versions of herself, at all different age, trying to get to the bottom of things that have happened. It is a completely original meditation on family dysfunction, and its one you won't soon forget.
16. Amy Chelsea Stacie Dee by Mary G. Thompson (Oct. 18; G.P. Putnam's Sons Books for Young Readers)
Amy is 16 when she returns home after being kidnapped six years prior, but she can't tell her family or friends too much about what happened to her. Also kidnapped that day was her BFF and cousin Dee, and Amy needs to protect her and her two kids at any cost. Readers follow Amy back and forth in time, seeing her time in captivity as well as her time back home, in this dark, almost surreal story about survival.
17. Iron Cast by Destiny Soria (Oct. 11; Amulet Books)
Corinne and Ada live in 1919 Boston, performing as hemopaths on stage in a club, their blood giving them the ability manipulate audiences via art and illusions. By day they are partners in crime, literally, conning the city's elite with gangster Johnny Dervish's crew. However, when they find iron is deadly to them and the community is starting to round up all hemopaths, the girls are in trouble. Destiny Soria creates a fresh story about female friendship and loyalty that interweaves magic and history in a way that's truly memorable.
18. Gemina by Amie Kaufman and Jay Kristoff (Oct. 18; Knopf Books for Young Readers)
Illuminae was one of the most inventive YA novels of 2015, so I'm super stoked to get a look at Gemina, its sequel/companion novel. Less of a book and more of a compilation of messages, redacted files, transcripts, schematics, and more, this time Amie Kaufman and Jay Kristoff introduce us to two new people in the same universe. Hanna and Nik live aboard the jump station Heimdall, but they couldn't be from different worlds. So when Kady arrives with news of the invasion, the two have to bond together to save everyone.
19. I'm Not Your Manic Pixie Dream Girl by Gretchen McNeil (Oct. 18; Balzer + Bray)
What happens when a bullied teen tries to become the manic pixie dream girl all the boys love in the movies? Well, Gretchen McNeil is going to find out. Beatrice Maria Estrella Giovannini, aka Bea's, life seems good: She's been working hard at school and so she knows she's headed for the prestigious MIT, and she's thrilled with her new boyfriend. However, she and her best friends have always been the targets of bullying, so using her super math skills, she comes up with a formula to become Trixie, the quintessential manic pixie dream girl. Suffice to say, it doesn't all go as planned.
20. The Twelve Days of Dash & Lily by Rachel Cohn and David Levithan (Oct. 18; Knopf Books for Young Readers)
Dash and Lily are back to get you in the holiday spirit! Obvi this is a must-read for fans of Dash & Lily's Book of Dares, but you can read it as a standalone as well. After their whirlwind love story, the two have suffered hardships. Now, a year later, Dash has concocted a plan to celebrate Lily's favorite holiday, Christmas, and help her recapture some of the magic of life that she used to feel.
21. A Darkly Beating Heart by Lindsay Smith (Oct. 25; Roaring Brook Press)
Lindsay Smith's time travel story jumps between modern day and 19th century Japan, following the teenage Reiko as she descends into darkness and self-harm. After attempting suicide, Reiko's parents send her to Japan to spend time with family and have some time away. Her family lives in a small, historic town called Kuramagi, which is still preserved to appear and act as it did in the Edo period. Her surroundings cause Reiko to slip into the persona of Miyu, a girl who lived in 19th century Japan, and the two minds together struggle to cope with the upcoming darkness and the terrors in their own minds.
Image: readsleepfangirl/Instagram