15 Debut YA Novels That Made Their Mark On 2015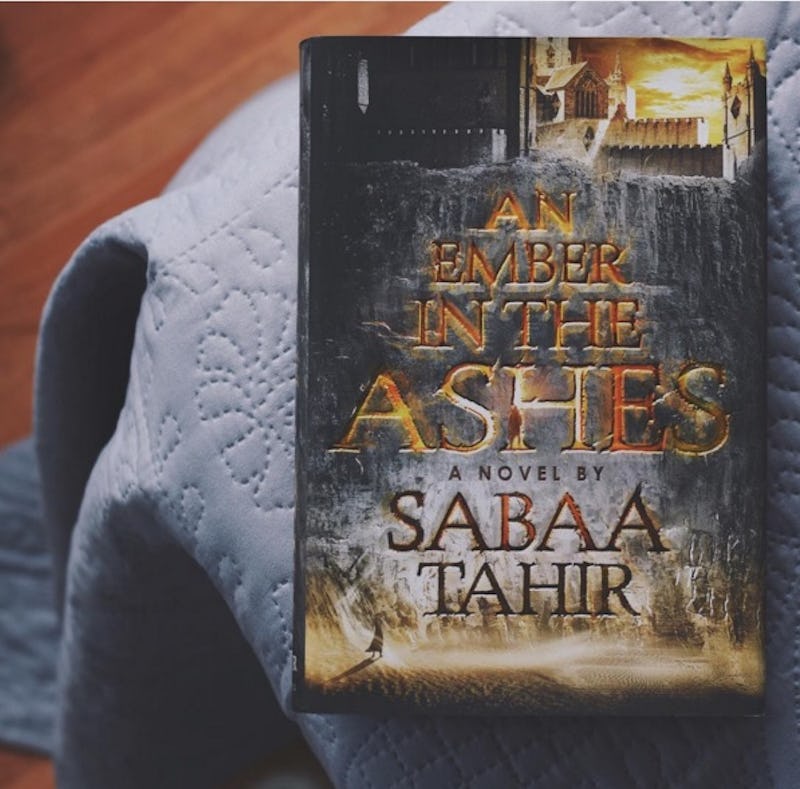 I'm not just saying this because I'm writing about the best debut YA books of the year, but: Seriously, 2015 is jam-packed with memorable first-time authors that are going to have an incredible career in the young adult literary world. So, so many debut YA books were considered the best of the best for the whole year, and they already have some big-time award noms under their belts (the National Book Award longlist, ever heard of it?). And some already have begged-after sequels or follow-ups in the works because we can't leave their voices or worlds behind.
Like me, I wouldn't be surprised if it shocked you that some of these books and authors were debut. They feel so seasoned and so well-crafted that it's hard to imagine this is their first venture into publishing. And it gives us all major hope for the future of our beloved YA.
These 15 best YA debuts take us to gritty fantasy worlds, to Japan to learn the art of samurai, on a cross-country journey, along the Oregon Trail, to the circus, to Pakistan, to a near future in the Bronx, and so many other new places. You can't go wrong picking up any of these noteworthy young adult debut books.
Who hasn't been buzzing about this gritty YA fantasy? You can't talk about 2015 without talking about Sabaa Tahir's An Ember in the Ashes — it even made my No. 1 pick for best YA book of the year — and for good reason. It's everything you want in an innovative fantasy story, and to think it was Tahir's debut.
There's beautiful poetry, meditations on death and suicide, allusions of Japanese samurai traditions, and so much more in Sarah Benwell's debut novel about a teenage boy who finds out he has the fatal Lou Gehrig's disease. You can't help but fall for Abe Sora, and so his physical deterioration is painful, but Benwell has a gentle touch, so the story almost feels peaceful in a way you wouldn't expect.
By now you've heard everyone and her cousins, aunts, and younger sisters talking about Nicola Yoon's bright Everything Everything. The love story between the chronically ill and confined Maddie and her next-door neighbor Olly twists into a celebration of risking everything to experience what life has to offer. I can't wait to see what Yoon does next.
Keep your eyes out for Estelle Laure's debut This Raging Light, coming December 22. Go ahead and pack it for your trip home for the holiday break. Lucille's father never came home after he left prison and her mother abandoned her with her younger sister, and now the teenager has to hold her smaller-and-smaller family together without the authorities removing her sister from the home. So, because it's the most stressful, inconvenient time, it's also when Lucille falls for her BFF's older brother Digby — and she finds out that sometimes, the world isn't always against her.
The buzz for Mosquitoland started humming long before David Arnold published it, and it only amped up once it hit shelves. I can't even tell you how much you're going to enjoy following Mim Malone on her oddball-filled journey to visit her dying mother, laughing, tearing up, and nodding along the whole way.
6. Red Queen by Victoria Aveyard
Thankfully, now we know that debut author Victoria Aveyard is coming back with at least a total of four Red Queen series books (and another unrelated YA novel) because after reading book one, it was nearly impossible to remove our reader brains from her magical universe. Mare and the rest of her memorable characters never seemed to get lost in a complicated plot (as can often happen in fantasy), and each corner you turned had a new surprise.
Violet and Finch quickly became like Eleanor and Park or Hazel and Gus, the tops of YA romance. But All the Bright Places was also a careful and searing depiction of the toll mental illness can play on someone, and how, just maybe, we can find someone else who understands what that's like.
A Chinese-American young woman and an escaped female slave travelling the Oregon Trail together in secret? SOLD. Stacey Lee's debut Under a Painted Sky gave us an entirely new perspective on that time we learned of in history class (or, more likely, in the computer game The Oregon Trail), and it was so, so welcome. It's a book about survival, real life-or-death survival, but it's also about finding a connection to someone else even in a world that aims to oppress you, to keep you down.
Can I describe a book as sumptuous? If so, I'm describing Renee Ahdieh's The Wrath and the Dawn, as sumptuous. Ahdieh proves that she can spin tales just as well as her heroine, based on the iconic Scheherazade, and thankfully we know that she has more coming. The Rose and the Dagger will continue Shahrzad's story in new and unexpected ways, for those familiar with One Thousand and One Nights.
Aisha Saeed's story that follows the all-too-common perversion of Pakistan's tradition of arranged marriage is truly powerful, but it's also a beautiful exploration of place. Saeed is, herself, happily living in an arranged marriage, so she definitely has the understanding it takes to tackle such a difficult topic.
All Aaron Soto wants is to forget he's gay. It has caused too much pain, and it makes him too much of a target in his neighborhood, the Bronx projects. In Adam Silvera's world, Aaron's dream is possible, in the form of the memory-erasing procedure at the Leteo Institute. But nothing in Silvera's debut novel is expected. It's gritty, tough to read, and yet a stunning masterpiece of storytelling and characterization you won't soon forget.
12. Shutter by Courtney Alameda
Courtney Alameda's Shutter has such a scary cover that I had to face it away from me whenever I put it down to break from reading and refill my coffee. But, you should note that I rarely put it down anyway, because, man, was it a wild, thrilling, totally terrifying ride. For those horror fans that take their ghosts and monsters with a bit of techie-cool attitude, this is the book for you. Bonus, it's based on classic literature (our ghost-busting heroine is Micheline Helsing, of Dracula fame).
I know; I did a double-take when I realized this was a debut novel, too. Becky Albertalli absolutely slays this funny, heartfelt, and compelling story about closeted Simon who is blackmailed into helping a class bully get a date with his BFF. This is coming-of-age done in the best way, and I absolutely can't wait to see what Albertalli does next.
"Romeo & Juliet meets Children of the Corn." I can't EVEN. Was this book made for me? When Blood and Salt was released, my Twitter exploded with all my favorite literary people talking about how scary/haunting/eerie/awesome it was. And they didn't steer me wrong. If your favorite childhood memories were watching old-school horror movies from behind a throw pillow at your sleepovers, then this is the book for you. Small towns, cults, and some sinister corn — what more do you want?
Fans of the "it book" of 2011, The Night Circus, should already be toting The Weight of Feathers around in their bag 24/7. Everyone else, get on their level. The generations-spanning rivalry between circus performing families the Palomas and the Corbeaus builds and incredible star-crossed lovers tale for a new, magical, contemporary universe. There's secrets, love, family drama, and oh, yeah, the CIRCUS.
Image: fictiontea/Instagram