Women Can Play In The MLB — Just Like On 'Pitch'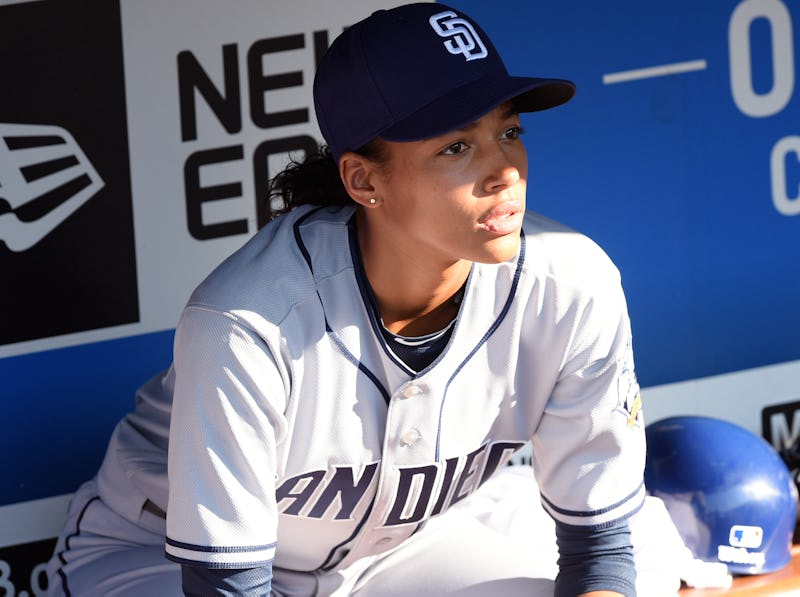 While I am a feminist who believes that all men — and women — are created equal, I am acutely aware of the physical disparities between the genders. Male and female bodies are built differently, which is why some people may balk at the fact that Pitch features a woman playing in the MLB. The fictional series from FOX will follow Ginny Baker as a pitcher on the Major League Baseball team the San Diego Padres, but if you hear someone complaining that this scenario is too unrealistic, you should let them know that a woman joining the MLB is not completely in the realm of fiction.
You most likely needed to suspend disbelief to watch Henry Rowengartner pitch his way to success, alongside Gary Busey no less, in Rookie of the Year, but that's not the case for Pitch. If you want to compare Pitch to a baseball movie, think of it more like A League of Their Own, which showed that women played — and were pretty awesome at — baseball during WWII. Nowadays, there are female baseball players who play the sport professionally in other countries and though women have sporadically played professionally in the U.S. in the past, it hasn't been a common event. However, the U.S. — well, really one team in the U.S. — has made great strides in equality in baseball recently with the professional baseball team the Sonoma Stompers signing both Kelsie Whitmore and Stacy Piagno in July 2016.
However, without taking away from Whitmore and Piagno, playing professionally does not mean you are in the MLB, although it is a step in the right direction. So I looked to see if there were any explicit rules from the major league organization that prohibit females from playing. In the Major League Baseball 2016 Official Rules (available for download on MLB.com), the last thing to be written before the appendices on page 151 is:
NOTE: Any reference in these Official Baseball Rules to "he," "him" or "his" shall be deemed to be a reference to "she," "her" or "hers," as the case may be, when the person is a female.
The official rules cover everything about baseball — including umpires and scoring — so while the endnote doesn't explicitly state that women can play for the MLB (since this line could be referring to women being a part of the organization in some other capacity), it does seem to insinuate that there's no rule against women joining Major League Baseball.
Further investigation shows that the MLB banned signing women to play back in 1952 until they overturned that rule 40 years later in 1992, Bleacher Report reported. No woman has played in the MLB since then, but that rule change did lead to France's Melissa Mayeux becoming the "first known female baseball player to be added to MLB's international registration list" in 2015, according to the MLB. Her being on this list allowed her to be eligible to be signed by a U.S. major league club.
Although most Americans think of baseball as a fundamentally male sport, history proves otherwise. The Daily Beast covered how the women's British sport (that's right, not American) of stoolball was an influence on the creation of baseball and that women were playing baseball during the 19th century. But as baseball became more popular, women were encouraged to play softball instead. This evolution of "girls play softball, boys play baseball" is fascinating in the fact that many people have come to just accept that softball is the female version of baseball, which is not the case, since softball is a different sport.
The forcing of girls to play softball becomes even more apparently sexist when you consider that Emma Span in an Op-Ed piece for The New York Times wrote, "Softball was invented in 1887 by men, though it came to be seen as an easier, 'safer' and more modest game — more suitable, that is, to ladies." Jennifer Ring, who is outspoken on this topic and wrote the book Stolen Bases: Why American Girls Don't Play Baseball , echoed this sentiment to The Daily Beast when she said, "Early baseball was not a man's game. It was turned into a man's game for ideological reasons."
In 2010, Nancy Doublin for Bleacher Report outlined some of the most talented female baseball players in history, who you've probably never heard of. They included Jackie Mitchell, who struck out Babe Ruth and Lou Gehrig back-to-back during a 1931 exhibition game against the New York Yankees, and Toni Stone, who played second base in the Negro League for years. Vice Sports wrote that Mitchell's contract was voided within a few days of striking out those baseball legends because she was a woman. On the other gloved hand, Stone was inducted into the Women's Sports Foundation's International Women's Sports Hall of Fame in 1985 and once got a hit off of the acclaimed pitcher Satchel Paige, according to The New York Times. So even though Stone had been hired as a publicity stunt for the Negro League, she was able to play professionally, and after she was finished playing, two more women — Connie Johnson and Mamie "Peanut" Johnson — also were signed to play on her former team.
In March 2016, Richard Deitsch for Sports Illustrated asked his MLB panel if a woman will ever be able to break through in the MLB, based on ProPublica reporter David Epstein stating he thinks a woman will be playing in the MLB within the next 50 years. The panel was torn with the slight majority thinking it wasn't an actual possibility. Overall, the message from this panel and from others sports writers and experts is that even though there is no rule stating women can't play, it would take a lot for the MLB to sign a woman. And if the MLB found a woman with the right mix of athleticism, strength, and perseverance, then maybe — just maybe — she might be given the opportunity to play and hopefully for more than a publicity stunt.
Unfortunately, if that day ever comes, this hypothetical female baseball player will probably have to face the same level of drama, disrespect, and strife that Ginny will be dealing with on Pitch. But the good news is that while Pitch is a fictional TV show, you may live long enough to see a woman play for a major league team in real life someday.
Images: Ray Mickshaw, Tommy Garcia/FOX