Tinder's New Feature Is Great For Music Snobs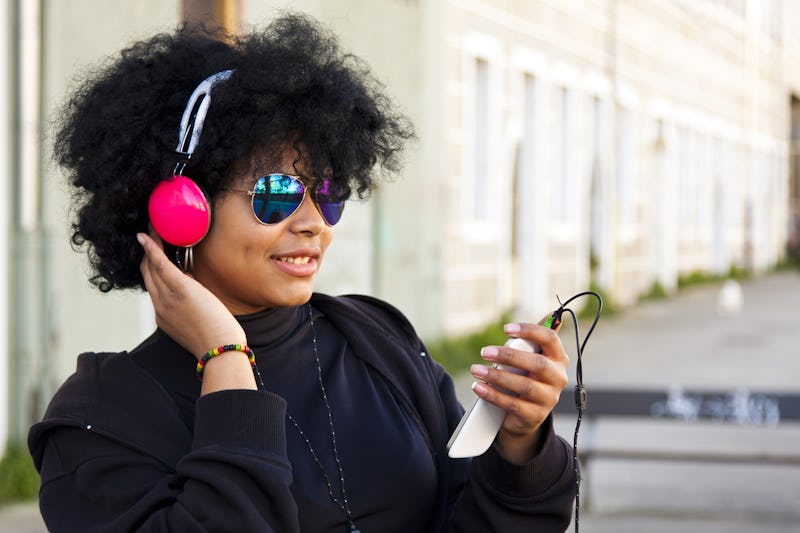 Now, instead of just having Facebook friends and interests in common on Tinder, you can have music in common, too. Yep, Tinder's new Spotify feature began rolling out. It'll then expand to the 59 markets where Spotify's available.
You can bond over everything from Drake and Rihanna's "Too Good" to Shawn Mendes's "Treat You Better," which is a super cool way to convey your personality, right? Aside from just featuring your "Anthem" — aka your fave song — on your Tinder profile, you can also display and listen to other fave artists from Spotify. Then, you can swipe left or right and see who shares your affinity for "Ride" by Twenty One Pilots or "Into You" by Ariana Grande, for example.
What if you don't have Spotify? No problem.You can still create an Anthem for your profile, as well as play previews of potential matches's songs that they display on their profiles. If you both have Spotify accounts, you can see which artists you and another user have in common. And who knows? Maybe it'll be love at first listen.
Tinder's not the only app that uses Spotify. With Bumble, you can also see what music your matches are into, and with Happn, you can even send each other Spotify songs as you try to woo them with tracks like Nina Simone's "I Put a Spell on You."
Other dating apps have cool features, too. Here's more about Tinder's new Spotify feature, as well as four other apps with features you have to check out. After all, dating should be fun, and the fact that dating apps are getting more fun def helps the whole game.
1. Add Your Musical Tastes To Tinder Via Spotify, Because Songs Can Sometimes Convey More Than You Can Write Yourself
I have no doubt this new Spotify feature on Tinder will be popular. In case you're wondering, creating an Anthem is easy, even if you haven't connected your Spotify account to Tinder. And linking your Spotify account to your Tinder profile is also easy — just go into your profile settings and find your Spotify account or create one (or free). Then, choose which artists you'd like to display on your profile and that's that. Finally, start swiping, of course, and see who shares your musical interests.
2. Make Videos On Lively, Because It's Almost Like Meeting Someone IRL
Lively is almost like meeting IRL, but through videos and photos, so your profile is like a mini movie. Pretty cool. So no more being worried about if someone's profile pics are outdated, or if they're pretending to be someone else. With this app, you see them for who they actually are, whether they post a mini movie about their average day or an epic hike they took — talk about conversation-starters. Plus, it looks more like someone's social media profile versus a dating app, per se, so it can lessen some of the in-your-face-"I'm-a-dating-app!" pressure.
3. On Happn, Send Voice Messages (Not Just Songs)
You can send Spotify songs to your Happn matches, but did you know you can send voice messages, too? I initially met my boyfriend on Bumble, but then we also saw each other on Happn. We'd write messages to each other on Bumble, yet we'd voice-record messages to each other on Happn, a minute apiece. (Warning: It's addictive, and you'll probably want to leave multiple audio messages in a row.) It was fun, and a great way to hear how someone speaks and annunciates. Plus, it gives you an added piece of their personality (i.e., sense of humor, etc.), more so than just written messages do.
4. Create And RSVP To Events With The League
The League is a by-application-only mobile singles community (you need both Facebook and LinkedIn to apply and — good news! — it blocks you from Facebook and LinkedIn coworkers and connections). So, that means no mobile phone app "hot bots", which is a big win, right? Aside from matches being limited to five per day — goodbye, endless swiping! — with The League, you can create and RSVP to events, as well as chat with others attending in real time. It's like a group date — sort of. Users can also generate and join interest groups, like a running group or women's wine circle, and then meet up with fellow League members over their common interests. They can plan in advance, or come up with a last-minute event and see who's game. They're like invite-only and an exclusive version of Meetup groups — but with a dating twist. Pretty rad, I think. And, this made The League the first dating app to use a group chat capability, which will likely start to be more common among other apps eventually, I think.
5. With Bumble, Find A BFF, Not Just A BF or GF
Bumble's another app where you can share your musical tastes with users via Spotify. But it's also so much more — you can find a BFF, too. I know, you may be thinking: Find a BFF on a dating app?! Why, yes. Personally, I think this feature is great.
For instance, last year, I returned to Chicago a while for family reasons, leaving behind my 10-plus years of friends and BFFs in L.A. In Chicago, a lot of my friends are married with kids, so it's not as easy for us to meet up like we used to, and others have moved away. Enter Bumble BFF. Just like using Bumble for dating, you read potential BFF's profiles, look at their pictures, then swipe right or left. Then, you see how your messaging rapport is, and escalate to phone calls and coffees. Easy. Genius. Try it. And, if you already have a BF or GF, you can filter your Bumble settings to just search for BFFs. (I met my BF on Bumble, so why not find a BFF on the app, too?) Plus, flakiness among friends is the worst. But Bumble prevents that by making BFF matches message within 24 hours (just like with their dating!), and every chat now requires a reply within 24 hours, too. So if you're into ghosting, this is not for you.
Images: Fotolia, Tinder, Lively, Happn, The League, Bumble