This Is The Song Daters Send Each Other The Most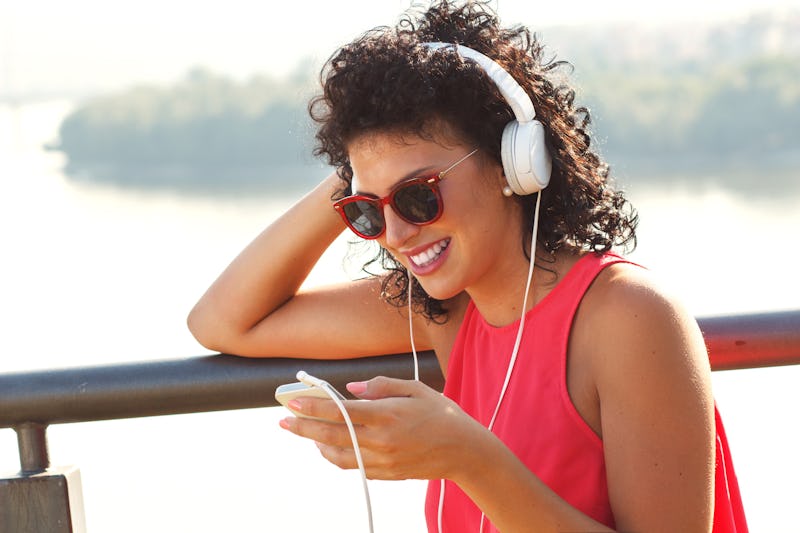 With summer officially here, more people are out and about—i.e., flirting. With all the dating sites and apps out there, there's endless competition and each one seems to have unique features to set themselves apart. ICYMI, Happn, the dating app that lets you know when you've crossed paths with other users, lets you send Spotify songs to people, and they just revealed the top 10 songs Happn users have been sending each other on the app.
I happen to be a big fan of Happn, as I met my boyfriend on it (in addition to Bumble; you tend to see the same people on different sites). He and I used the song feature a lot, especially at the beginning, as well as the recording-each-other-messages feature, but that's another story. Aside from written message banter, the sending-a-song function allows you to get to know someone better. Sometimes, you can't find the words to say, but a song can.
As far as Spotify, Happn was the first dating app to partner with them and launched the feature in June 2015. Aside from sending songs, you can also add songs to your profile to reveal your musical interests. Pretty cool feature on both fronts, I think, since music says so much about somebody.
Happn has over 19 million users worldwide and the music findings below were based on its users in the U.S., aka 13 percent of its overall users, from March 17, 2016 through May 31, 2016.
So, at long last, here are the top 10 songs Happn users have been sending each other.
The Top 5 Songs Male Users Are Sending:
Overall, I feel the songs males are sending are a little more tame than the ones females are sending, but you can decide for yourself.
1. Pharrell Williams – "Happy"
Who wouldn't be happy? The sun is shining, people are coming out from their winter hibernation, and there are countless summer activities to do.
"It might seem crazy what I'm about to say
Sunshine she's here, you can take a break…"
I can see how someone would get wooed by Bruno Mars and his words:
"...Treasure, that is what you are
Honey you're my golden star…"
Yet more optimism for summer love…
"...Baby, love never felt so good
And I doubt if it ever could…"
4. Lionel Richie – "Hello"
This one is probably a given, right? Some say that all it takes is a simple "hello" to get someone's attention, versus coming up with a clever or cliché line.
"...I sometimes see you pass outside my door
Hello, is it me you're looking for?"
The lyrics are funny, given that, with Happn, you literally pass by tons of matches IRL without knowing it (until the app tells you, of course).
5. Frank Sinatra – "Come Fly with Me"
Nothing like some Frank Sinatra to get you in the mood for love, right?
"...Weather-wise, it's such a lovely day
You just say the words and we'll beat the birds
Down to Acapulco Bay…"
The Top 5 Songs Female Users Are Sending:
As I said before, it seemed that female users have been choosing more overt songs...
I have an affinity for this song, not only because it's rad, but also because, after our first date, my boyfriend and I both sent this song to each other via Happn. (Aww.)
"I put a spell on you because you're mine
Stop the things you do
Watch out, I ain't lying..."
Though the song boasts:
"...Gimme your love, gimme your love
Gimme your love, gimme your love..."
It later goes on to say:
"...Heartbreaker you've got the best of me
But I just keep on comin' back incessantly…"
Again, funny, given how people you've walked by or been near show up as potential matches in the app and they do come back incessantly, some dozens of times before you start messaging and, eventually, meeting. My boyfriend and I were an example of this, as his job was two blocks from my sublet, and I was working from home, so Happn kept saying we were walking by one another… like 50 times a week! And—it worked!
I can relate.
"...When the working day is done
Girls—they want to have fun
Oh girls just want to have fun…"
Happn or not, we've probably all sent this song to someone at some point, right?
"...Oh, won't you stay with me?
'Cause you're all I need…"
This song surprised me as a "top 10" pick. But, to each their own.
"...We're up all night 'til the sun
We're up all night to get some
We're up all night for good fun
We're up all night to get lucky…"
To check out a video of how the sending-a-song feature works, check this out. And no, you don't have to dance toward each other via a song—unless that's your thing, of course, or you're in some romantic comedy scene in a movie.
Images: Fotolia (1); Happn (2-3); YouTube (4-14)