These Books Will Give You Major Running Motivation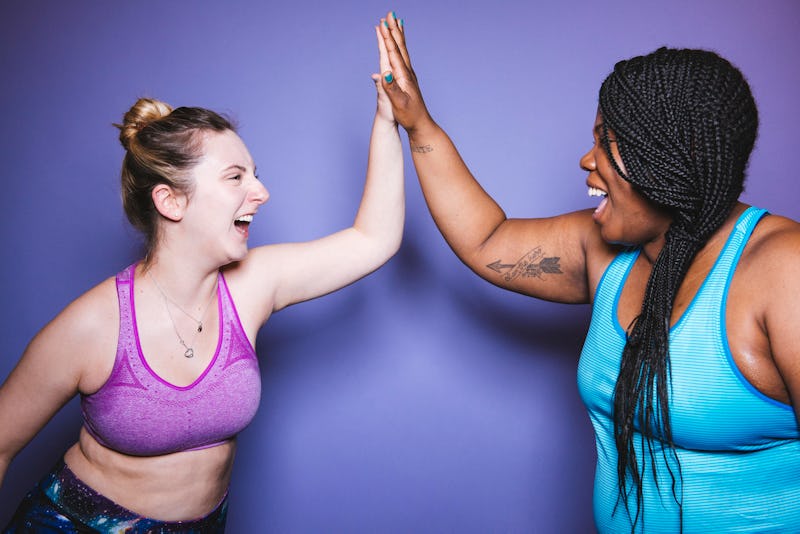 Contrary to what some people may think, there is no general prototype for a runner. Runners come in all shapes, sizes, genders, personalities, nationalities, etc. If you have two functional, working legs and are in good health, you are a runner — even if you haven't truly tapped into your true running potential just yet.
My main point is, almost anyone can be a runner if they want to be, which is part of what makes the running community such a spectacular one. Among my friends that run, I know nurses, accountants, professors, digital media mavens, lawyers, and individuals of countless other varying professions, all of whom come from different states and countries, practice different religions (or don't), believe in separate political agendas, and live different lifestyles. The common unifier among us all is that we like to run. And sometimes, we like running with each other.
One thing that really inspires me is learning about all of the different reasons why people chose to lace up their sneakers (and continue to do so day after day), and hearing the stories behind what exactly it is that motivates runners to keep running. To help you tap into a wide array of personal stories from fellow runners, we've rounded up five books to start reading that will give you major motivation to go run.
1. Born To Run by Christopher McDougall
If you're a seasoned runner, chances are you've heard of this bestselling narrative, written by award-winning journalist and runner Christopher McDougall. Inspired by his own running-related injuries, McDougall set out to discover why some runners (like McDougall himself) seem to suffer injury after injury, yet super athletes like the Tarahumara Indians have mastered the ability to log hundreds of miles without rest or pain. Combining science, personal stories, and a history of the running sneaker industry, this is a book that, in my opinion, helped sparked the barefoot running trend and introduced the nation to the world of ultra running. It was also the book that provided some serious inspiration when I was training for my first marathon, leaving readers (myself included) with the overwhelming takeaway that all of us were born to run.
This book will resonate equally with runners and anyone who's ever experienced a heartbreak -- aka, everyone. I read Jen A. Miller's account of her lifelong relationship with running just after experiencing a breakup of my own, and her words were not only powerful, but they were also incredibly relatable. While Miller and I are both writers and runners, the similarities don't end there. I found myself nodding in agreement, time after time, as the incredibly determined author used running (and writing about it!) as an unwavering constant in a life of uncertainty. For anyone who's feeling a little lost in life or love, this honest story will reiterate the belief that running — and everything associated with running, like making time for yourself and pushing yourself — can not only help you find inner peace, but empower you to reach your goals both on and off the race course.
3. Night Running by Emily Mitchell et al.
With all of the media attention surrounding women's safety while running these days, this title may come off as a red flag to some. But you can rest assured that this collection of short stories and essays is a powerful reminder of the various reasons individuals start and continue running in the first place, despite the risks, obstacles, and challenges that come with the sport. Emphasizing female voices, the 11 personal essays invite you to experience how running can change lives, bring you new ways of thinking, or even reverse a destructive way of living. Despite their brevity, each story is a helpful reminder that you don't need to be an elite racer, or even a marathoner, for running to change your life for the better.
Runners training for the New York City Marathon — and really, anyone whose stream of consciousness has gone haywire during a run — will appreciate this memoir by best-selling author Haruki Murakami. Many runners and athletes admit to having some of their best and/or most creative thoughts on the run, but Murakami takes things to another level by documenting the intimate and emotional details of his experience training for New York's most famous marathon, as well as the various other challenges, like a 100k race, that he sets his sights on throughout the pages of this book. More than just a training journal that documents mileage, this memoir is relatable for anyone who's familiar with the physical, mental, and emotional struggles that come both with running, and in life.
I haven't personally read this paperback, but I've laughed over countless other works and comics from bestselling author Matthew Inman, who's also the man behind The Oatmeal, so I'm confident this read would be equally hilarious and entertaining. Reviews describe this collection of comics and stories about running as "one cartoonist's reasons for jogging across mountains until his toenails fall off." The title alone strikes a chord with me, as I'm constantly questioned about my weird running habits from both concerned and confused non-runners. And just about every runner will be able to relate to the idea of continuing to run, despite the lost toenails, undesirable weather conditions, and moments of self doubt that affect us all.