10 Hacks For Making Your Bookshelf Beautiful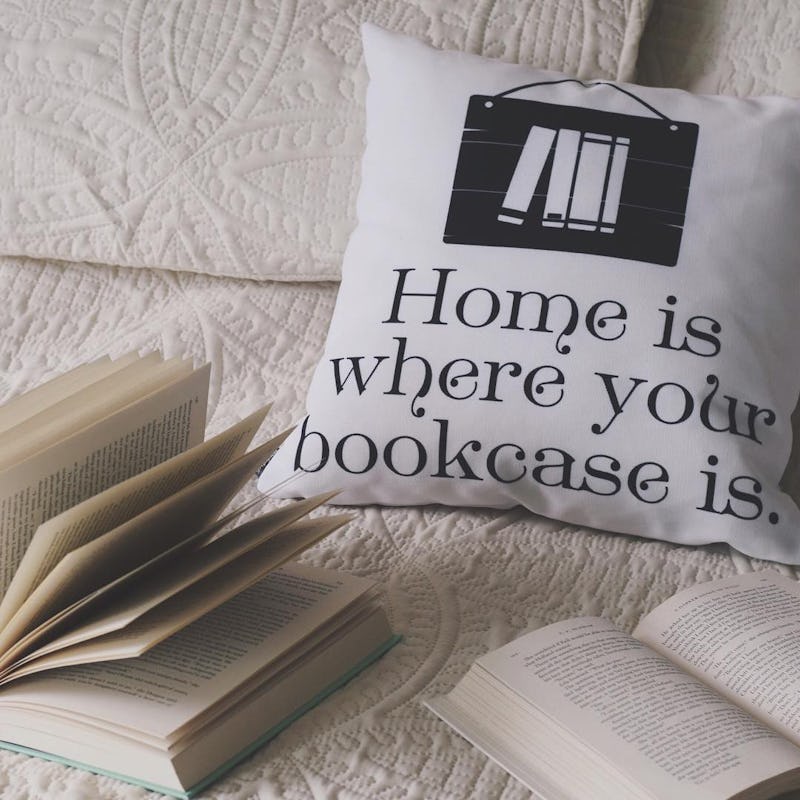 If you're a book-lover who's anything like me, chances are you're more than a little obsessed with discovering different ways to makeover your bookshelves. From trying out the best hacks for making your bookshelves more beautiful, to finding a foolproof way to organize your reads so you're never stuck searching for that one fave you must have shelved somewhere…, there are tons of tips and tricks for arranging and displaying all the titles you love in every bit of their bookish glory. Just check Instagram. And Pinterest. And this fabulous (if I do say so myself) list below.
From one bibliophile to another: I reorganize, rearrange, and redecorate my own bookshelves at least once or twice (OK, three times max) a year — and with tons of Insta inspiration just clicks away, I'm always a sucker for a good shelfie. So I speak from experience when I say that adding some totally hashtag-able flair to your at-home library isn't nearly as difficult as it seems. When it comes to bookshelves, you definitely don't have to sacrifice style for functionality. Believe me, your books will thank you.
Here are 10 hacks for making your bookshelf beautiful. I can't wait to start liking all your latest shelfies.
1. Mix Up Your Shelving Style
Once upon a time, a long time ago, almost all the way back in the stone age, in fact, long before Pokemon GO started testing your knowledge of metric length, there was this little game called Tetris. You might remember it — and while it might not seem like much now, let me tell you, back in 1993 Tetris was THE SH*T. Tap into those long-dormant puzzle-completing skills now, and try to incorporate some serious Tetris style into your shelves. Try mixing vertical and horizontal — and every angle in between — arrangements (see above.) Just don't get so complicated that you can't actually remove your books off your shelves when you want to read them.
2. Arrange Your Books By Color
Here's the catch to a color-coordinated shelving arrangement: it looks super cool, but unless you know your personal library really, really well, if the colors of your books' spines are your only method of organization, it's going to be super difficult to find the book you're looking for in a timely manner. But color-coordinating does look fantastic enough to give it a try — at least long enough to take a few #shelfies.
3. Add Some Classics
I love old books. I love the way they look and smell — the embossed, fabric covers fraying at the corners; the crisp gold lettering across the spine; their simple, but classic, style. Incorporating a shelf or two of early editions will definitely snazzy-up any book-lover's bookshelves, (as well as making you look like the true book collector you really are.)
4. Use Unique Bookends
Cool, colorful, and one-of-a-kind bookends are a great way to add personality to any personal library. Plus, while I definitely love me some crowded bookshelves, they're a great way to give your titles some breathing room, or to feature one particular collection or series of books separate from all the others.
5. Make Them Seasonal
You decorate the rest of your home for the holidays, why not include a little seasonal cheer in your shelfies as well? While redecorating all your bookshelves with every change of season might seem like a lot of work, setting aside one shelf for all your holiday favorites is a great way to keep your collection feeling fresh. I have boxes of seasonal and holiday books that I only bring out for a couple months each year, and now decorating and redecorating my season-themed bookshelf has become one of my favorite parts of my yearly holiday celebrations.
6. Mugs, Mugs, Mugs... And Other Decorative Items
Nothing goes better with a good book than a cup of coffee, amirite? Keep things simple by storing your favorite coffee mugs right alongside your favorite books, for easy access and a fun, decorative flair. Extra-large mugs and other weighty decorative objects double as great bookends as well.
7. Incorporate Some Green
A little green goes a long way, and I'm a big fan of succulents — mostly because they're near-impossible to kill, even if you forget to water them for, like, a month. (Bamboo is similarly sturdy, if you're looking for foliage that'll fit into some taller shelves.) Plants and other natural objects add great light and freshness to bookshelves — and if you've got a green thumb, even better.
8. Get Inspired By Your Favorite Bookstore
Sometimes you've got to hand it to the professionals — when browsing independent bookstores, taking in their design aesthetic is just as exciting as taking in all the titles you won't find in your mainstream big box store. (Like this book-friendly coffee shop in Shanghai, for example, that lines their staircase with bookishly decked-out shelves.) Next time you're looking for a new favorite read, check out the bookstore's shelving style as well — you might pick up some great tricks for your own shelves.
9. Use A Basket Or A Bowl
We all have those books that just aren't meant for shelving — whether they're on the smaller side and get lost among all the other great reads on your shelves, or your book filing system can't seem to find a place for them (what section does that graphic memoir written in poetic verse go in, anyway?) collecting several books in a decorative box, basket, or bowl is a great way to mix things up. Plus, if you're running out of shelf space (and who isn't?) these look great on a desk, end table, or even the floor.
10. Show Off Your Favorite Covers
There is no rule that says you have to shelve all your books with the spines facing outward. Sure, that's usually the most space-friendly way to arrange your library, but we're not talking about conserving shelf real estate here, people, we're talking about beautifying your bookshelves. And there are some book covers that are simply too gorgeous to hide. Arranging your books with some of your favorite covers facing outward is bound to make your next #shelfie go viral.
Image: fictiontea(2), celinereads, readsleepfangirl, mybookbath(2), the.blonde.bookworm(3), sarahlostbutfound/Instagram; Glen Noble/Unsplash