What College Students Want In Adult Films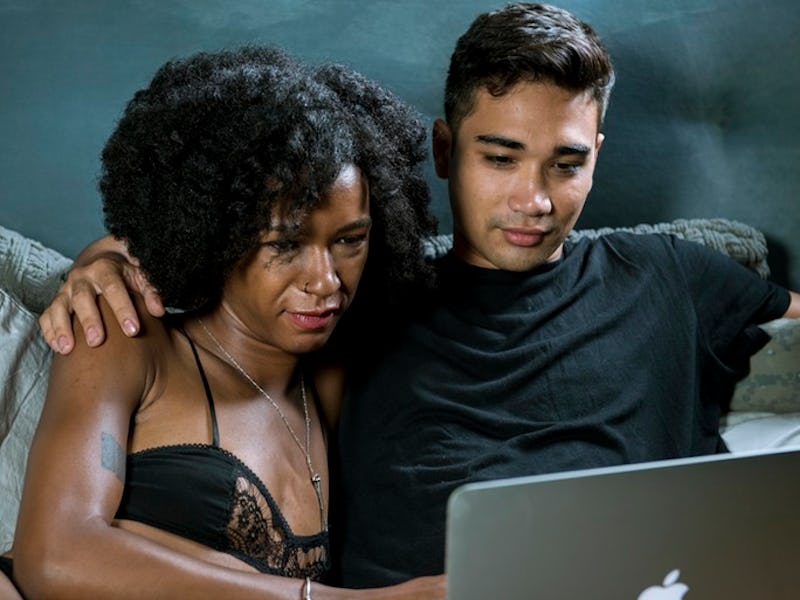 When it comes to what kind of porn people like to watch, I never really think of something like age making a difference. But it turns out, I was wrong. As college students recently flocked back to campus, it's the perfect opportunity to check out what they like to watch. In a report shared exclusively with Bustle, Pornhub looked at what people were looking at for two weeks before school kicked off and then compared it to what they were watching once the semester began, to see if there was a difference between the general population and the college students' porn viewing preferences — and there definitely was.
They looked specifically at Southeastern Conference universities, so it would be interesting to compare it to what kind of porn students are watching in the North and West. But for now, we know that at least with SEC schools, they watch a lot more porn than the general population. A lot more. For example, according to Pornhub "students returning to Ole Miss cause an incredible 35 percent increase in Pornhub traffic within Oxford, followed closely by Auburn University which increases Auburn, Alabama traffic by 31 percent."
And it's not just there. You can check out all of the stats on their website, but here's a sneak peak at some of my favorites:
1. College Students Are Quick
Viewing duration dropped when college students returned, meaning that they know how to get the job done.
2. There's Such A Thing As "Jerking Off Instructions"
...and college students in Missouri and Texas love it. I didn't know that this was a type of porn, but there was 622 percent in Columbia, Missouri when college started again. There was also a 467 percent increase in College Station, Texas. I really hope this is just two guys watching the videos on repeat and sending the data loopy. They just want to learn.
3. People In Athens, Georgia Love A College Dorm Room
There was a 254 percent increase in "college dorm" searches in Athens. In fact, that was one of the searches with the biggest jump everywhere— so I guess college students really like to watch things happening in their natural habitat.
4. Students In Florida Have Massive Egos
At least that's what I have to assume considering the 162 percent increase in "University of Florida" searches. I mean, that's niche. Are you searching for yourself?
5. People In Lexington, Kentucky Love A Celebrity Sex Tape
There was a 44 percent increase in "celebrity sex tape" searches there — also, I like that it wasn't a particular celebrity. They just want to see any celebrity.
The overall takeaway? Besides some really niche ones, there was a definite jump in a lot of college related searches. "College", "college party", "college dorm", even "college orgy" (I'm looking at you, Columbia, South Carolina)— college students seem to like all things college. So it looks like familiarity breeds contempt... and boners.
Images: Pornhub; Giphy