'The Girl On The Train' Is Thankfully Fiction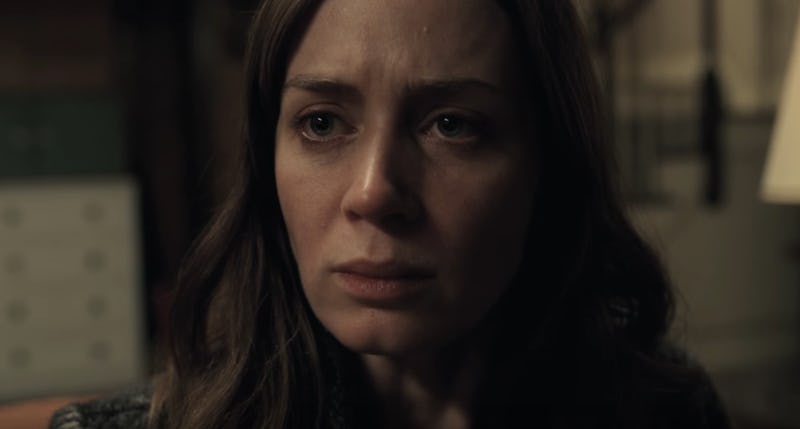 The Girl on the Train looks to be absolutely insane — in a good way. The new thriller stars Emily Blunt as Rachel, a woman battling alcoholism who becomes entangled in a missing persons case involving her ex-husband's nanny, whom she happens to have been lightly stalking. The Girl on the Train trailers feature intense sex scenes, blood, police, and more fights than I can count. In short, the movie looks like a wild psychological thriller, which is why it's almost scary to wonder, with all the true crime taking over entertainment right now, if The Girl on the Train is based on a true story.
Don't worry — you can all take a deep breath of relief. The Girl on the Train didn't really happen. It's based on the next best thing: a bestselling novel. Paula Hawkins' The Girl on the Train was released in 2015 and immediately dubbed the new Gone Girl (a book which was turned into a hit movie just last year). And, while the book is not about any particular true story or crime, it is somewhat inspired by real events, or, at least, a real commute. In the book and movie, Rachel is enamored with a couple she watches every day on her morning commute. From the train, she sees their home and imagines their perfect lives. It's something Hawkins herself used to do on her commute. "You feel like you've made a connection with these people. You see their houses or maybe a painting on their wall that you like and think, 'Oh that's nice. I'd probably like those people,'" Hawkins said in an interview with Time . "And then you have to stop yourself and think, 'You don't know them.'"
In a separate interview with The Guardian , Hawkins admitted she sometimes hoped she'd see something really interesting from her seat on a train, and that desire planted the seed of The Girl on the Train. "I've done lots of train journeys, and I've always thought how interesting it would be if you actually got to witness something," she said. That interesting thing, in The Girl on the Train, leads to a violent mystery and lands our protagonist, Rachel, in the middle of a missing persons case. It's reassuring, then, to know that Hawkins didn't base Rachel's story on any events that occurred in real life. After all, does anyone really want to be in the middle of a potential murder investigation? I think not.
Image: Universal Pictures