The Birth Of A Nation' Tells A Harrowing Story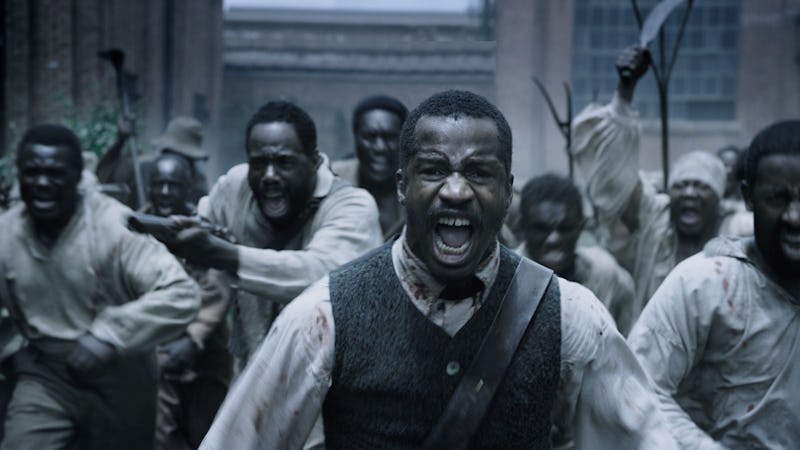 Nate Parker's new film The Birth of a Nation has been a heated topic of discussion since its Sundance premiere, with many people drawn to the true story of The Birth of a Nation and wanting to learn more about its incredible inspiration. Yet initial enthusiasm for the film has been tempered by the revelations about Parker's past rape allegations (Parker was 19, a student at Penn State University, when a fellow student accused him and his roommate Jean Celestin of raping her while she was unconscious in their room. Parker was acquitted of the charges, and Celestin was convicted before having that conviction later overturned in 2005 after the alleged victim was no longer willing to testify. Both men maintain that the sex was consensual). Many people, such as scholar and critic Roxane Gay, have publicly said that they will not see the film, lamenting that the allegations against Parker has diminished what should have been an important moment for black history and cinema.
Still, regardless of the allegations that now color the film and its creator, The Birth of a Nation is a film that's all but guaranteed to make a mark on cinema and remain a cultural touchstone in discussions about the horrors of slavery and its lasting impacts. In its telling of the story of slave rebellion leader Nat Turner, The Birth of a Nation provides context and narrative for the struggles of black Americans both today and throughout the long and racist history of our nation. The film follows Nat Turner, the 31-year-old slave who, in 1831, actually led one of the most significant slave rebellions of American history. As reported in an account of Turner's life by The Hollywood Reporter, the rebellion lasted 48 hours and resulting in the deaths of roughly 60 white people before being quelled.
As shown in the film, slaveowners retaliated by killing over 200 black Americans, and Turner was tried, convicted, and executed. Valuable details and historical information about his life and the rebellion were recorded by attorney Thomas Ruffin Gray in a nonfiction book called The Confessions of Nat Turner. That book remained for many years one of the primary historical documents about Turner and the events of the rebellion he led, though contemporary historians note that Gray's account may include embellishments.
In the film, Turner is played by Parker, and many of the other characters in the film are based off of real people whose existence is documented, such as Turner's wife Cherry, who is played by Aja King, and Turner's slaveowner Samuel Turner, played by Armie Hammer. As for Gabrielle Union's character Esther, it's unclear whether or not she was a real person, but Union indicated in quotes to The L.A. Times that the character's life and experiences, most notably her sexual assault, were all too common for many enslaved women. By Esther not speaking in the film, Union said, "you feel her presence, her sense of family. You get a sense of where she is in the larger plantation system, the powerlessness, the voicelessness."
Parker did heavy research for the film, as noted in an interview with Variety in August, and said he started writing the story that the film was based off of in 2007 while in college studying Turner. Parker also told Indiewire in June that as far as period details went, he was committed to a realistic setting, down to the atmospheric elements of the battle scenes. He ensured that smoke was present in the foreground (an effect you can produce if you "grind up a bunch of cork," he said) and made sure there was enough blood, which he said was often missing from battle scenes in other films.
However, as much as Parker dedicated himself to an accurate and detailed account of this historical event, he acknowledged that films include details that are fictional, which is why, he told Anderson Cooper on 60 Minutes , the movie is stated as being "based on a true story," not simply "a true story." Perhaps most notably, in the film Turner is inspired by the rape of his wife Cherry to start the uprising, but as an article on BET's website notes, this is not supported by historical records, and other records provide evidence that Turner, a preacher, was inspired by religious visions spurred by an eclipse.
Still, as previously mentioned, Parker relied strongly on research for the film, and it's rare if not impossible for a biopic to tell a wholly accurate story. That's simply not how the translation of life to film works. The Birth of a Nation focuses on bringing to light the true story of Nat Turner, a story that often gets relegated to a small paragraph in the history books and deserves to be told in a large public arena.
Images: Fox Searchlight