11 Totally Unique Journals For Readers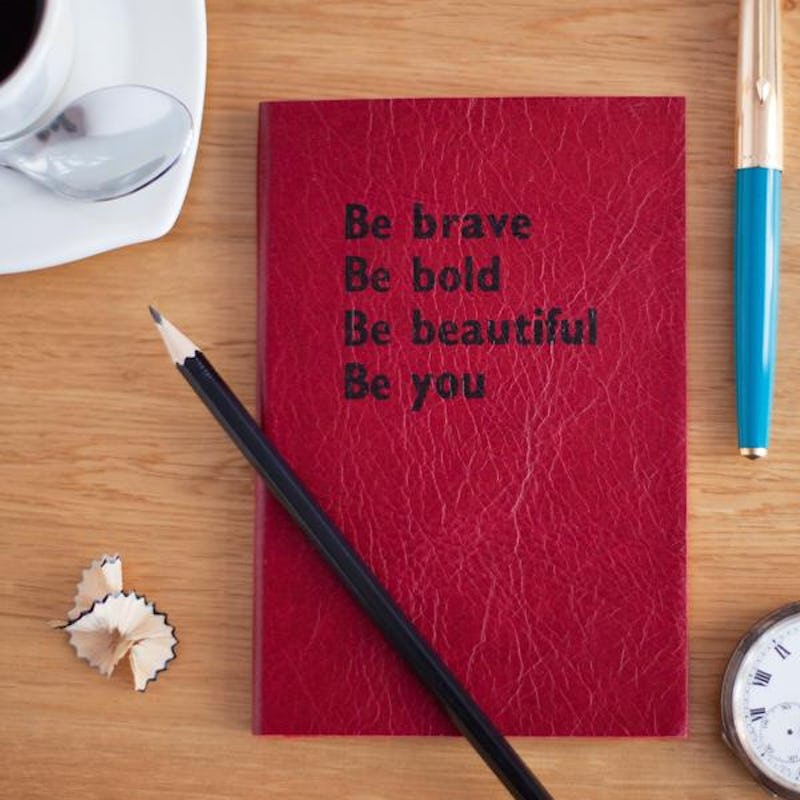 When you're an avid reader, the urge to write pops up in the least likely of circumstances. And whether you're an aspiring writer or not, writing reviews on your favorite (or least favorite) books comes naturally, especially in the age of Goodreads. There's no stopping a book lover who can't stop obsessing over an amazing story and must scream it at the top of his or her lungs — or at least that's how I tend to feel. And that's why I need a unique journal to track books and jot down ideas.
Keeping track of what you've read and what you want to read is a great way to stay organized and make sure you eventually tackle your entire TBR list. There are millions of books in the world, and I want to read as many as possible, yet if I don't write them down I tend to forget and never get back to them. But now that I've started my own book tracking journal, it's helped cure that issue once and for all.
Even if you aren't a major reader or don't need a book journal at the moment, odds are there's a book lover in your life in dire need of a gift for the holidays or a birthday, and I have 11 perfect options. From small structured journals with neat and easy-to-manage lists to free form journals that look like books themselves, here are some beautifully unique journals every book lover will adore:
1. The Book Lover's Journal
This sleek journal is easy to take wherever your reading travels take you, plus it has over 200 pages full of neat stuff, including a book log, a place to document and track your TBR list, and a section to keep track of books you've bought, borrowed, lent, and given away. It also includes lists of authors and titles to inspire future reading choices because, let's be real, you can never have enough recommendations.
The Book Lover's Journal, $12.26, Amazon
2. A Repurposed Hunger Games Journal
Perfect for those plotting their reading... or plotting a revolution.
Hunger Games Journal, $19.61, Etsy
3. Book Life: A Book Lover's Journal
Keep record of your current reads, your book wish list, and all of your ongoing bookish thoughts in this compact and adorable journal. It also includes a list of amazing places for book lovers to visit, including iconic bookstores and literary pilgrimages.
4. What I Read Mini Journal
It's a mini book where you can store all of your big book thoughts — what more could you ask for? This journal will ask you questions like where your favorite reading spots are, your favorite books in every genre, and so much more. It's perfect for book lovers who love to keep track of their reading habits and how they change over time.
What I Read Mini Journal, $6, Amazon
5. A Leather Bound Book Sized Journal
How gorgeous is this leather bound journal? This is the sort of journal for book-lovers who are also aspiring writers, because when it comes to writing, it doesn't get much more inspiring than writing in a journal that feels like your very own published novel.
Leather Bound Journal, $46.17, Etsy
6. Reading Journal: For Book Lovers
This reading journal is full of checklists of award-winning novels and recommendations (in every genre) along with pages and pages to write down what you've read so far and what you hope to read in a lifetime.
Reading Journal: For Book Lovers, $7.26, Amazon
7. Altered Book Journal And Scrapbook
For the DIY scrapbook lover, detailed planner, and active reader, this is the journal for you. Every page is beautifully crafted, ready for all of your thoughts and ideas to hit the page. There's room to organize your schedule, add in your favorite literary quotes, and much more.
Altered Book Journal, $45, Etsy
8. My Bibliofile: A Reading Journal For Book Lovers
If you are a bibliofile and have a few close friends who are as well, this is the journal for you. It's full of reading activities, pages to write down all of your favorite and TBR books, and long lists of recommended books from reputable sources like Oprah's Book Club and National Book Award winners. With this journal, you'll never worry about not knowing what to read next.
My Bibliofile, $9.66, Amazon
9. A Repurposed Harry Potter Journal
For every Potterhead who has ever needed to write down their on-going thoughts on the series and all of the brand new information J.K. Rowling continues to release, consider keeping them in this beautiful Harry Potter inspired journal.
Harry Potter Journal, $15+, Etsy
10. Reading Log Journal
This reading log notebook will encourage you to keep track of what you're reading in an orderly list, along with asking you to jot down why you read it and who you'll be recommending it to. Rate characters, the plot, and so much more with this handy dandy reading log notebook.
Reading Log Journal, $5.99, Amazon
11. Be Brave Journal
This company, Hope House Press, allows shoppers to personalize the insides of their journals: choose your dimension and your paper to create a journal perfect for you and your writing needs.
Be Brave Be Bold Journal, £45 (about $57), Hope House Press
Images: Hope House Press