5 Reasons You'll Love 'Today Will Be Different'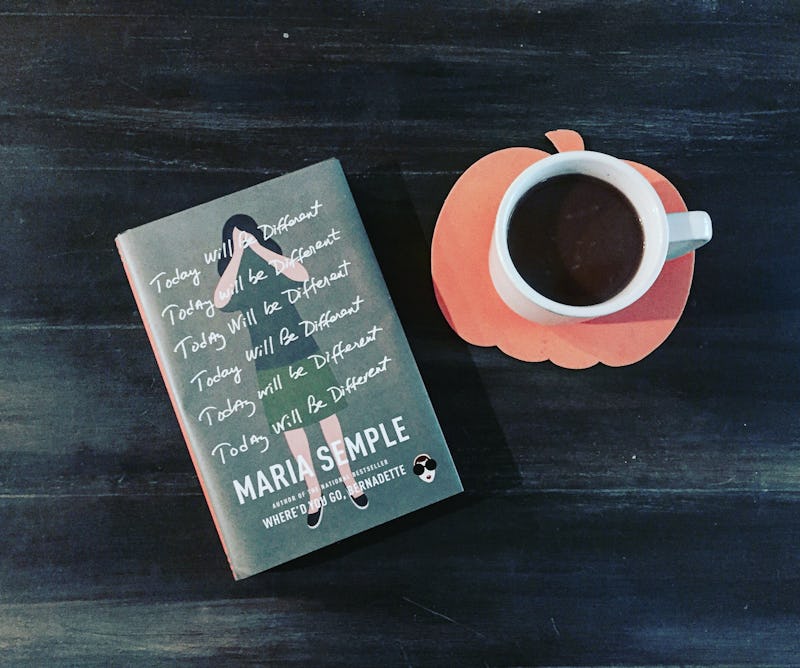 Have you ever had one of those days — you know, the kind where you wake up swearing that it's going to be your day, only to find out by breakfast that everything is going to instead fall apart? So has Eleanor Bloom, the wacky and unforgettable narrator of Maria Semple's latest novel, Today Will Be Different , your soon-to-be favorite fall fiction read.
In Today Will Be Different, Bernadette Fox lovers will find a familiar friend in Eleanor Bloom, a once promising animator who, as a wife and mother, finds herself swept up in the chaos of the everyday life of her present and the hidden secrets of her past. During the one day readers spend in her life, the eccentric but irresistible narrator finds herself planning for the best day of her life — the one where she's the perfect wife, the perfect mother, the perfect friend, her own perfect self. But instead, she's living a nightmare involving a colleague from her past, a disappeared husband, and a young son who is just desperate for some "mommy time." You'll ask yourself, "How could this possibly happen in one day?" But each exciting, excruciating, or extraneous adventure Eleanor find herself on will only endear her to you more.
As if Eleanor isn't reason enough to read the book already — which, trust me, she is — here are five other reasons you'll love Maria Semple's hilarious and sincere Today Will Be Different. You're going to want to move this one to the top of your TBR list.
1. The return to a fantastic and familiar setting.
"The only think you need to know about Seattle? Nobody was offended."
Some of the most commonly cited advice for authors is, "Write what you know," and boy does Maria Semple know Seattle. From its legendary landmarks and infamous rainy weather to its hidden nuances and one-of-a-kind residents, Semple captures every atom of the city's being. After a day of wandering in and out of swanky restaurants — "I don't care where you live," Eleanor will tell you, " but here in Seattle, our restaurants are better than your restaurants." — taking in the sites — "The vastness of the sky, the blues of the water. Ferries, sailboats, mountains, and everywhere you look, people." — and meeting the city's inhabitants — the Galer Street parents, the Seahawks fans, the up-and-coming artists — you will feel like you know every inch of Seattle. And you'll want to visit as soon as possible.
2. The razor sharp wit and laugh-out-loud humor.
"As far as I'm concerned, the only thing sweeter than seeing a friend is that friend canceling on me."
In what is becoming her signature, Maria Semple calls upon the same combination of comedic hijinks and critical eye that made Where'd You Go, Bernadette ? and This One Is Mine so brilliant. Today Will Be Different is peppered with unforgettable one liners, laugh-out-loud funny observations, and plenty of those little truths we all think to ourselves but never say out loud. Eleanor's outlook on life, her internal dialogue and the conversations she carries out with others — all brought to life on the page through Semple's whipsmart writing — will have you blinking back tears.
3. The mystery.
"And right then, to anybody else, 'You're back!' would have meant Nice to see you! It's been a while. But to the child of an alcoholic with witchy powers, it meant Joe told us the three of you were out of town. And that's where my day really began."
Like with her previous two novels, Today Will Be Different is a compilation of things from scorching satire to chick lit to a story of motherhood. But one of the most irresistible things about it is its mystery. Or, I should say, mysteries. Eleanor just wants to have a perfect day, but she's instead swept up in the mystery of her husband's whereabouts. Her husband told his staff he was going on vacation with his family, but he's actually MIA. Now, Eleanor is left wondering if she is being cheated on or if he is being held captive, and how much of it is her fault.
But there's another mystery. Eleanor's past — specifically, what happened to her sister, the one she never talks about — is a secret. But then an old graphic novel appears to shatter her current reality. Speaking of graphic novels...
4. The graphic novel within the novel.
Eleanor Flood's world comes to life in the pages of Maria Semple's novel, but it's not just the author's sharp pen that does it — it's the inclusion of Eleanor's graphic novel, reproduced in full color pages throughout the novel. Beautiful drawings with telling captions and incredible detail fills in Eleanor's past while explaining a bit of her present.
A fun and unique inclusion, the pages of The Floof Girls puts this novel over the top.
5. The hilarious yet completely honest portrayal of everyday anxieties.
"As for my constant low-grade state of confusion — the Blur is a term that seems to be sticking — let me break it into three categories: (1) things I know but never learned, (2) things I choose not to know, and (3) things I know but totally screw up."
If there is one thing Maria Semple seems to understand better than anything else it's the universal chaos we all experience in our everyday lives. Her heroines, Eleanor Bloom more so than any other, grapple with the pressures of the outside world, the fracture between their expectations and their realities, and their own flaws — often all at once and never too gracefully. They feel the way we all feel, and more often than not, says all of the things we're all thinking.
Like her other stories, Today Will Be Different recognizes the basics we all try and pretend to ignore: Motherhood is challenging, no matter how much you love your child. Relationships are complicated, and only get more so with time. Womanhood is a constant uphill struggle. By Eleanor's side, though, none of it seems too bad.
Today Will Be Different by Maria Semple, $16.33, Amazon
Images: lady_strombetta/Instagram