All Your 'Gilmore Girls' Instagram Teasers At Once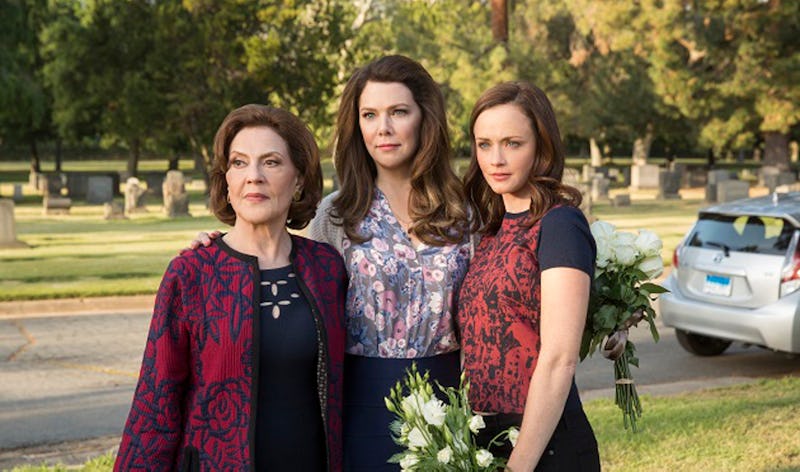 If it wasn't for social media, fans would probably be hungering hard for Gilmore Girls: A Year In The Life every day, but thankfully Netflix knows better than to starve devotees completely. Every day, my feed is blessed with some sort of Gilmore Girls revival promo photo, some delightful teaser of what's to come with the four episode mini-movies arrive on Nov. 25. It's somehow enough to keep me satiated until then, although it can be hard to keep up with just how many teasers we're getting prior to the show's debut. So naturally it made sense to round 'em all up, to keep us happy until the big day arrives.
So, served up on a platter is every Gilmore Girls teaser thus far, and trust me, there's a bit of variety going on for you. I've scoured the corners the official Gilmore Girls Instagram, as well as Netflix's account and even Netflix UK. Hopefully these little winks to the series will delight every single one of you Gilmore Girls fanatics, regardless of what team you're on. Thankfully, Gilmore Girls doesn't discriminate when it comes to dolling out shipper treats (which doesn't mean there aren't battles in every photo's comment section).
Without further delay, here is every delicious Gilmore Girls promo thus far.
1. This Welcome Back To The Dragonfly Inn
I'd definitely book a night... or 12.
2. This Shout-Out To Melissa McCarthy's Return
After so many months of back and forth, fans were rewarded with a social media-approved guarantee of Sookie's return to the revival.
3. This Introduction To The Official Gilmore Girls Instagram
Cue hysterical giggles of happiness over your French Roast.
4. This City Cup At Luke's
A subtle hint to the whereabouts of Rory, or are they just short on matching mugs at the diner?
5. This Chinese Take-Out At Al's Pancake World
It must not be Donna Reed night, because usually that'd be paired with pizza.
6. This Warning Sign To Lorelai
Which is ridiculous — how can one expect to sit through Taylor's rambles without some popcorn and a large soda?
7. This VHS Of The Greatest Work Known To Cinema
Please, oh please, let Kirk's film get a musical adaptation.
8. This Temporary Shelving Of All Of Lorelai And Rory's Love Interests
I am, very, very concerned that Team Jess has a crack in it, because you know I'd drink deeply out of that.
9. This Healthy Study Snack
And everyone freaked out that apples could mean pregnancy, but the true fans could see this was just a clever wink to Rory's Chilton days.
10. This Gorgeous Shade Of Vicious Trollop
If only MAC cosmetics could make this lipstick a reality. I would buy every tube.
11. This Town Meeting Agenda, Which Is Only Slightly Concerning Because It Implies Netflix Didn't Make It To Stars Hollow Until 2016
Although Lorelai and Rory doing a Stranger Things marathon seems thoroughly on-brand.
12. This Tease That The Band May Be Getting Back Together
Honestly, though, I still hold conviction that the first Hep Alien line-up with Dave Rygalski is the best one.
13. This Stunning Doose's Market Review From Miss Patty
Of course, she's the only one who can eat fruit in the aisle, being Miss Patty.
14. This Important Note Of Something Kirk Saw
I mean, not every weekend can be dedicated to re-enactments and winter festivals.
15. This Nod To Logan's Recklessness
And a shout-out to the whole Life and Death Brigade.
16. This Ode To Jess's Love Of Literature
And his roundabout way of borrowing books without asking.
17. This Throwback To Rory's First Kiss With Dean
And how he egregiously doesn't fit into Rory's life, awesome.
18. And, Of Course, This Sign That Star-Crossed Lovers Luke and Lorelai Were Always Meant To Be
But she never did go away.
Here's hoping even more Gilmore Girls photos arrive in the next few weeks.
Image: Netflix (1); Instagram (18)