'Westworld' Is Already A Huge Hit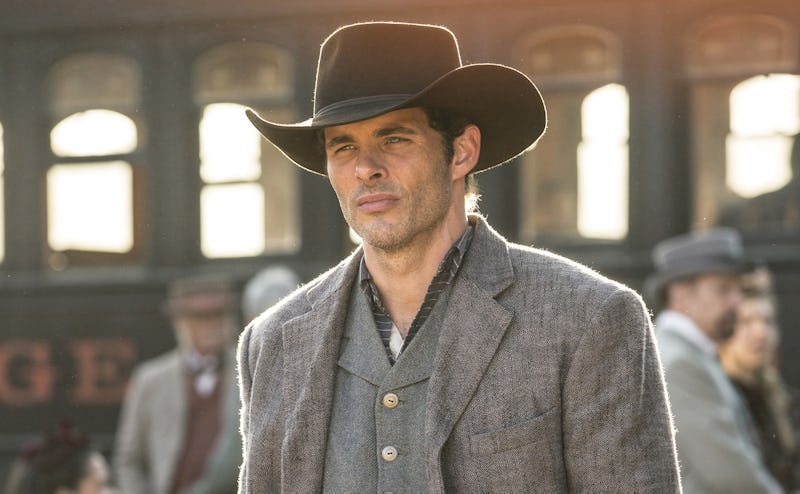 With its niche genre, gorgeous production values, dozens of characters, far-flung locations, and buckets of blood, the new HBO series Westworld is obviously being groomed as a successor to the network's fantasy series Game Of Thrones, which will be signing off the air in two all-too-short years. Of course, whether or not Westworld will be a worthy replacement for HBO's most popular show largely hinges on whether or not audiences actually tune into watch it — and on that score, the hybrid sci-fi/western series is off to a great start. In fact, if the Westworld premiere ratings are any indication, a Westworld Season 2 renewal should be all but a foregone conclusion.
An impressive 3.3 million people watched the pilot episode, "The Original," across multiple HBO platforms on Sunday night (including two live TV channels and HBO Go streaming). According to Deadline, that's the network's biggest hit in almost three years, since Season 1 of True Detective launched to the same number of viewers in January of 2014. And it easily bests both HBO drama premieres since then: The Leftovers (2.1 million) and Vinyl (1.4 million). (The former show has been renewed for a third and final season, while the latter had its second season renewal revoked after a lackluster first season.)
Of course, the Westworld premiere falls short of the 4.4 million pairs of eyeballs that the Game Of Thrones series premiere pulled in back in 2011. But even that was a modest rating compared to the record 8.1 million viewers who tuned into the Season 6 finale this past June, so like its predecessor, Westworld has plenty of room — and potential — to grow.
And even though the new series, based on Michael Crichton's 1973 film of the same name, didn't debut quite as strongly as the show it's expected to replace, those ratings are likely good enough to ensure Westworld will return for another go-round — thanks to a number of other factors as well. First, there's the show's hefty $100 million price tag, ensuring HBO will want to see a return on the investment they've poured into the lavish production. Then there's the encouraging fact that creators Jonathan Nolan and Lisa Joy have supposedly already mapped out a five-year plan for their series, which should give HBO the confidence to let them see it through.
HBO may have been hoping for GoT-sized numbers from the Westworld premiere on Sunday night, but network execs are likely just pleased that the show seems to be off to a solid — if not spectacular — start. That should be enough to guarantee fans that the show will be sticking around the foreseeable future. Now, may you all rest in a deep and dreamless slumber…
Image: John P. Johnson/HBO