Here's How Morgan Stewart Makes Her Manicure Last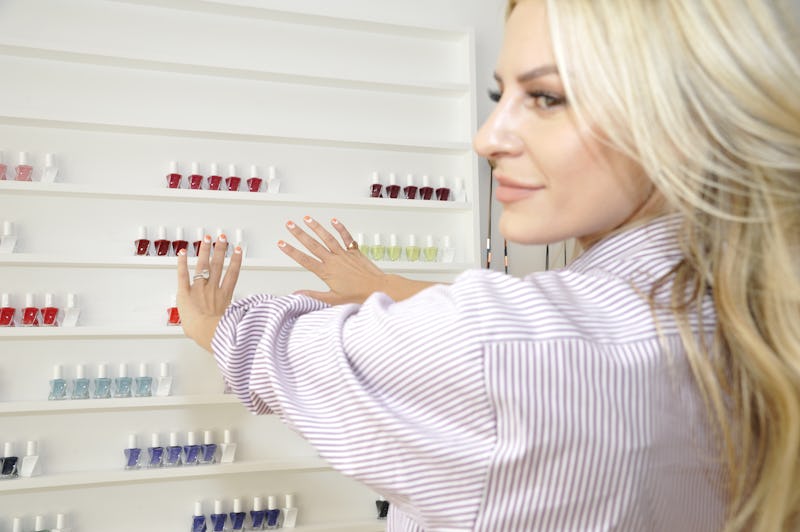 In case you didn't already know, Rich Kids of Beverly Hills ' star Morgan Stewart knows what she likes when it comes to her beauty routine, especially when it involves her nails and her favorite nail polish. If you're familiar with Stewart's lifestyle blog, Boobs & Loubs, you probably love the star's style, sass, and beauty tips. Lucky for me (and you), Stewart was kind enough to share even more amazing advice about how she manages to look put together 24/7.
In a recent interview with Stewart over email, the reality star not only told me about the one step of her beauty routine she can't go without each day ("I absolutely can't live without sunscreen — for me, that is my number one beauty priority"), but she also gave me some great tips on keeping my manicure looking fresh for weeks.
Stewart opened up about her favorite way to wear her nails (she appreciate a jazzed-up nail just like the rest of us) and how she manages to keep them healthy and good-looking. If you're like Stewart and love a pretty mani, here's how to get the most out of your next nail look.
1. Be Realistic About The Length Of Your Nails
If it's hard to keep yourself from biting your nails or letting them chip from everyday wear and tear, filing them regularly will help your polish stay put. "I definitely keep my nails on the shorter end because I tend to bite them, it's a horrible habit," Stewart says.
2. Use A Gel Polish
Essie Pre-Show Jitters, $11, Essie
To channel Stewart's go-to polish choice of bright whites, you should reach for her favorite Essie shade from the line's new Gel Couture collection. "I definitely keep my nails classic and consistent," she says. "One of my favorite colors would have to be a creamy alabaster white — Essie's Gel Couture Pre-Show Jitters."
3. Choose A Color You Might Not Think Would Look Good On You
If you ever have the problem of choosing a color at the nail salon, try Stewart's unique tactic. "I love to pick a color by a name," she tells me. "I really appreciate a clever name for a polish, even if I don't necessarily love the color — I'll rock it!
4. Don't Forget The Top Coat
Atelier Essie Top Coat, $11, Essie
Essie's new two-step Gel Couture line, which Stewart is already a huge fan of, wouldn't be complete without the top coat polish that seals in your nail's shiny look. An added bonus: The line's gel polish doesn't even require an ultra-violet light! When I ask her why she loves the new Essie Gel Couture line, she tells me the fact that it lasts so long and doesn't require a lamp are huge factors. "I always wonder what is actually happening to my nails/hands under those lights!"
5. Put Oil On Your Cuticles
Apricot Cuticle Oil, $9, Essie
In order to make your nail polish last longer (even if it is a gel color), make sure you moisturize your hands. "Every night, before I go to sleep, I put an oil on my nails and cuticles. This really helps my manicure stay put," Stewart advises.
Having a stunning, long-lasting manicure like Stewart can be simple, so long as you follow her five pieces of nail advice. Now go forth and rock that colorful nail art!
Images: Courtesy of MMLPR (5)