ColourPop's Launching Opalescent Highlight Shades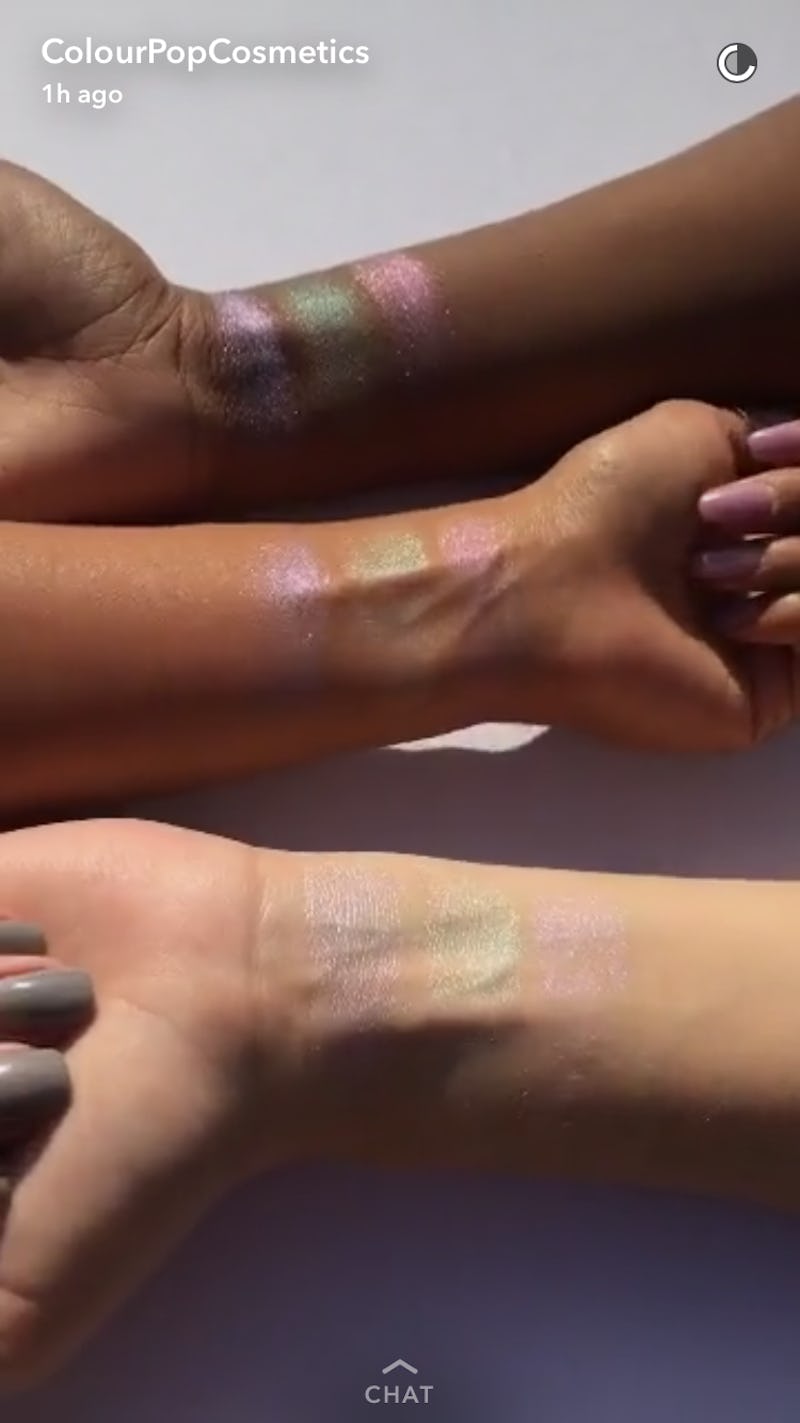 Just when you think ColourPop's at the top of their game, they go and up the ante. Not only is the brand launching a new finish for eyeshadows, they also just announced that they're releasing new Opalescent Highlighter shades. Say what?? Now, you'll be able to glow with iridescent color, just like an opal stone. When are the ColourPop Opalescent Highlighters coming out? You won't have to wait for long!
According to the brand's Snapchat, the three new shades will be available to shop on Oct. 6. An official launch time hasn't been announced just yet, but their products typically drop at 1 p.m. ET/10 a.m. PT. Their Ultra Glitter Eyeshadows also launch on that date so, have your laptops ready. There's no way you're going to want to miss out on these colorful, shiny products.
The highlighters come in the shade Perilune, Honey Moon and Over The Moon. Perilune is a champagne color with green undertone, Honey Moon is a pearl highlighter with a hint of blue and Over The moon is a rose gold color with a pink iridescent finish. The brand mentions that these will be perfect for your Halloween makeup, but honestly, they're great for making you feel like a fairy princess each and every day. Because it doesn't have to be Oct. 31 to rock a highlight like this, you know?
Just look at all of that color and sparkle! YAS.
These shades definitely deserve a closer look.
The Perilune shade has a hint of green.
The green color really shows up on the cheek, but it's still super wearable.
Honey Moon's got a blue undertone coming through.
And it looks absolutely amazing on.
Between the Ultra Glitter shadows and these Opal Highlighters, there's nothing no to love about this latest ColourPop launch!
If you live for color and sparkle (who doesn't?!) then you've got to get your hands on these babies.
Be ready as soon as they go live on the ColourPop website!
Images: ColourPopCo/Snapchat (7)