Paranormal Podcasts That Will Keep You Up At Night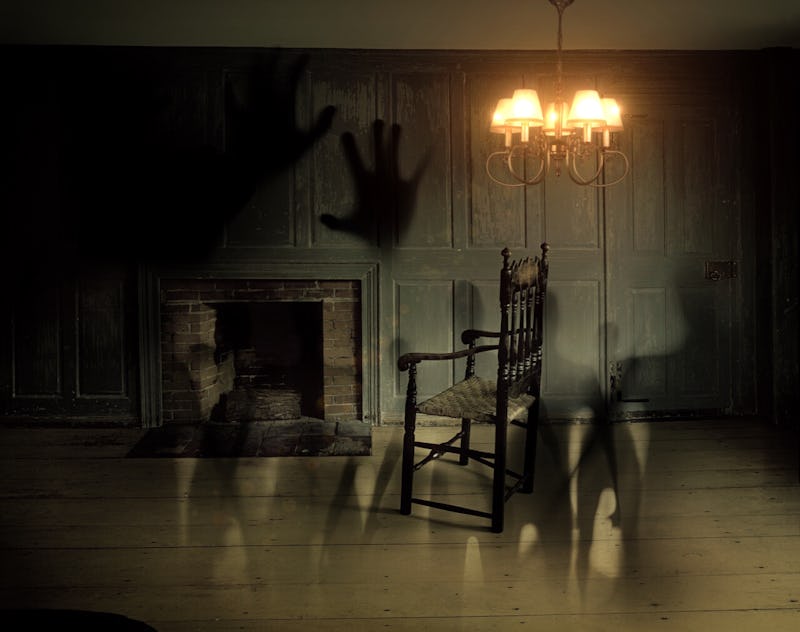 When you are hankering for a good old-fashioned fright, the imagination can be powerful tool. This Halloween season, forget the latest horror flick, and crank up one of these creepy podcasts about the paranormal instead! The well of unexplained phenomena runs deep in this world, and these radio shows will help satisfy (or bait) your curiosity. Each podcast tackles a good mix of subjects beyond scientific understanding. Delve into the weird world of UFOs, demons, phantoms, psychic mediums, and telekinesis with first hand accounts, interviews, and more. Plus, there are a few spooky ghost stories thrown in there to scare the pants right off of you.
If your idea of a fun is spending the weekend in a haunted house, and your phone is full of apps tracking quantum fluctuations, EMF and PKE levels, then you need these podcasts in your life. Satisfy all your Phantasmology and Bigfoot cravings with the best radio this side of the mortal sphere. These podcasts are sure to get you in the Halloween spirit — and quick. Just don't blame me if you can't sleep for days after listening to one of these ghoulish offerings.
Wait. What was that?
Seriously, did you guys hear that?
... it's probably just the wind ...
1. Bizarre States
If you want to be a little creeped out, but like your ghosts with a side of humor this podcast is for you. Hosts Jessica Chobot and Andrew Bowser take their audience on a tour of urban myths, unsolved murders, haunted houses, and the all the strange phenomena hidden in our everyday world. Take a journey into the occult with this informative, fun, and approachable podcast.
Listen to it here: Bizarre States
2. Welcome To Night Vale
This twice-monthly podcast is one of the more creative offerings, done "in the style of community updates for the small desert town of Night Vale." The stories may be fictional, but their strange, entrancing nature will still give you the heebie-jeebies. The excellent writing and flawless production values have garnered this podcast a cult following, and it's definitely worth a listen.
Listen to it here: Welcome To Night Vale
3. Euphomet
In this Seattle-based weekly podcast, host Jim Perry and a team of talented radio producers delve into the realm of the unknown. This elegantly produced listening adventure utilizes radio diaries of firsthand experiences, discussions with top experts, and excellent atmospheric music to get your blood pumping. Their well-crafted paranormal tales explore everything from goblins to exorcisms to UFOs, and will make you pull the covers a little tighter.
Listen to it here: Euphomet
4. Weird Tales And The Unexplainable
Affable hosts Bob, Tiss and Beef tackle a new topic every episode ranging from the paranormal to the spiritual and scientific. They utilizing everything from emails, to recordings and call-ins to aid their thoughtful discussions on aliens, mythic beasts, and alternative dimensions. Their buoyant chemistry makes the podcast easy to listen to, and may even have you itching to burn some cleansing incense.
Listen to it here: Weird Tales And The Unexplainable
5. Realm of the Weird
John E.L. Tenney, expert of the occult, narrates this truly chilling bi-weekly podcast modeled after horror radio shows of the '40s, '50s, and '60s. His weird tales unfurl carefully, producing the same slow burn as a masterful episode of The Twilight Zone. Be warned, this freaky show can be a bit disturbing — such a shame there are only 14 episodes.
Listen to it here: Realm of the Weird
6. Mysterious Universe
This Sydney-based podcast is perfect for the skeptic in all of us. The hosts have fun with their curious topics, maintaining their jovial attitudes while chatting with doctors, authors, and scientists about mysterious graves, big foot sightings, space and telepathy. Already on it season 16, it shows no signs of slowing down. Who knows? Maybe one day they truly will unpack paranormal activity. (Probably not.)
Listen to it here: Mysterious Universe
7. The Paranormal Podcast
Jim Harold's podcast has been around since 2005 and is still one of the most popular and widely listened to in the paranormal genre. Each week he interviews popular horror authors and paranormal experts to discuss unexplained phenomena. Check out Harold's caller-driven Campfire podcast for true stories of terrifying encounters.
Listen to it here: The Paranormal Podcast
8. Howard Hughes' The Unexplained
Very British broadcaster Howard Hughes, with a voice carefully honed by years at the BBC, melds his considerable interview skills with a passion for paranormality, space and science. If you have ever been curious about how a psychic channels information or what a day in the life of a ghost investigator looks like, this podcast is for you!
Listen to it here: Howard Hughes' The Unexplained
9. Oh No Ross & Carrie!
In this oddly fun and upbeat radio show, hosts Ross and Carrie delve deep into fringe religions, strange science and the paranormal by putting themselves right in the middle of it. They search for the truth by "joining religions, attending spiritual events, undergoing 'alternative' treatments, partaking in paranormal investigations, and more" and live to tell the tale... in their podcast!
Listen to it here: Oh No Ross & Carrie!
10. Anything Ghost
If you are on the hunt for some spine-tingling ghost stories, Anything Ghost is where it's at. For ten years host Lex Wahl has been turning listener submitted personal paranormal experiences into creeptastic aural adventures. He adds just a bit of original music to set the mood, and then lets the *true* stories speak for themselves.
Listen to it here: Anything Ghost
11. Darkness Radio
Listening to this paranormal talk radio show will give you a pretty good idea of what it means to be a paranormal investigator. The combination of interesting guests and a passionate host is hard to beat. The podcast airs five days a week in the Twin Cities, so there are plenty of episodes to keep you interested!
Listen to it here: Darkness Radio
12. Last Podcast On The Left
Henry Zebrowski, Ben Kissel, and Marcus Parks have comedy roots and an unhealthy obsession with the strange and occult. No topic is off limits for these guys, who are perfectly happy to discuss (sometimes to death) everything from aliens, to serial killers, and creepypasta. The wacky, irreverent humor of the outrageous trio is not always easy listening, but definitely entertaining.
Listen to it here: Last Podcast On The Left
Images: pexels, BizarreStates/twitter, Welcometonightvale/YouTube, Euphomet, weirdlectures/YouTube, mysteriousuniverse/YouTube, Europesheart/YouTube, bigkidscience/YouTube, Carriepoppy/YouTube Darknessradio/twitter